Hamlets, districts and squares
Piazza dei Cavalieri in Pisa
The city's history unfolded here, from Count Ugolini to the Medici, Napoleon to Enrico Fermi
Piazza dei Cavalieri in Pisa used to be piazza delle Sette Vie, the political centre of Pisa and likely the site of the Roman Forum: it was later transformed into the centre of the Order of the Knights of Santo Stefano by Cosimo I de' Medici, created to defend the Tuscan and Mediterranean coast from Turkish fleets and pirates.
In the centre of the piazza there is a statue of the Grand Duke of Tuscany, sculpted by Francavilla in 1596. Behind him is Palazzo della Carovana, the former Palazzo Degli Anziano del Popolo which was transformed by Giorgio Vasari into its current appearance and whose façade was completely covered over time by graffiti, drawings and busts of the Medici as they succeeded one another as the Grand Dukes of Tuscany.
Currently it is the home of the Scuola Normale Superiore, commissioned by Napoleon Bonaparte to be based on the model of the Ecole in Paris. The greatest Italian professors studied here, like Antonio Pacinotti, Carducci, Pascoli, Fermi and Rubbia.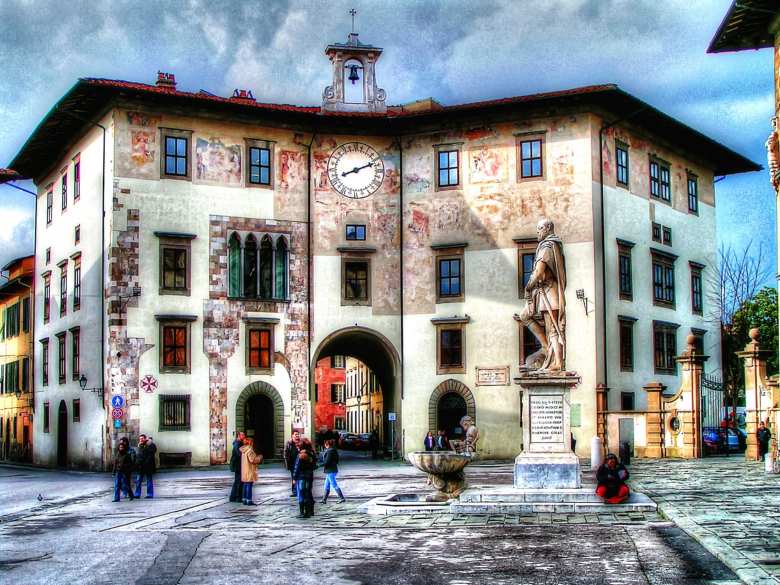 On the left, there is Palazzo dell'Orologio, rebuilt on the foundations of two historic towers of the Della Gherardesca family, which was used as a hospice and prison for the Order and is famous for being the place where Count Ugolino and his family were held prisoner and died.
Also on the left, next to the Oratory of San Rocco, there is the Collegio Puteano, established in 1605 by bishop Dal Pozzo to welcome students from Biella to the studio in Pisa.
In the southern part of the piazza is Palazzo del Consiglio dei Dodici, the former home of the Magistrature of the Republic, rebuilt to its current version from the Francavilla one around the early 17th century; inside there are valuable paintings from Pisa in the 18th century. Next to it is the rectory, built based on Vasari's designs, which housed the chaplains of the Order.
Pisa
Travel to the city of the leaning tower, a UNESCO heritage site
Pisa and its uniquely beautiful Piazza dei Miracoli, a UNESCO World Heritage site since 1987, have always been a fundamental stop on any holiday in Tuscany. Millions of people come here from every corner of the world every year to try, with the help of perspective, to keep the leaning tower standing. ...
Morekeyboard_backspace