Hamlets, districts and squares
"New Venice" District
A route of striking fascination over bridges and around churches
We can visit the New Venice District starting from the bridge of St. John Nepomuceno, which takes its name from the statue that stands on it, and following the Scali del Corso, Scali Finocchietti and Scali degli Isolotti, we cross the Marble Bridge which allows us access to Via Borra, the largest and most elegant road of the district and rich with imposing historical palazzos like the Palazzo del Monte di Pietà, the Palazzo delle Colonne and the Palazzo Huigens.
Having reached the end of Via Borra, we cross the Bridge of the Dominicans to find ourselves near the church of St. Catherine, maybe the most original in the city for its dimensions and shapes, and we continue along the Scali del Refugio, seat of the homonymous Palazzo del Refugio, and along the Scali Rosciano, seat of the homonymous 18th century Palazzo Rosciano.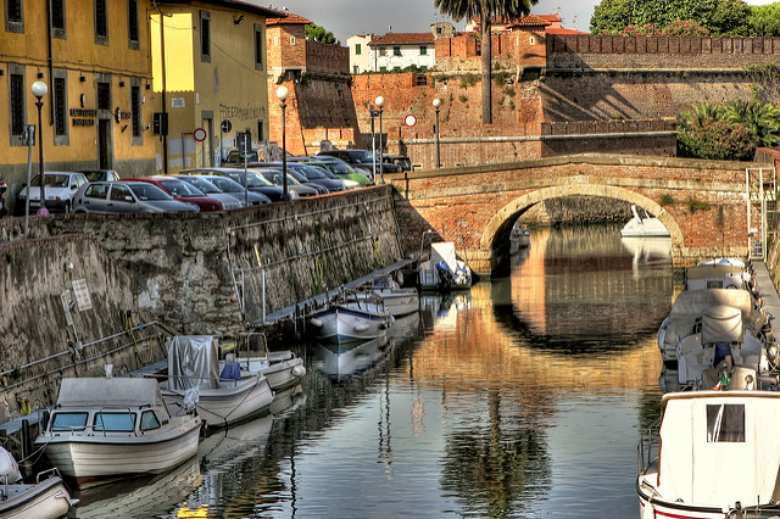 Before reaching the end of the Scali Rosciano Road, turning right onto Via delle Acciughe, we find ourselves opposite the Piazza del Luogo Pio, where we can admire the Church of St. Ferdinand, rich in late-Baroque works. At the end of the piazza we finish our route at the 18th century structure, Bottini dell'Olio, so-called because in those days this was a modern laboratory in Livorno for the purification and the conservation of oils.
In order to be completely taken over by the striking fascination of the ancient district it is necessary to carry out the entire route on foot.
Livorno
The Mediterannean's very own little Venice, with its historic port.
Founded as a city in 1606 by the Medici family, Livorno became a welcoming oasis for all those who had been religiously, politically or racially persecuted, enriching itself with the resourcefulness and customs of the most diverse foreign nations. Bridges, canals, and historic palaces are reflected in the calm waters, making it feel like a little Venice on the Mediterranean. ...
Morekeyboard_backspace