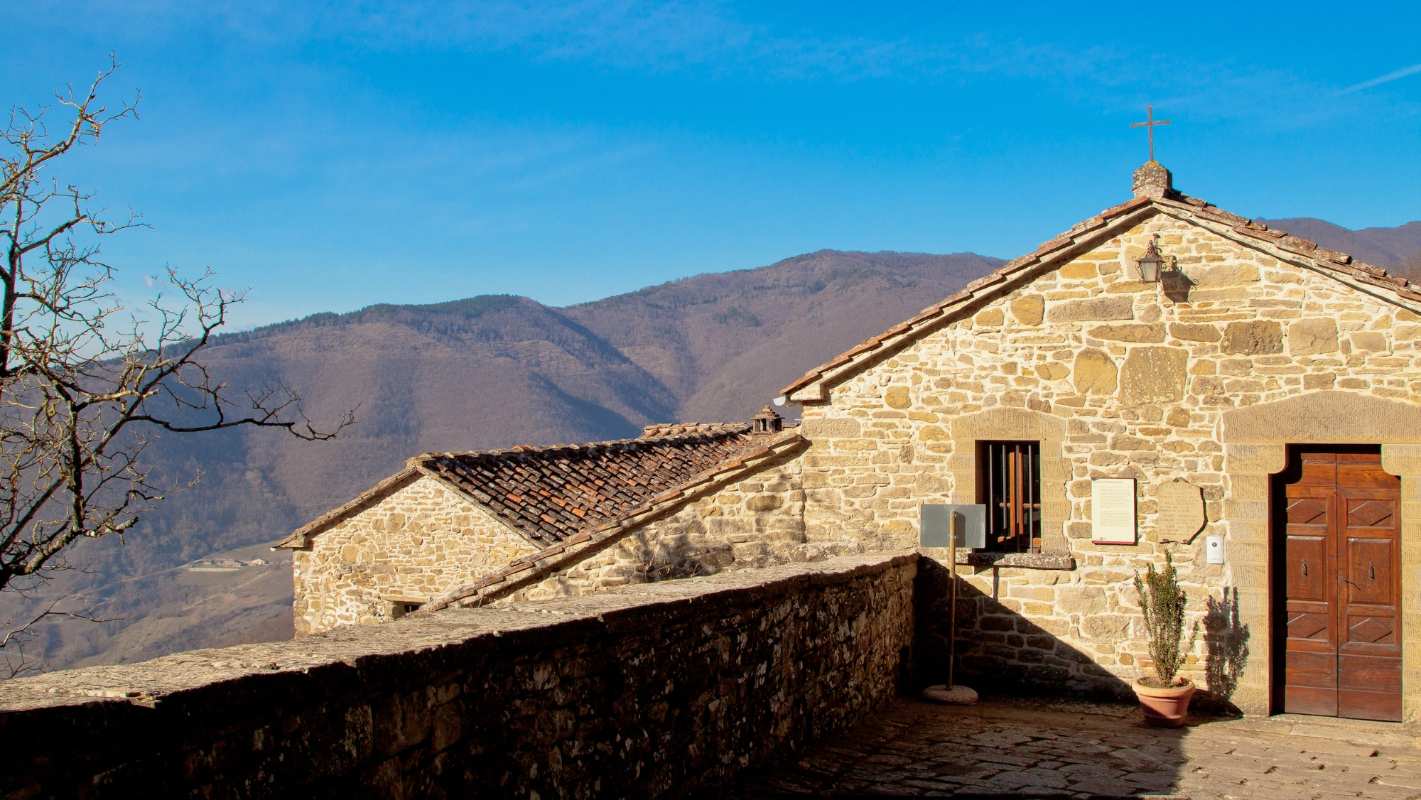 Places of worship
Montecasale Hermitage, Sansepolcro
Saint Francis received it as a donation in 1213 and it's been a home to Capuchin monks since 1537.
Legend has it that Montecasale Hermitage dates to 1192 when the Camaldolese monks built a small monastery with a hospital and lodgings for pilgrims along the road that skirted Alpe della Luna and came down again on the Marche side.
The hermitage, yielded to Saint Francis in 1213, is a place of primary importance for Franciscan tradition and spirituality. The monks in the order stayed there until 1268 when they were replaced by a handful of hermits who followed the rule of Saint Augustine. Between the thirteenth and fourteenth centuries, devotion to the Virgin Mary flourished around the icon of the Madonna and Child.
At the start of the sixteenth century, the Order of Friars Minor Capuchin took up residence, who received the hermitage in 1537 from Pope Paul III; they still live there today.
The complex maintains the primitive layout of the oldest Franciscan monasteries, marked by the pairing, around a central cloister bearing large pillars in architrave stone, of small buildings associated with monastic functions. It's a remarkable example of Arte Povera architecture, consisting of local materials, inspired by the simple life of the monks.
Info: ilsentierodifrancesco.it
Sansepolcro
THE HISTORIC VILLAGE A THE FOOT OF THE APENNINE MOUNTAINS, BIRTHPLACE OF PIERO DELLA FRANCESCA
Located at the foot of the last stretch of the Tuscan Apennines, Sansepolcro dominates the Vatiberina. It opens into a vast mountain and hilly amphitheater bordered by Alpe della Luna, Massa Trabaria, the hills of neighboring Umbria, the Aretino and the 'Alpe di Catenaia. The Sansepolcro area is surrounded by rolling green hills with expanses of tobacco. ...
Morekeyboard_backspace