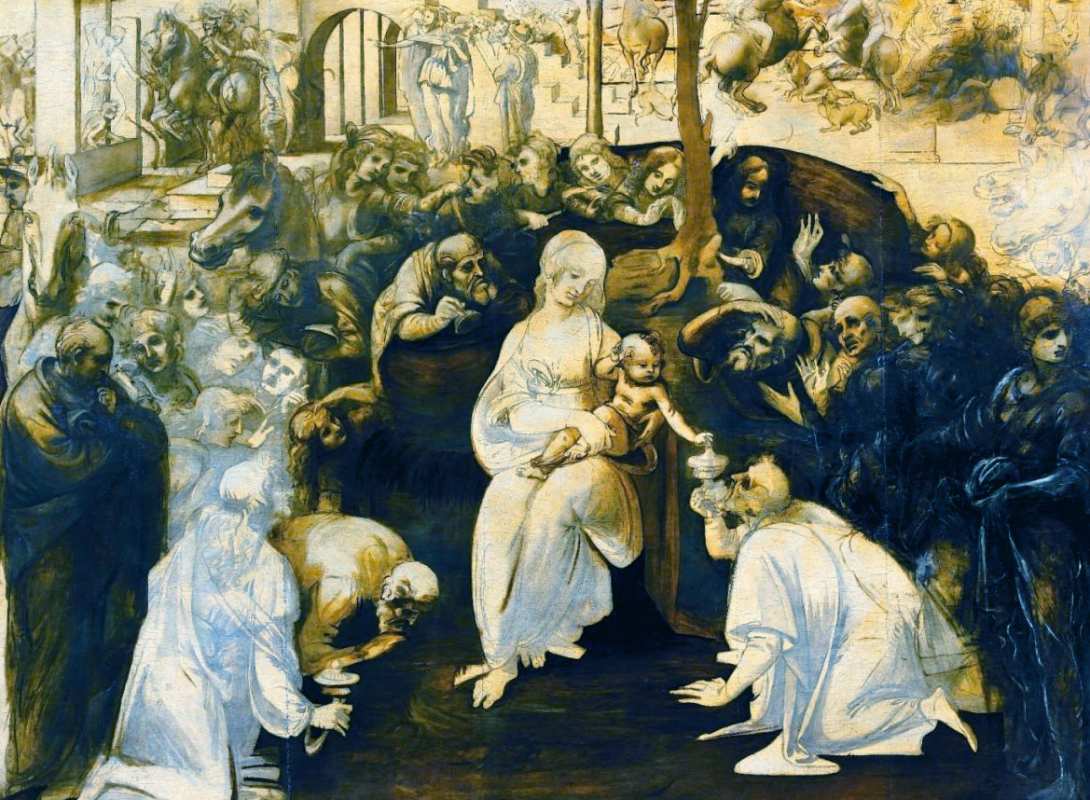 crop_originalArtworks
Adoration of the Magi by Leonardo da Vinci
The unfinished work by the Renaissance polymath is found in the Uffizi Gallery
The Adoration of the Magi by Leonardo da Vinci is an oil painting commissioned by the monks of San Donato a Scopeto in 1481 and which was never finished by the artist. It is housed in the Uffizi Gallery in Florence.
In the foreground, the Adoration of the Magi displays the Virgin Mary holding the Baby Jesus, surrounded by the Magi, kneeling in adoration, and a crowd of people. In the background the two trees—the bay as a symbol of triumph and palms as a symbol of martyrdom—divide two scenes: the first is a fight, which represents the folly of humans who have failed to receive the Christian message, the second depicts the Fall of the Temple of Jerusalem. The boy who appears on the right might be a self-portrait of Leonardo.
The painting was left unfinished after Leonardo departed for Milan, remaining with his friend Amerigo Benci and later arriving in the Medici family collection. A recent restoration revived the painting's original colours.
Florence
A stunning city where you will lose yourself in the art, history, fashion and traditions of Tuscany
No one plans a visit to Tuscany without planning a visit to Florence: the city of the lily is a treasure trove of artistic treasures and the centre of a fervent vitality. Aside from its exceptional heritage of art, bearing witness to its centuries of civilisation, Florence can be enjoyed in so many ways: promenading along the enchanting riverbanks at sunset, entering the bohemian alleys of ...
Morekeyboard_backspace