Give Eastern Tuscany a chance by spending a fabulous day in the elegant city of Arezzo, home to one of the greatest masterpieces by Tuscan artist Piero della Francesca
On most trips to Italy most people leave Arezzo off their visitor radar, and thus it becomes an absolute joy to discover unhurried without the staggering crowds that places like Florence, Siena and Pisa typically receive. This relatively obscure town is beloved to those have already been, perhaps it's the air of elegance and intellectualism which pervades in Arezzo and chance to truly feel part of local life, even if solely for a day. It tends to invite the curious sort who appreciate rich art heritage to consider giving eastern Tuscany more of a chance, after all you might recognize the magnificent Piazza Grande in Roberto Benigni's epic film "Life is Beautiful."
I go back year after year and revel in the calm ambiance and cool café culture of this charming place. Keep in mind that it is screamingly easy to reach, only an hour and seventeen minutes by train from Florence and slightly under that by car.
Arezzo's train station is on the cusp of the center and requires a 1km (mostly uphill) walk to the historical center, you can also hop on the bus if the hill seems a tad too daunting. If you come by car, keep in mind that the ZTL (limited traffic zone) exists here too so play it safe and park at Pietri Parcheggio which offers escalators that arrive directly in the center (coincidentally these escalators have some really interesting urban art).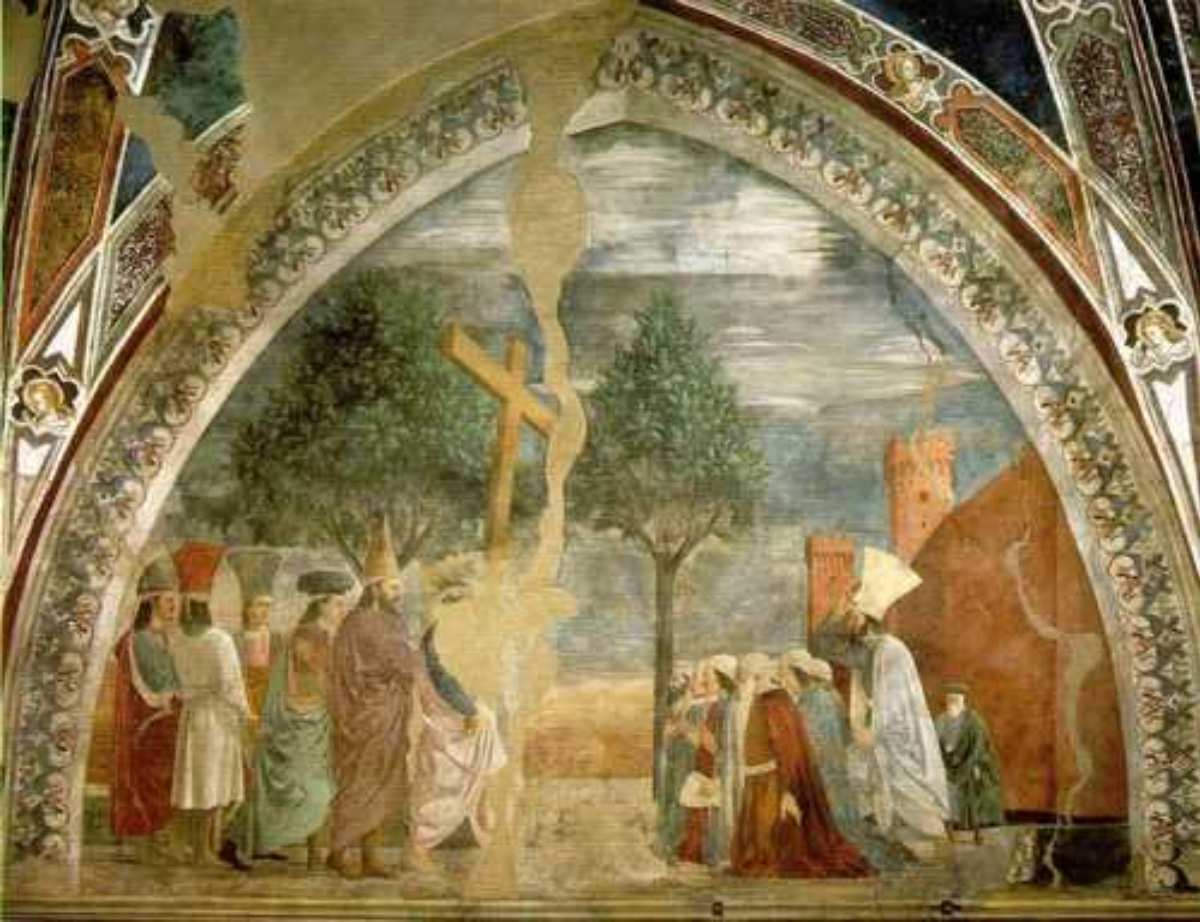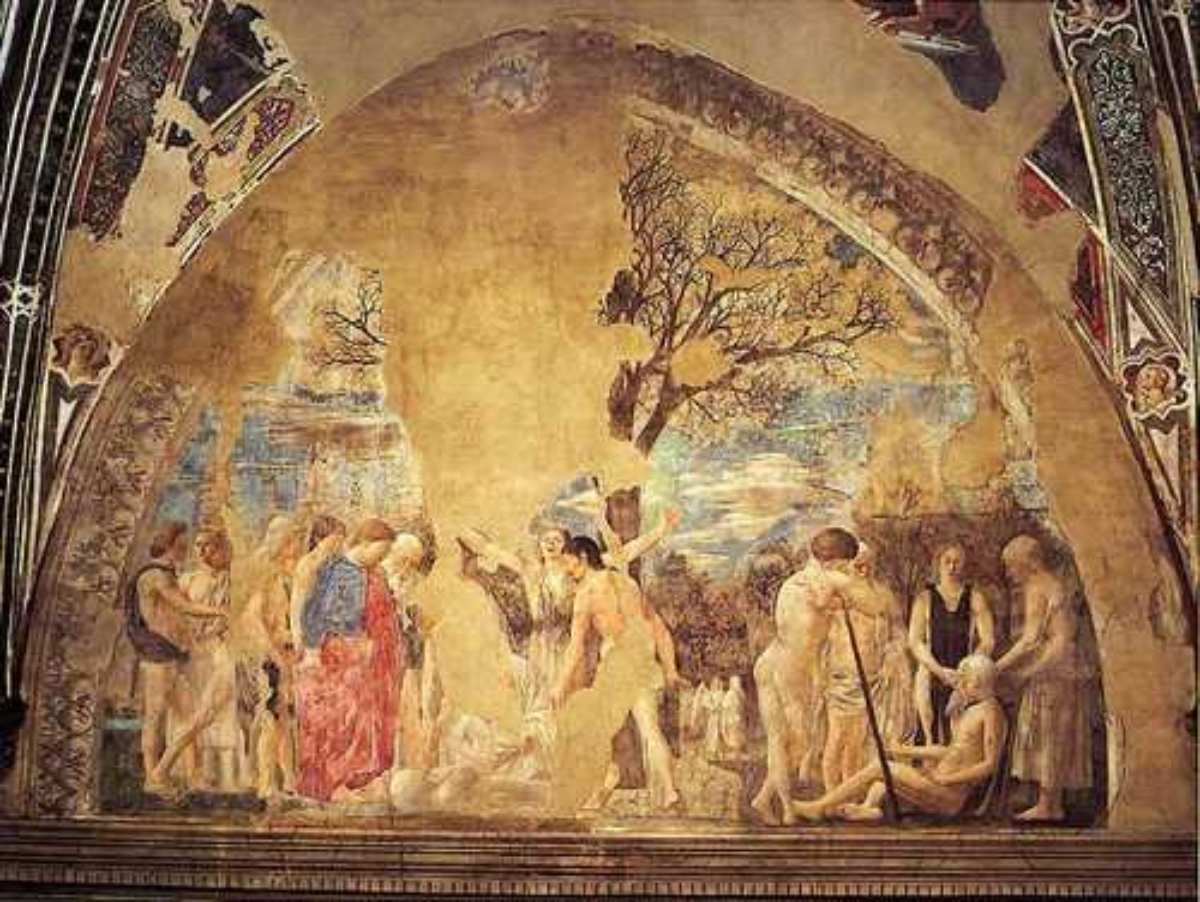 Photo ©Shutterstock / Fabiano's_Photo
Coffee and Renaissance Artist Piero della Francesca
As any seasoned traveler knows, you need that boost of coffee to get you really excited about any visit to a new place. Nico and I make it a point to stop by historic Caffè dei Costanti (opened in 1804) for a cappuccino and pastry. You can't help but fall in love with the old-school ambiance and the busy local color that walks through the door on any given morning.
Next stop is Basilica di San Francesco, home to the magnificent fresco cycles of Tuscan Renaissance artist Piero della Francesca who revolutionized perspective in paintings in his time lending to the area around Arezzo being referred to as the "Terre di Piero" (the land of Piero). This series of frescoes was titled "Legend of the True Cross" completed between 1452 and 1466 and commissioned by a wealthy merchant family from the city. Please note that you do need reservations to visit as groups are limited in size and each turn lasts approximately 30 minutes, you can nab your spot directly here. Tickets cost 8€ or you can go for the combined deal allowing entrance to Basilica of St Francis and Piero della Francesca's Frescoes + Gaius Cilnius Maecenas National Archaeological Museum + Casa Vasari House Museum House Museum.
Nearby is the 19th century Teatro Petrarca, worth a stop as the interior is breathtaking. Another must see is the sandstone Duomo San Donato where you can see reliefs created by the renowned architect Donatello.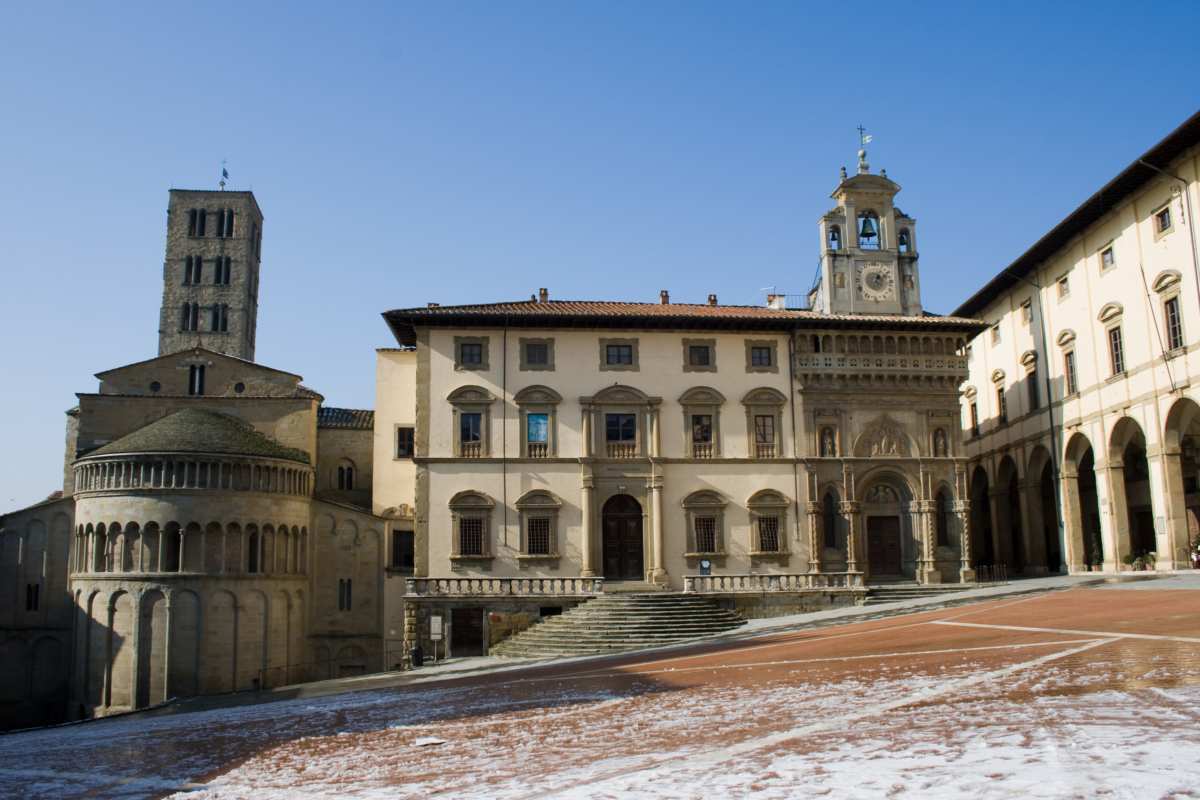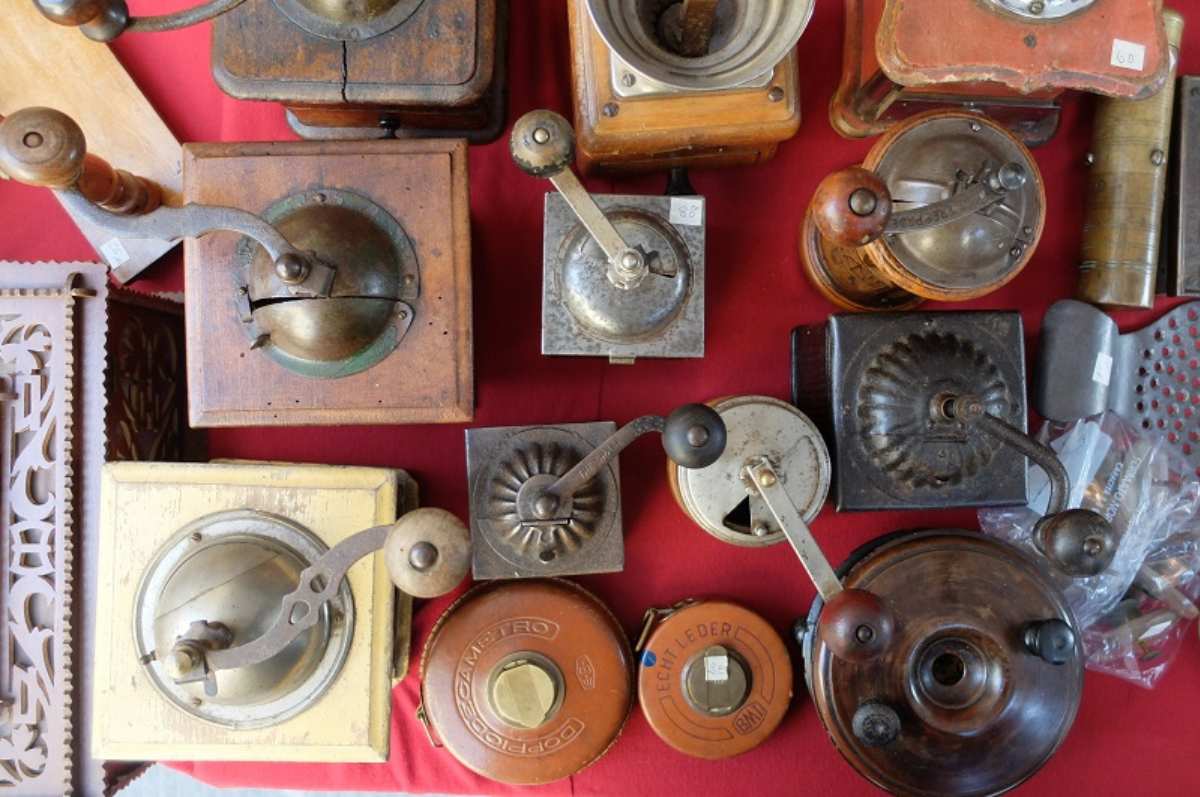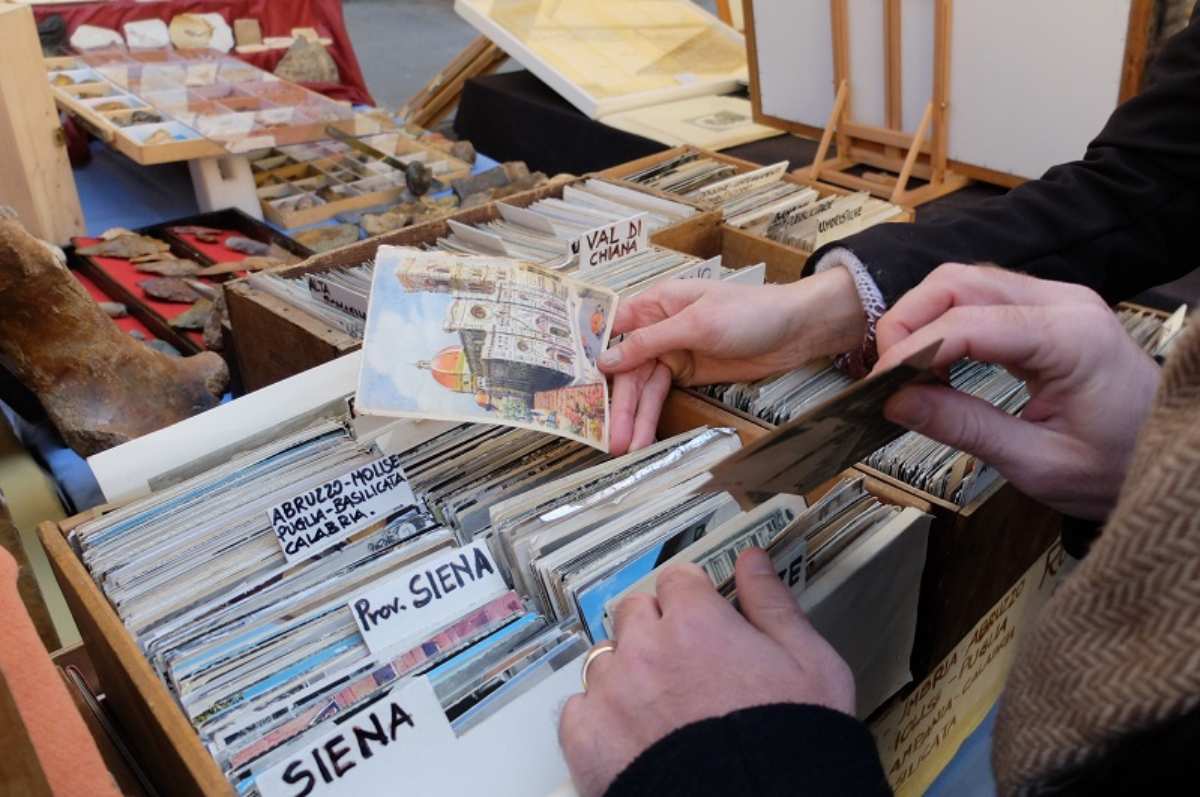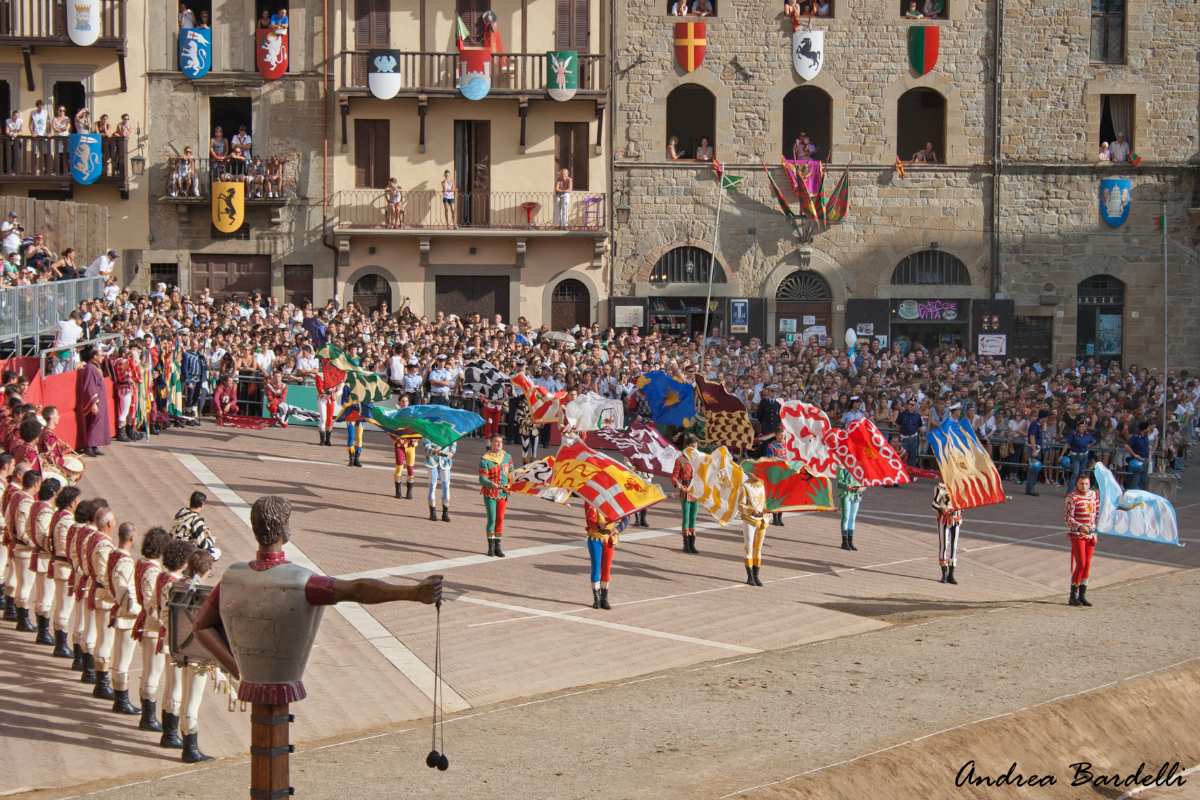 The Heart of Arezzo: Piazza Grande
The main square of Arezzo in on a unique slope with a blend of architectural styles and home to notable attractions such as the 11th century uniquely-shaped Chiesa di Santa Maria della Pieve and the Grand Art Gallery. You might have even spotted it in Roberto Benigni's film, Life is Beautiful. After you've visited both attractions, have a walk through the picturesque porticoes of Palazzo delle Logge Vasariane, where locals come to unwind for a coffee and a bit of people-watching. During the monthly antique fair both the square and the porticos become protagonists for those selling their wares and it is where the bi-annual Giostra del Saracino takes place.
Arezzo Antique fair takes place every first Sunday of the month, and the Saturday far with antiques stretched out throughout the city; through every main square (especially Piazza Grande) and the tiny streets that snake between. Come early if you really want to nab a find as the good stuff goes fast. For something a bit more festive for the family, come instead during the biannual medieval jousting contest – the Giostra del Saracino, pits Arezzo's four districts against one another for a riveting historical sports event twice a year every June and September.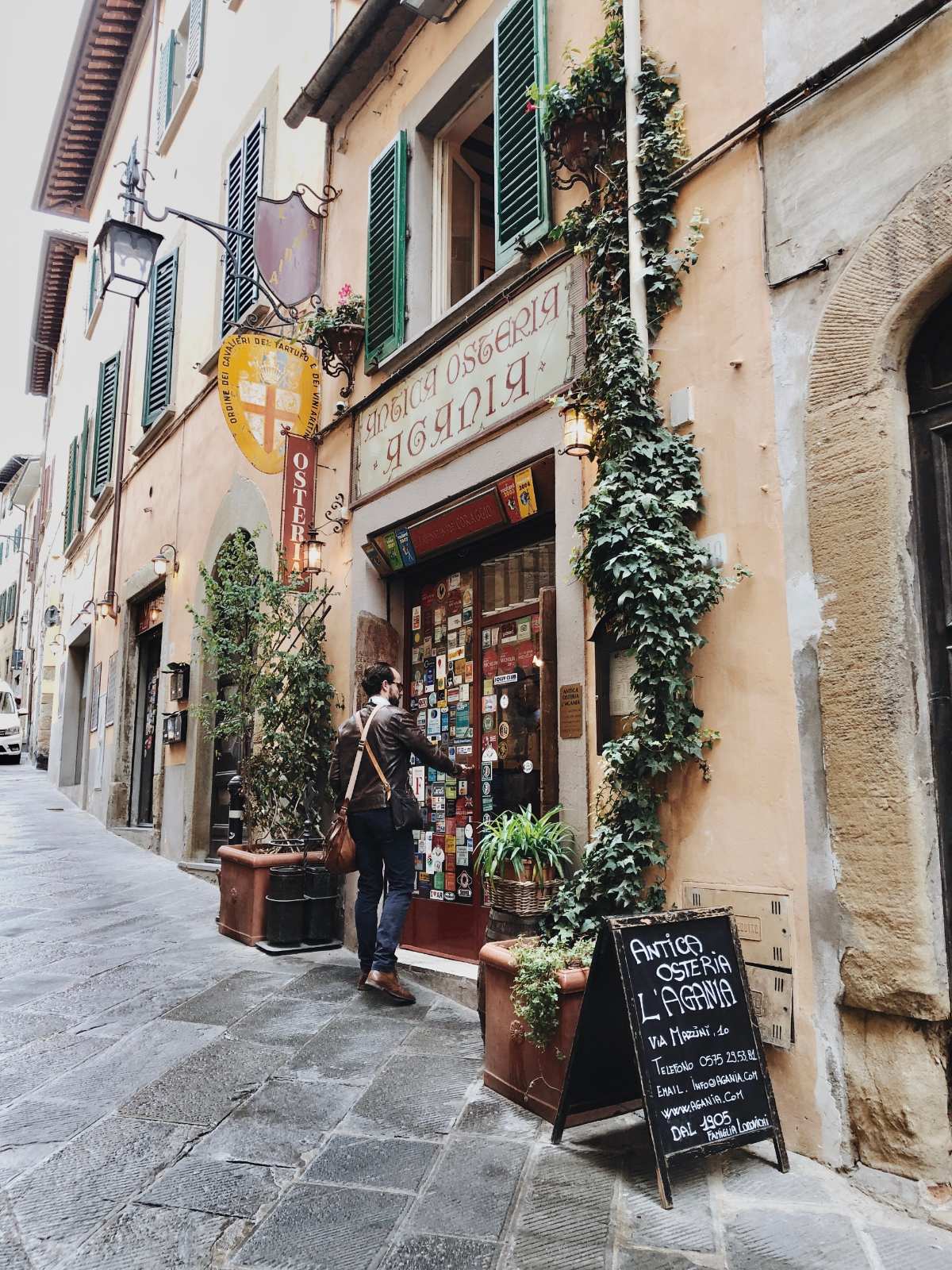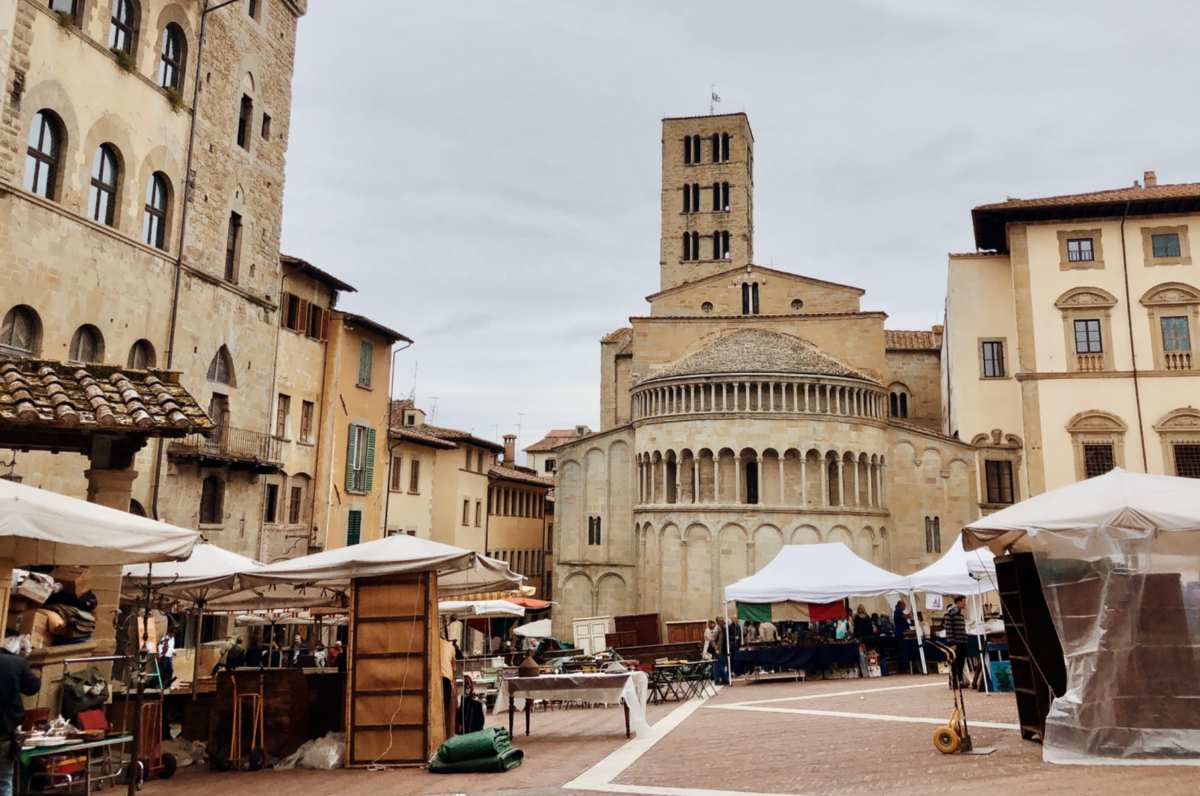 Lunch like a Tuscan
There is no shortage of great places to indulge in a typical Tuscan meal in Arezzo, but you definitely want to go local when it comes to wine. This because the area around the city is well known for the Colli Aretini producing excellent wine of the Chianti variety (in a sub-zone) think: Chianti DOCG, Chianti Colli Aretini DOCG, Colli d'Etruria Centrale DOC, Valdichiana DOC, Cortona DOC, Vinsanto del Chianti DOC, Vinsanto del Chianti dei Colli Aretini DOC.
On the food front, expect hearty Tuscan fare: vegetables soups, pasta with wild boar or rabbit and roasted grilled meats.
I always keep an eye out for any dish, especially tortelli, that feature the famous red potatoes from Cetica as well as porchetta from the area of Monte San Savino and Fagiolo zolfino, or a special variety of Tuscan beans. For a sweet touch, look for baldino a type of chestnut cake similar to castagnaccio made raisins, rosemary, pine nuts and sometimes walnuts.
One great choice for typical fare is Antica Osteria dell'Agania run by four generations of the same family dedicated to bringing typical cuisine to locals and visitors alike in an ambiance that resembles an osteria from the 50's.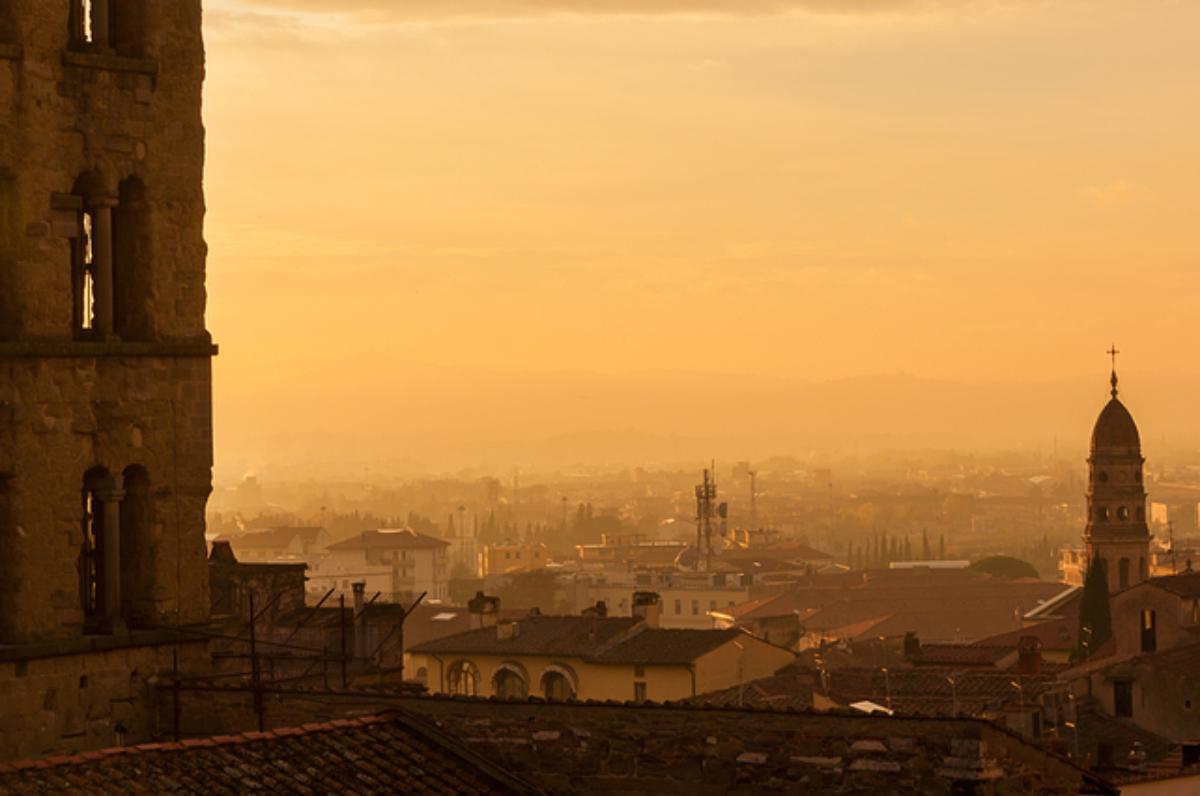 Arezzo from Above
After we've eaten our fill of Tuscan specialties it makes sense to explore the ancient Medici Fort, a defense post of the city with a unique pentagonal shape and high bastions that offer a 360-degree view of the city from both the fortress and the park below (the Passeggio del Prato). It also makes an excellent place to bring your kids to play or just hide from the summer heat.
We know it's hard to see everything in one day but if you have extra time we recommend a visit to the archaeological museum of Arezzo and the Museum of Medieval and Modern Art.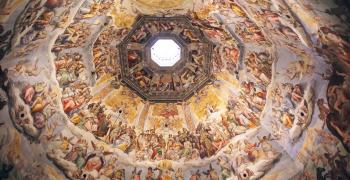 Learn more
Art and Culture
Tuscany is the cradle of the Renaissance and known all over the world for its immense artistic and cultural heritage.
continue...