First courses
Ribollita recipe
Ribollita in Italian means re-boiled or recooked. This very name is the secret to the rich and satisfying consistency of this soup. It's part of the tradition of cucina povera (simple cooking) in the Tuscan countryside. Leftovers were used to create filling dishes, and seasonal ingredients were the protagonists of every meal. In the case of this dish, a vegetable and bean soup is thickened with stale bread and recooked the day after until it becomes thick and dense. Serve it with a drizzle of extra virgin olive oil.
750 g cooked cannellini beans (4 cups)
7 cups bean cooking water or water
1 small onion
1 clove of garlic
2 carrots
1 celery stalk
1 potato
150 g Tuscan cavolo nero
250 g Savoy cabbage
1 tablespoon concentrated tomato paste
200 g stale Tuscan bread, cut into thin slices
Extra virgin olive oil
Salt
Black pepper
Start by preparing all the vegetables: finely mince the onion and garlic. Dice the carrots, potato and celery stalk. Clean the cavolo nero (Tuscan kale) by removing the toughest parts, then cut into strips. Slice the savoy cabbage. Blend half of the beans with one cup of water, and set aside. When all the vegetables are ready, start preparing the soup.
Pour 4 tablespoons of extra virgin olive oil into a large pot, then add the minced onion and garlic. Sprinkle with salt and sauté on a low flame for 5 minutes until the onion is soft and translucent.
Add the diced carrots, celery and potato, then the sliced Tuscan cavolo nero and savoy cabbage. Stir to combine.
Cover the vegetables with the bean cooking water, add the tomato paste, salt, and pepper, and bring to a slow boil for about 40 minutes, stirring from time to time.
When the vegetables are soft, pour in the bean puree and cook for 20 more minutes. Stir often to prevent the soup from sticking to the bottom of the pot.
Now add the whole beans, check the salt and pepper, keep at a simmer, and cook for 10 more minutes.
When the soup is ready, add the thinly sliced bread, stir and cook for 10 minutes.
Serve with a drizzle of olive oil. The day after cooking, the dish is even better. Reheat and serve.
You might also be interested in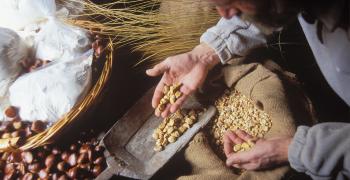 Learn more
Food and Wine
Olive oil, wine, truffle and other culinary delights make up the excellence of Tuscan gastronomy.
continue...