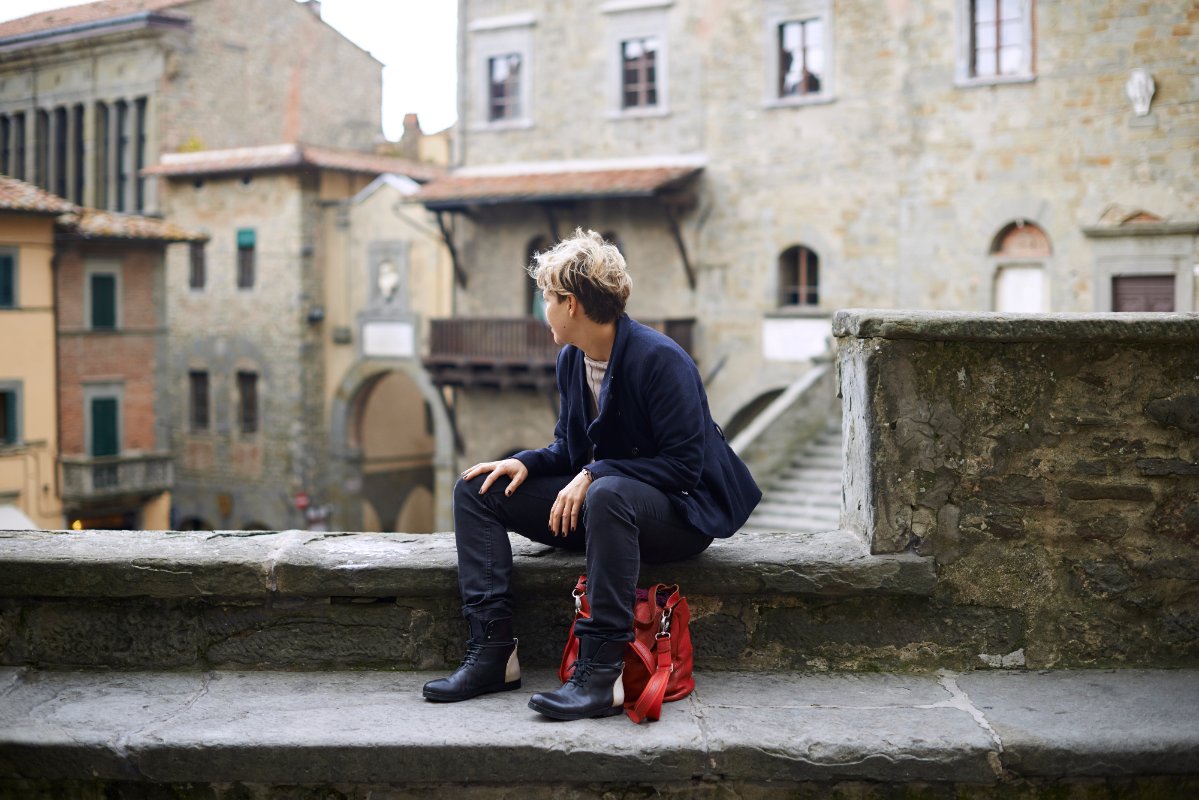 Slow Art Friday: Looking at Donatello's Annunciation in Santa Croce
This is the first article of a weekly column dedicated to looking at art slowly; I plan to write one each Friday. The idea comes out of the benefits discovered while hosting the Florence edition of International Slow Art Day on April 17th (read about our experience here).
While at the
Church of Santa Croce
, slow art participants were to look at 5 works of art for 10 minutes each. I provided them with a list of these works, and some questions to guide their looking.
Standing in front of Donatello's Annunciation with Sarah and Anne
, two fellow graduates of the Syracuse University in Florence's Masters of Arts program, we found that taking the time to really look at it brought to light many things we hadn't noticed before. I'm going to retrace some of our looking and hope you can get a sense both of the process and of the sculpture as you read this.
Introduction to the artist and this work
Before I get started, a little introduction to the artist and the piece in question would be useful. Donatello was a highly versatile artist who worked in every medium in his long career – marble, bronze, low relief, pietra serena (dark stone), even wood. The
Annunciation
is a kind of tabernacle or architectural wall sculpture that took the place of the altarpiece in a family chapel. Donatello sculpted it in the late 1430s. In the 16
th
century, Vasari renovated the whole church and this chapel was destroyed, but Donatello's piece was saved and placed elsewhere. It is currently located near the door to the adjacent courtyard, but we cannot assume that this has been its location since the Vasarian intervention. The
Annunciation
is made of pietra serena, a dark stone typical to Florence. It more commonly used for architectural elements (columns, etc.) and infrequently for sculpture itself.
The potential monotony of the dark stone is avoided by the extensive use of gilding
, or applied gold leaf, which highlights the decorative elements of the work, like the patterns in the figures' clothes. At the top of the work there are six putti in terracotta that have been damaged over the years and have in some cases lost their arms. On the wall nearby are remnants of some later frescoes.
Looking slowly
I have spent a fair amount of time looking at this sculpture in the past because I am overly interested in putti – those chubby funny babies that you see all over Renaissance art. (Interested to the point that I did my doctoral dissertation on putti!)
But the slow art process made me notice so many things I hadn't seen before.
It's hard to write this down in any truly logical way because the three of us stood making observations to each other and building upon each others' comments for quite some time. The viewer's eye first goes to the figures of the Angel Gabriel and Mary; she is receiving the news that she is pregnant with Christ.
We try to read her body language to figure out how she was reacting
to this awfully surprising news – here she turns away somewhat, but also gestures in modesty and acceptance. Although this is the central narrative of the piece, it's also the most traditional, and maybe the least interesting.
See how the bodies are rendered? They seem to stick out quite a bit from the background.
Did he carve this whole structure out of one block of stone?
We move to one side and look – it seems that the external frame is separate, while the figures of the Angel and Mary are from the same stone as the background. But they're not quite as deep as it seems when you're looking from the front. How did Donatello do that? One trick is that he uses foreshortening on the figures' legs. The bent knee of Mary and the folds of cloth around it are a case in point. But wait! There is something a bit akward about this. Her lower leg seems awfully short…
So then I wondered about the current placement of the sculpture on the wall.
Maybe initially it was higher up on the wall? So we crouched down and looked from below
, and guess what? The leg seems to straighten out and look longer. (This is a useful tip – try this in museums too, don't be afraid to look stupid!) Anne then asked where the altar table would have been if this was any higher up initially, and that's a problem we were not able to solve. But the time wasn't up yet, and we continued to look and talk. And we started to notice all the
strange details in the architecture and decoration
that surrounds the figures. This is one heck of a frame. What's that thing at the bottom in the center? It looks like a round piece of porphery, a very hard stone that by the renaissance was not available from quarries so had to be "borrowed" from ancient works of art, thus giving it great value (it was also very very hard, and rarely used for figurative sculpture). And at the top, there's something round in the dark stone… it looks like a bowl! And the pilasters on either side, look at the pattern – is that imitation snakeskin!? You don't get that in Roman architecture, so from where is Donatello getting these motifs?
Conclusions?
The goal of this kind of looking is not necessarily to come to any conclusions
, but to notice as much as possible and to ask yourself further questions. In this case I'm left with a big question about the sources of Donatello's decorative motifs or patterns, which I can say are not Roman, and don't allign with what his contemporaries were doing; to me there may be some Etruscan influence here, which I find to be very interesting.
YOUR experience will be different than mine
, and I encourage you to spend 10 minutes looking at the
Annunciation
. Now you will be going in with my observations, and you'll be able to build on them. If you can't go to Santa Croce any time soon, try slow art on your own... and in the meantime live vicariously through these photos.
You might also be interested in