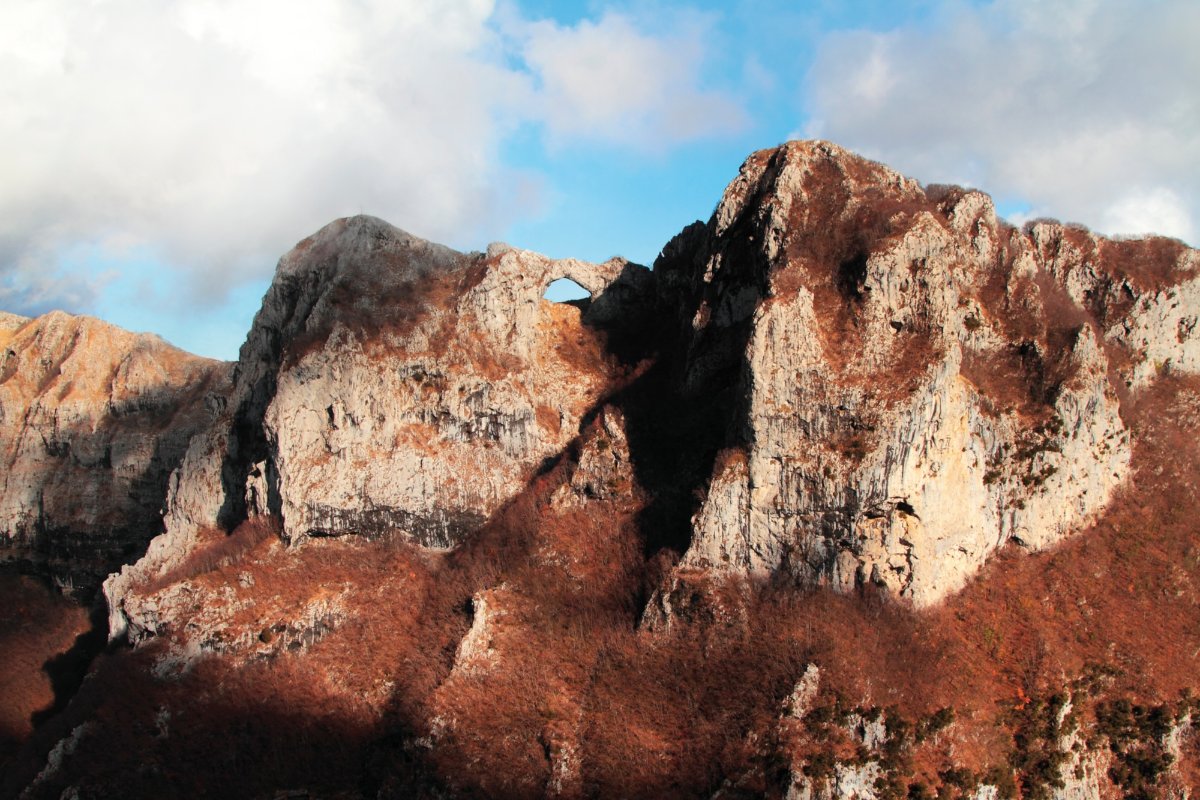 natureNaturalistic attractions
Monte Forato
The large natural arch on the Apuan Alps, inside which the sun rises and sets
Monte Forato is located in the municipality of Stazzema, in the Upper Versilia, is part of the Apuan Alps and takes its name from a rather unique characteristic: a large natural arch that stretches between the two peaks of the mountain (both more than 1,000 metres high), forming a large hole.
The natural arch, formed by erosion from the elements, 32 metres wide and 25 metres high, is one of the most impressive in Italy and can be seen clearly from both sides of the Apuan Alps: the Versilia and the Garfagnana.
A unique characteristic of Monte Forato is the double sunset: the setting sun aligns perfectly above the arch then disappears behind the rock only to appear once again inside the hole, giving the impression that it has set twice. The phenomenon can be seen on certain days of the year, but which days is never certain (in October/November and January/February), from some villages in the Garfagnana, like Gallicano, or in the Serchio Valley, like Barga. From Volegno and Pruno, in the Versilia, on the other hand, the sun appearing through the arch can only be seen on the Summer solstice.
Adventurous visitors can feel the thrill of hanging from a swing below the arch, which is hung during a few special excursions organized by the Associazione Garfagnana Guide.
Stazzema
Castles, fortified sites and medieval tunnels
Surrounded by the Apuan Alps, Stazzema is a scattered town, forming part of the historic Versilia region—in the area, it's the only town that is entirely mountainous. With its magnificent setting and panoramic views, you'll want to admire its numerous hamlets—a solid 17 of them—which are spread down the slopes of the mountains. ...
Morekeyboard_backspace
You might also be interested in