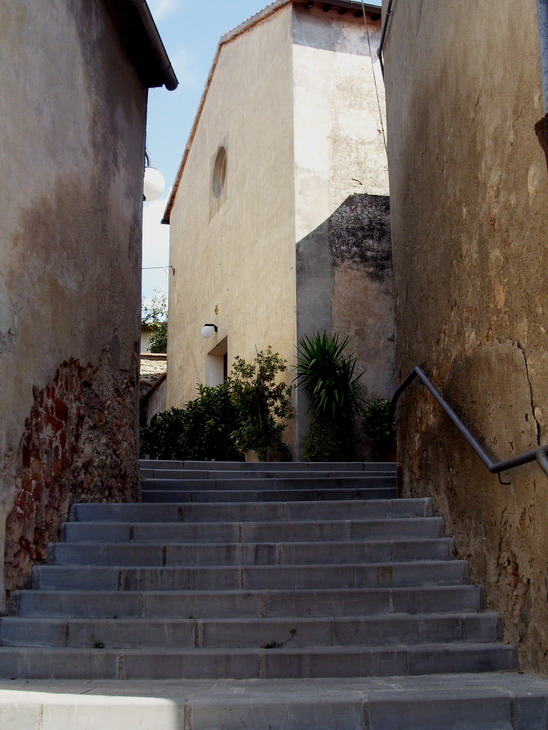 Places of worship
Parish Church of San Martino in Batignano
The historic structure was built using materials recovered from the Roselle area
The Parish Church of San Martino is located in Batignano, a small hamlet in the municipality of Grosseto, and was built in the 12th century with Roman and medieval materials recovered coming from buildings in the nearby city of Roselle. Over the centuries, the structure underwent various renovations, including an intervention during the Renaissance that modified the church's plan.
A second entranceway can be found on the side, preceded by a brief staircase. It is topped by a travertine architrave and, further up, a pointed arch made from ashlar blocks. This is the oldest part of the building, placed precisely to correspond with the Chapel of the Madonna delle Grazie, which houses an image of the Virgin Mary.
The structure, originally a single nave, now has a Greek-cross plan: the interior is illuminated by four windows, with the nave divided into four bays and two side chapels in the arms of the Greek cross. On the walls, there are traces of some frescoes from the Sienese school that date to the 14th and 15th centuries. The monumental marble baptistery was made during the Renaissance, with a later addition of the hexagonal dome. The wooden statue of St. Michael the Archangel is a work from the Sienese school made in the 1600s.
Grosseto
The El dorado of holidays amongst sea and countryside, and the cultural and political capital of the Southern Maremma
Grosseto, the capital of Maremma, is spread across the plain passed through by the Ombrone, only a few kilometres from the Tyrrhenian coast. The city's development is more recent than that of other deeply historic villages in Maremma; it was founded in 935, when Roselle was completely destroyed by Saracen pirates. ...
Morekeyboard_backspace