location_cityHistorical Buildings
Palazzo dei Priori in Volterra
The oldest civic building in Tuscany
Palazzo dei Priori in Volterra is located in the namesake piazza. The edifice, begun in 1208, is the oldest civic building in Tuscany. When it was first constructed, it was intended to demonstrate the municipality's supremacy and autonomy, and for this reason, it was built right next to the centre of the bishop's power: the cathedral.
Originally a residence for the presiding priors, it lost that use when the Medici conquered Volterra in 1472. The changes that impacted the town also hit the palace, which underwent modifications that can still be seen today. Indeed, you can see imposing lions on the sides of the building, a symbol of Florence's power, and the façade, dotted with colourful coats of arms that reference the Medici commissioners who were charged with overseeing the town. These emblems are mostly made from terracotta coming from the Della Robbia workshop. There's one curiosity about the Renaissance municipality, however, that can be seen in a stone engraving that's still visible: the Volterra canna, a unit of measurement used only here.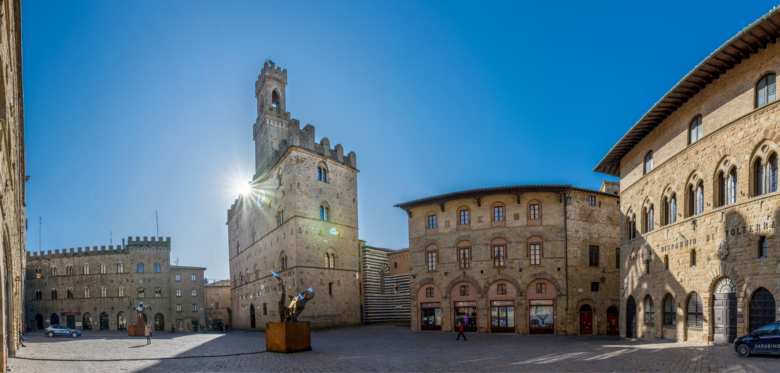 Upon walking inside the building, you'll immediately be struck by the decorated walls, teeming with medallions and noble crests, while on the first floor, you'll find the Sala del Consiglio Comunale, or City Council Hall, which is still today the meeting room for the local government. Richly ornamented, the room contains a fresco by Iacopo di Cione Orcagna: the 1383 painting is very likely the first of the Florentine school to be made inside a public building in the city. Its sinopia is on display in theSala della Giunta.
Those who aren't afraid of heights can climb the bell tower, which offers a view of the whole city and the surrounding countryside.
Info: comune.volterra.pi.it
Volterra
Travel to the medieval city of alabaster, with an Etruscan heart
Volterra is a village built on a hill between the Era and Cecina valleys. With its double walls, both Etruscan and from the thirteenth-century, it's a medieval-looking city, where you can still enjoy the atmosphere of a historic village. ...
Morekeyboard_backspace