natureNaturalistic attractions
Blaze Cliffs in Volterra
These cliffs can be found near a spring where legend says witches gather at night
The balze, or cliffs, in Volterra are a famous natural phenomenon that lend to a fascinating yet terrifying landscape. The chasms have formed due a long erosion caused by the soil: when rain water passes over the weakest layers on the surface, the layers underneath, which are primarily made of clay, tend to slide away. Over time, churches, monasteries, streets and even a necropolis have all been washed away. The area was the burial place starting in the 10th century BCE and many urns found in the Guarnacci Etruscan Museum were discovered here.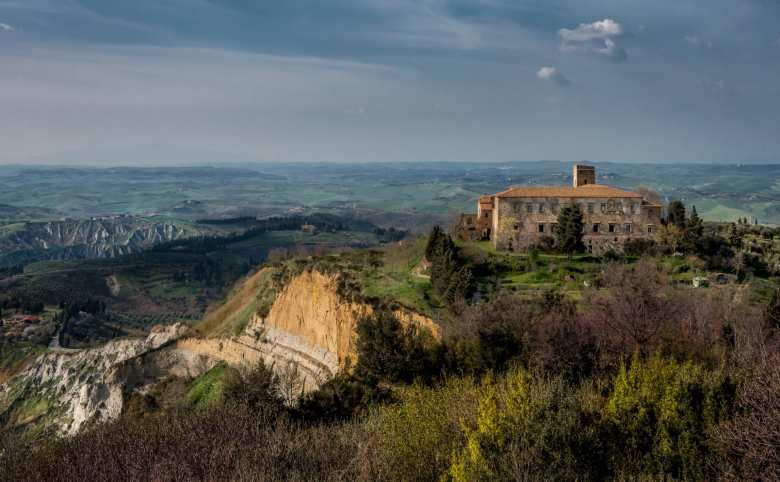 "Those who wash their sheets in the Docciola, it's fitting that the water comes from the Mandringa." - G. D'Annunzio
On the side of one of these steep cliffs is a Camaldolese abbey, known as the Abbey of Santi Giusti e Clemente. The building dates to 1034, and the monks lived there until the mid-1800s, when a violent earthquake forced them to safer ground. The nearby church didn't survive. Over the years, many have tried to stabilize the area, from the reign of Grand Duke Cosimo II to the 19th century. The plan for monumental brick works had no effect, and it's only been nature that has had any luck at slowing down the erosion thanks to reforesting efforts. The abbey is worth a visit, home to a cloister and refectory that are excellently preserved; not to mention, the view is spectacular.
Close by is the Masso di Mandringa, a fountain shrouded in mystery and legend. It's said that on Saturday nights, this was the favourite meeting point for witches to perform their magical dances. What's more certain, however, is what Gabriele D'Annunzio said about this place when he explained its importance as a spring that feeds the Docciola fountains, which is also in Volterra.
Info: volterratur.it
Volterra
Travel to the medieval city of alabaster, with an Etruscan heart
Volterra is a village built on a hill between the Era and Cecina valleys. With its double walls, both Etruscan and from the thirteenth-century, it's a medieval-looking city, where you can still enjoy the atmosphere of a historic village. ...
Morekeyboard_backspace