location_cityHistorical Buildings
Palazzo dei Capitani della Montagna
In Cutigliano, the old residence of the Montagna Pistoiese governors
Cutigliano's Palazzo dei Capitani della Montagna was built in 1377 to house the Capitano della Montagna, the official sent by Florence to administer to the zone of the Pistoia Mountains. The first governor to live there was the Florentine noble Baldo Altoviti, a forefather of the Altoviti-Avila alliance with the weighty Niccolai-Lazzerini family.
The compact form of the Palazzo Pretorio recalls the public palazzi that sprang up in Tuscany over the course of the 13th and 14th centuries, but the facade, with three rows of windows and the five arched apertures on the middle floor are typical of the first Florentine Renaissance.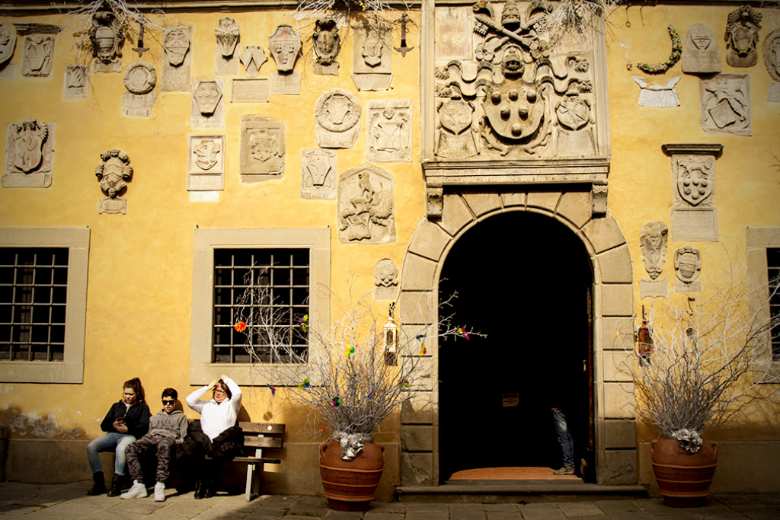 Even today the palazzo's main facade shows a jumble of crests in stone and multicoloured terracotta, the heraldic coats of arms that the various Captains of Montagna left as evidence of their governorship. There are around 95 of them, carved between 1444 and 1742.
To the left of the facade we find a little 15th-century fountain and, next to it, the colonna del Marzocco (a lion standing by a shield which bears the Florentine lily, a symbol of the Republic of Florence). Now it has been moved under the loggia for reasons of conservation and a copy stands in its place.
The small loggia, almost opposite the palazzo, dates back to the 15th century: this was where decrees were enacted and where the governor administered justice. On the walls of the loggia we find a niche with a fresco from 1577 depicting the Madonna and Child.
Abetone Cutigliano
The ideal destination for vacations with sports and nature, all year round
The territory around Abetone Cutigliano, immersed in a dense forest of conifers, is the ideal destination for those who love nature and winter sports. But this area is also inviting all year round because of its extensive network of trails, great for excursions and hiking. ...
Morekeyboard_backspace