account_balanceMuseums
Masaccio Museum in Reggello
In the Parish Church of San Pietro in Cascia, the splendid San Giovenale Triptych
The Masaccio Museum in Reggello is located in a historic setting next to the Parish Church of San Pietro in Cascia, a masterpiece of Tuscan Romanesque architecture. This is where you can see the San Giovenale Triptych, an early work by Masaccio, painted in 1422 when the Renaissance artist was just 20 years old.
The work was discovered in 1961 by Luciano Berti in the small church of San Giovenale, not far from Cascia, and was moved to the parish for conservation reasons in 1988. The museum also holds paintings by the Ghirlandaio school, Santi di Tito, Alessandro Allori, Jacopo Vignali and Ignazio Hugford, as well as a series of beautiful gold-work and liturgical objects.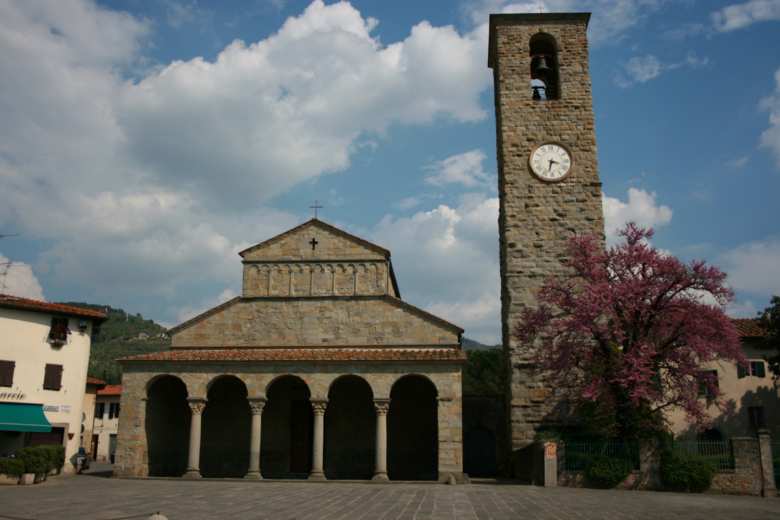 The Masaccio Museum also conserves paintings, furnishings, vestments, sculptures and gold-work of important historical and artistic interest coming from the parish and other churches in the area around Reggello.
One room, decorated with period furniture to look like the study of a parish priest, is dedicated to the history of the parish church, with documents, photographs and a beautiful series of portraits of the parish priests between the 17th and 19th centuries.
Info: museomasaccio.it
Reggello
In the Vallombrosa woods among abbeys and incredible castles
Reggello is one of the cool and shaded towns closest to Florence; loved by Florentines who are looking for a little relief from the city during the summer months, it's also a perfect day trip. The town of Reggello as we know it today was probably once called Castelnuovo della pieve di Cascia, due to two imperial papal bulls in 1103 and 1134 and which was distinguished from the Castelvecchio ...
Morekeyboard_backspace