Places of worship
Abbey of Vallombrosa
An oasis of peace and faith immersed in the forest
The Abbey of Vallombrosa is located on a small plain in the town of Acquabella (today Vallombrosa), just under the Cross of Pratomagno: an oasis of peace surrounded by luxuriant forests.
The Vallumbrosan Order was founded by Saint Giovanni Gualberto, born to a prominent Florentine family and who, in 1036, retreated into a life of hermitage in Vallombrosa. After an initial wooden oratory, the Vallombrosians built a stone church in 1058, which was enlarged in 1200 at the same time the monastery was taking shape. The large cloister, the sacristy and the tower date to the 15th century, and in the 18th century, the church took on the uniform and lavish appearance that can be seen today.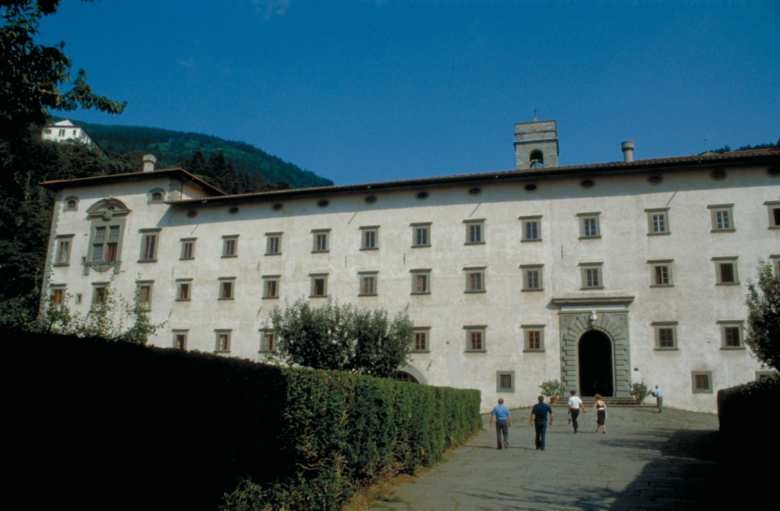 The Abbey is home to important artistic heritage including a panel painting by Raffaello dei Carli, some frescoes by Fabbrini (1750) in the dome and in the vault of the nave, the Trinity by Lorenzo Lippi, the extravagant reliquary containing Saint Giovanni Gualberto's arm, made by the Florentine goldsmith Paolo Sogliano (1500), and the inlaid wooden choir by Francesco da Poggibonsi.
In the Renaissance sacristy, visitors can find a panel painting by Raffaellino del Garbo depicting Saint Giovanni Gualberto and other saints (1508) and a large glazed terracotta altarpiece from the workshop of Andrea della Robbia, while the refectory is home to a series by Ignazio Hugford (1745).
Info: monaci.org/en
Reggello
In the Vallombrosa woods among abbeys and incredible castles
Reggello is one of the cool and shaded towns closest to Florence; loved by Florentines who are looking for a little relief from the city during the summer months, it's also a perfect day trip. The town of Reggello as we know it today was probably once called Castelnuovo della pieve di Cascia, due to two imperial papal bulls in 1103 and 1134 and which was distinguished from the Castelvecchio ...
Morekeyboard_backspace