natureNaturalistic attractions
Horti Leonini
An exemplary model of the Italian Garden
The Leonini Gardens occupy a large area of public space, which comprises the ancient bastions of San Quirico d'Orcia. Born in circa 1581 on the property of Francesco I dei Medici, who donated the land to Diomede Leoni, after which the gardens were named. The Leonini Gardens have remained the same since their inception and represent a classic Italian garden. The gardens also feature an adjacent park that had been enlarged over the centuries. Because of the nature of the landscape, the garden has ben divided into two areas: an inferior one that is more artificial and a larger one that is more natural.

The smaller garden, which has a rhomboidal shape, can be reached through a small brick courtyard. It is fenced off with brick walls and potted ilex trees. This area is composed of triangular flowerbeds with a doubled-edged fence, and it boasts a statue of Cosimo III dei Medici, made by Bartolomeo Mazzuoli (1688). The composition has a radial design with various kinds and heights of vegetation that separate each flowerbed. The long road that symmetrically cuts through the garden leads to a stairway and a green square. The square, where the medieval tower that was destroyed in the last world war is situated, is at the centre of a wood of centuries-old ilex trees.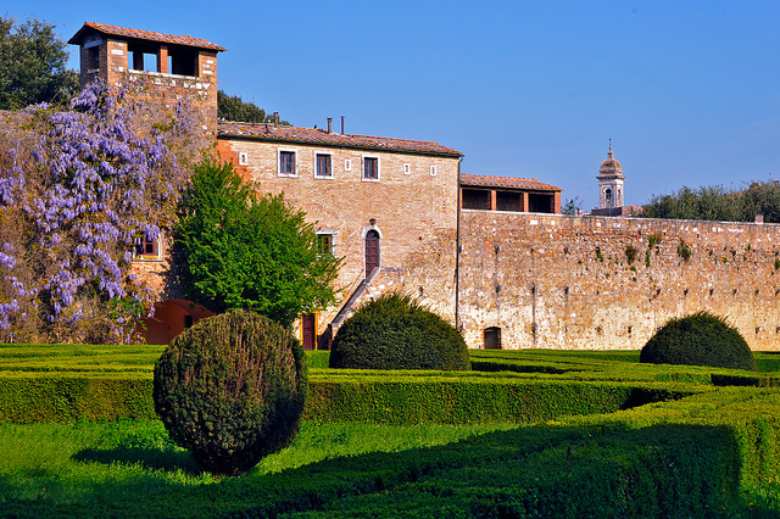 The road that separates the garden from the adjacent residential area travels along the smaller area of the garden and leads to another entrance and another area, at the east-end corner along the wall, which features a bed of roses. Among the sculptures in the park are two lion's heads at the main entrance, and the head of the "Giano bifronte", located near the border between the formal garden and the area of wild vegetation. Some of the edifices in the park date back to the 1400s.

The Horti Leonini, which became the property of the municipality of San Quirico d'Orcia in 1975, are regularly open to the public. The area is maintained buy the Soprintendenza per i Beni Ambientali e Architettonici of the province of Siena and Grosseto.
San Quirico d'Orcia
A historic village in the heart of Valdorcia along the Via Francigena
At the very heart of Val d'Orcia, nestled in the swirling hills is the incredibly historic village with (probable) Etruscan origins, immersed in olive groves, vineyards and oak woods. San Quirico d'Orcia, with its medieval parish churches, is an absolute must-visit. Find yourself in this enchanting scenery, famous for its beautiful countryside and harmonious atmosphere.
Morekeyboard_backspace