Monuments
Cellini's Perseus with the head of Medusa
Perseus with the head of Medusa is considered a masterpiece of Italian Mannerism.
Perseus with the head of Medusa, also known as Cellini's Persus, is a bronze sculpture. It is considered a masterpiece of Italian Mannerism, and is one of the most famous statues in Florence's Piazza della Signoria. Located in the Loggia dei Lanzi, it depicts Perseus as he stands on Medusa's body and holds her head up in the air. In the scene, he has just beheaded her with his sword, and triumphantly lifts up her head, holding it by her hair. The statute has a rather high pedestal, adorned with small bronzes that are now at the Bargello museum, so that the spectator must look up at it as Perseus looks down toward the ground. The refined pedestal bronzes are an example of Cellini's unparalleled talent when working on smaller pieces. This was due to the fact that he was also an expert goldsmith.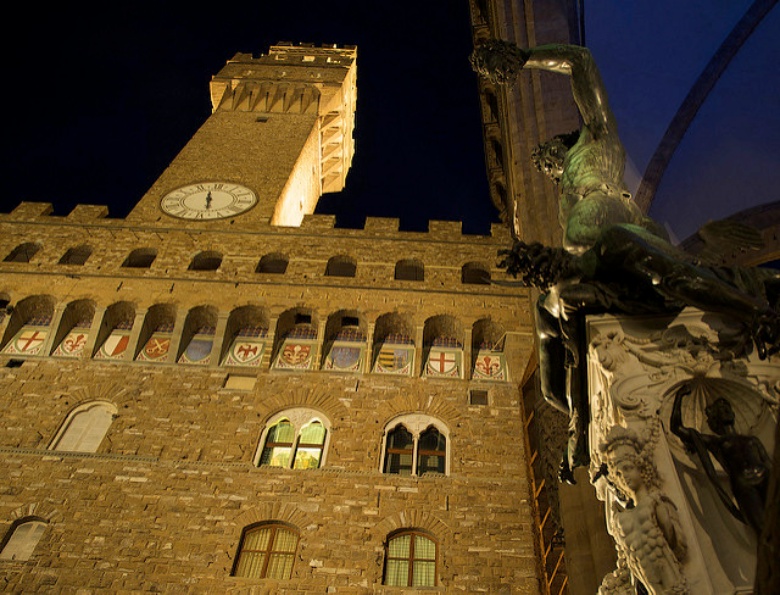 The statute was commissioned by Cosimo I dei Medici, after he had just been named Grand Duke, and was completed from 1545 to 1554. The original still stands in the Loggia today. It has stood there since its completion in 1554, except for a period of restoration that ended in 1998. Cellini's Perseus recalls Donatello's bronze sculpture Judith and Holofernes (1460), but Cellini takes a step away from the early Renaissance style towards the characteristic titanism of the Italian Mannerism. Cellini's Perseus also has political meaning, just like the vast majority of the statuary in the piazza. Indeed, it represents the new Grand Duke's desire to break away from experiences of the earlier republic and send a message to the people, which are represented by Medusa.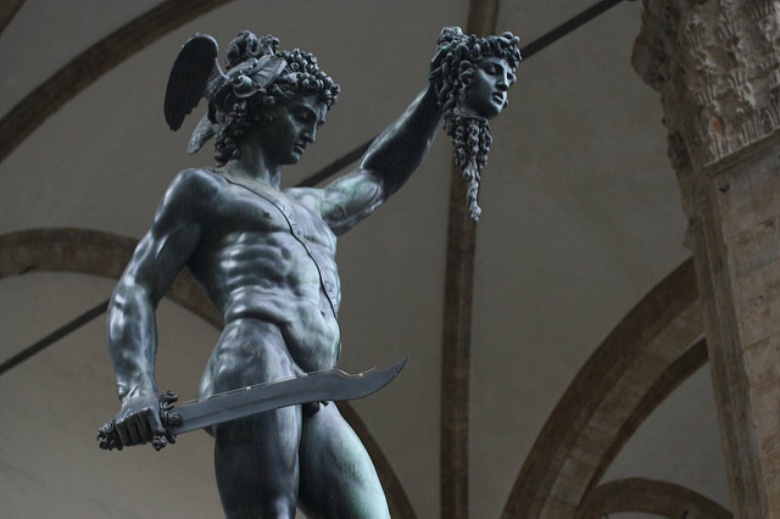 Serpents emerge from Medusa's body, representing the people's many past conflicts that had only worked to threatened and obstruct true democracy. Making the statue proved extremely difficult for Cellini, who truly put his talents to the test. He often spoke of his difficulty with Perseus in his autobiography. He complained about the difficulty fusing the statue in his kiln, and how he used all of the dishware in his home to make it. Fun fact: It is believed that Cellini used a young lover as his model for the statute, and on the back of Perseus' neck, there is the small portrait of a bearded man, which many maintain is Cellini himself. Florentine singer-songwriter Riccardo Marasco sings about this statue in a song called "L'alluvione" from his album "Il porcellino".
Florence
An astonishing city of art, fashion and tradition
If you are visiting Tuscany you cannot miss Florence. The Renaissance city is a treasure trove of art with an astonishing contemporary vibe. Beyond the extraordinary artistic heritage, a testimony to its centuries of civilization, the best way to enjoy Florence is to stroll along the riverside avenues at sunset, or to get lost among the city's myriad alleyways of the bohemian Oltrarno or the ...
Morekeyboard_backspace
You might also be interested in