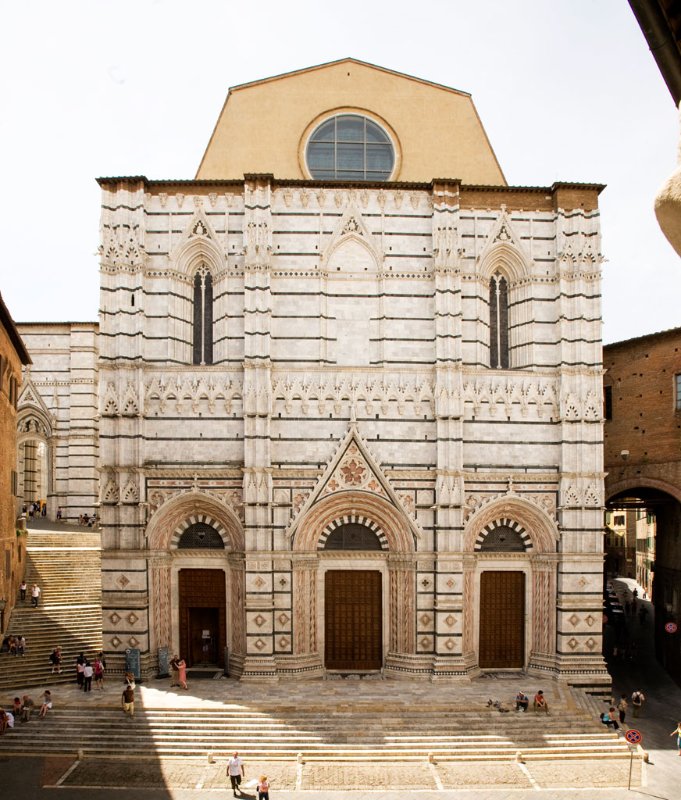 Places of worship
Baptistery of San Giovanni in Siena
Featuring masterpieces like the Baptismal Font and 15th-century frescoes by Vecchietta
The Baptistery of San Giovani in Siena is situated in the piazza of the same name and was built between 1316 and 1325 close to the base of the apse of the Duomo. The unfinished façade dates back to the second half of the 14th century while the inside, completed in 1325, was decorated with remarkable sculptures and paintings throughout the 15th century.
The most important work kept in the baptistery is definitely the famous baptismal font, a masterpiece from the early Tuscan Renaissance, made based on the designs of Jacopo della Quercia. The hexagonal basin is decorated with bronze panels with scenes from the life of St. John the Baptist, carved by Jacopo della Quercia, Turino di Sano, Giovanni di Turino, Lorenzo Ghiberti and Donatello, interposed with statues of virtue (Faith and Hope are the work of Donatello, the others are by Giovanni di Turino and Goro di Neroccio).
The ciborium is decorated with four bronze music angels by Donatello and Giovanni di Turino, found on top of a small statue of St. John the Baptist and decorated with low-reliefs by Jacopo.
Among the other notable works inside the baptistery, there is the statue from the workshop of Giovanni Pisano, the triptych of the Madonna with Saints and Stories of Saint Stefano by Andrea Vanni and Giovanni di Paolo and frescoes by Vecchietta with the articles of the creed.
Info: operaduomo.siena.it
Siena
Where not a single stone has changed down the centuries
Siena shines perfectly from a distance in its medieval magnificence. The three hills amid which the city rests rise up like an idyllic film set, the old boundaries soften like the past into a countryside that sometimes still seem like the scene painted by Ambrosia Lorenzetti in the Allegory of Good Government in the halls of Siena's city hall. ...
Morekeyboard_backspace
You might also be interested in