person_pin_circleVisit
The Gate of Heaven
The cathedral reveals its secret rooftop walkways
The Cathedral of Siena is a Tuscan Gothic masterpiece containining artworks by Michelangelo, Donatello and Nicola Pisano, and from the top, you can admire the city as you've never seen it before.
An extraordinary chance to visit the hidden corners and rooms of the Cathedral is the "Gate of Heaven" itinerary: it allows visitors to explore the rooftop walkways around the top of the church, which are usually closed off to visitors. From this area, you can admire the church's masterpieces from a completely different perspective. Accompanied by an expert guide, climbing the winding stairways that are usually hidden from public view, you'll get to experience the thrill of being well above the eyes of the average visitor.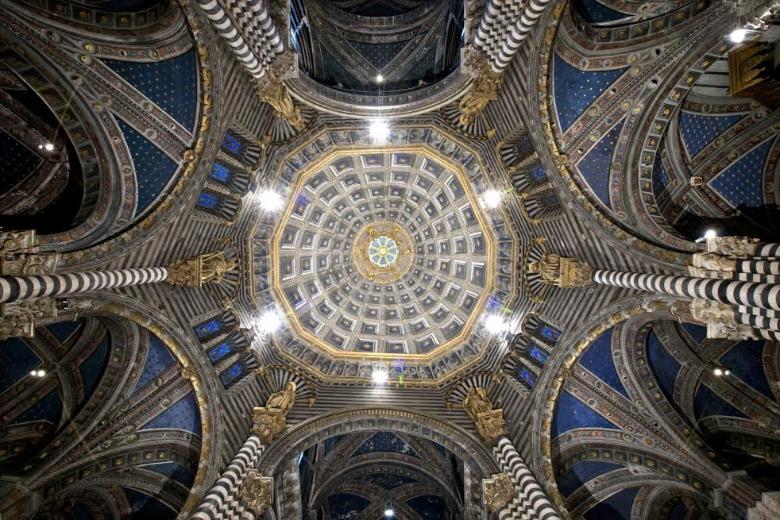 From the walkway you can admire the golden stars that adorn the dome, the main altar, and, of course, the sculptural masterpieces. You can get an up-close view of the glass window by Duccio Buoninsegna, the heads of the popes and emperors, not to mention the gargoyles that the rainwater rapidly moves through.
If seeing the incredible floor and artworks of the Cathedral from on high impresses you, what will really take your breath away is the panoramic view that you'll take in from the left side of the church: the view features the basilica of San Domenico, the Torre del Mangia and all of Siena at your feet. You'll feel like you're on top of the world. From the left there's an incredible panoramic view, spanning from the Medici Fortress to the Senese countryside, while on the terrace facing piazza del Duomo, you can admire the Ospedale di Santa Maria della Scala.
Info: operaduomo.siena.it/en
Siena
Where not a single stone has changed down the centuries
Siena shines perfectly from a distance in its medieval magnificence. The three hills amid which the city rests rise up like an idyllic film set, the old boundaries soften like the past into a countryside that sometimes still seem like the scene painted by Ambrosia Lorenzetti in the Allegory of Good Government in the halls of Siena's city hall. ...
Morekeyboard_backspace
You might also be interested in