First courses
Tordelli Versiliesi
Have you ever heard of Tordelli versiliesi? They're a delicious speciality from the Versilia that are usually prepared for Sunday lunch or feasts with the whole family. These crescent-shaped ravioli are filled with different kinds of meat, cheese and chard and topped with a mouth-watering ragù sauce. If you want to try your hand at cooking this tasty dish, check out this recipe.
Ingredients for the pasta:
400g of flour;
3 eggs;
A spoon of extra virgin oil;
A spoon of milk;
Salt to taste.
Ingredients for the filling:
150g of grated parmesan cheese;
50g of grated pecorino cheese;
300g of minced beef;
200g of minced pork;
150g of chard, boiled and minced;
A spoon of extra virgin olive oil;
100g of bread crumbs;
4 eggs;
salt to taste;
pepper to taste;
cinnamon to taste.
Ingredients for the Ragù sauce:
200g of minced pork;
200g of minced beef;
5 cloves of garlic;
1 glass of white wine;
3 minced carrots;
Minced celery;
3 leafs of basil;
½ minced onion;
A pinch of Cinnamon;
Nutmeg to taste;
Extra virgin olive oil;
Salt to taste;
Pepper to taste.
Preparing the filling:
Put the extra virgin olive oil, salt and pepper and all the meat in a pan; when the meat is almost ready, add the chard and mix in with a wooden spoon.
Take off the fire and put the dough in a bowl and add the bread crumbs, the parmesan and pecorino cheese, the eggs, a pinch of cinnamon, pepper and salt.
Mix everything together. If the filling is too hard add a little bit of milk.
Preparing the Ragu sauce:
Put the oil, onion, carrots, celery, all the meat, clove, cinnamon, nutmeg, basil, salt and pepper in a casserole dish.
Cook over a moderate flame for about two hours, pouring in a little red wine from time to time.
The sauce must be dense and abundant.
Preparing the Tordelli:
It's better to begin making the Tordelli when both the filling and sauce are ready.
Knead the flour, the eggs, a little salt, the spoon of milk and of extra virgin olive oil. When the dough is homogeneous, roll it out until it's a couple of mm thick; the thinner the better.
Cut the dough in little circle with a glass, place the filling in the middle of the circle, close the circle to form crescent shapes and seal the edges with a fork.
Now cook the Tordelli in abundant, salted water at a boil; the Tordelli float to the surface, lower the flame and simmer for two minutes. Drain it and top with the Ragù sauce and lots of grated parmesan cheese.
Thank you to Antonella Micali for having revealed one of her secret recipes to us!
You might also be interested in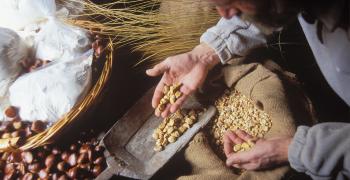 Learn more
Food and Wine
Olive oil, wine, truffle and other culinary delights make up the excellence of Tuscan gastronomy.
continue...