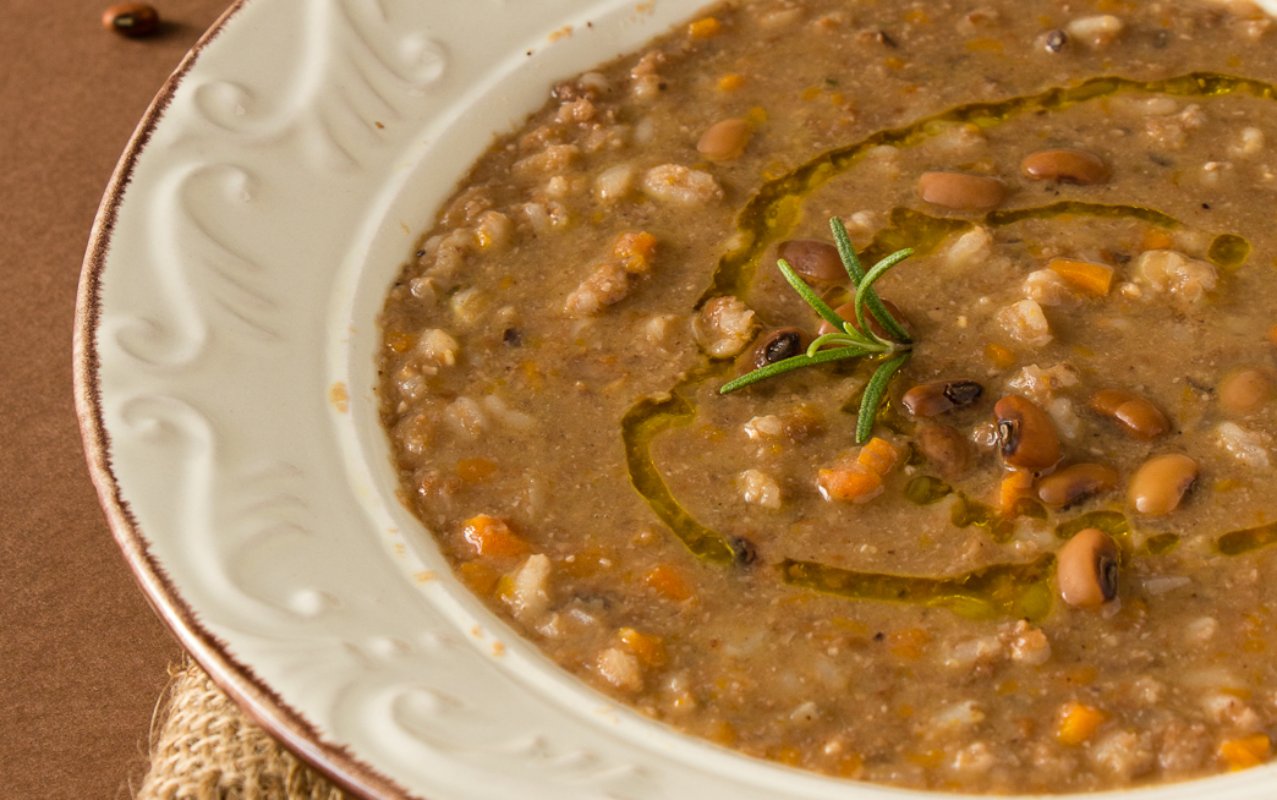 First courses
Spelt soup recipe
Cook
1 hour and 20 minutes
Winter is the perfect season to visit Garfagnana, the mountainous area of Lucca. As you explore, you can discover small ancient towns, walk in the woods or over rocky crests and beat the chill with a hearty and warm spelt and beans soup.
Spelt is the most famous food product in Garfagnana and also one of the oldest grains in the world. Cultivated as early as 7000 BC, spelt has lower nutritional requirements than other grains and therefore is suitable for mountains' soils.
Until a few years ago it was at risk of extinction, but due to good regional agricultural policies and obtaining the IGP designation, the Garfagnana spelt cultivation has expanded and the market demand increased. Today it's considered the best spelt variety in the world. Among local recipes with spelt, the zuppa di farro alla Garfagnina is of course one of the most beloved. You can travel to the Lucca mountains to taste it or bring Garfagnana to your home with this recipe by Alice del Re. Thanks Alice!
100 g dried (borlotti) beans
80 g spelt
70 g onion
40 g carrot
40 g bacon
2 sprigs of rosemary
extra virgin olive oil
salt



Soak the beans for about 10 hours
Rinse and cook in cold water for about an hour, along with the two whole sprigs of rosemary
Remove the rosemary, put aside a couple of tablespoons of beans and blend the rest
Chop the onion and the carrot and fry in two or three tablespoons of olive oil, add the bacon (cut into strips), and after a few minutes the blended beans
Add some salt, combine with the spelt and cook for about 20 minutes (or according to the time shown on the spelt package)
If the soup is too thick add a little 'of broth or warm water during cooking
When the spelt is ready, add the whole beans. Serve with a drizzle of extra virgin olive oil and some grated pecorino cheese (optional)
According to Giovanni Righi Parenti the traditional spelt soup recipe also contains garlic, parsley and basil in its soffritto.
You might also be interested in