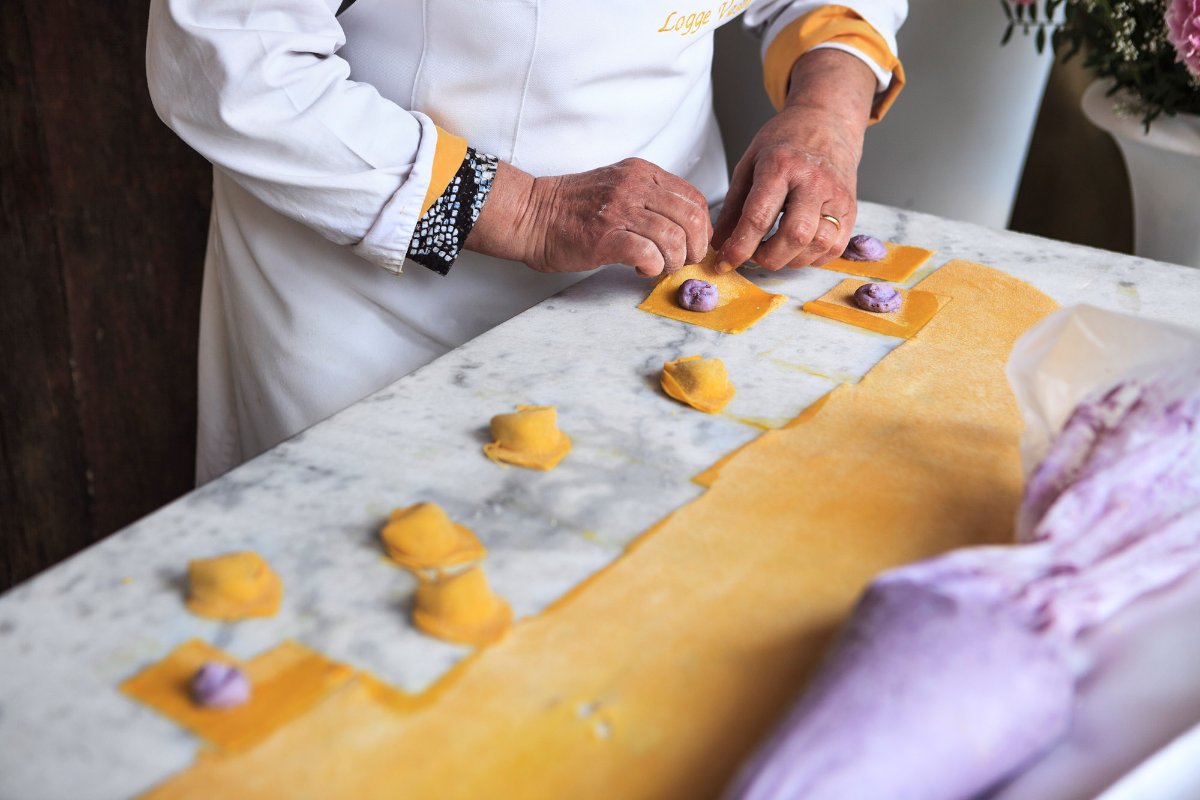 ??????
Scottiglia - Mixed Meat Stew
Traditionally farmers left the less popular cuts of meat to one side for themselves, as the best cuts were obviously destined to be sold or were for the rich land owners. When the farm workers came in at night, families would drop in on friends at nearby farms, often there would even be 3 or 4 farmhouses on the same area of farm land so they wouldn't have far to go. While one of the older members of the family told a story about hunting, or some adventure from his youth, an earthenware pot would be placed over the ever-present fire and the meat stew would slowly simmer away. At the end of the story the farmers would eat this traditional peasant dish which would fortify them for the next day's hard work. The name
scottiglia
comes from the fact that the stew would
scottare
(sear, braise or pot cook)  on to the sides of the earthenware pot. This mixed meat stew, simmered in tomato untill all the meat becomes very tender and sort of fall apart into bits. Just like in many other cases tuscan cuisine is very flexible, you can use a combination of meats for this recipe, the ones suggested in our recipe are commonly used in
Arezzo
were Scottiglia finds its home. You will never find the same scottiglia, every single household gives this recipe its own personality, by adding cuts of pork, beef, chicken, pigeon, guinea fowl and even turkey.
Ingredients for 4/5 servings:
2 pounds chicken, veal, pork,
1 pound pheasant, pigeon, rabbit or hare
2 onions
2 cloves of garlic
2 bay leaves
1 handful of parsley
1 stalk of celery
1 carrot
1 small red crumbled chilli
½ a glass of Extra-virgin olive oil
Chianti, 3 glasses
800 g (1lb 12 oz) tin peeled tomatoes
1 cup of broth
salt and pepper
Chop the meat into medium sized chunks. Mince the onions, garlic, parsley, celery and carrot finely, then add the bay leaves. Add the chili. Braise in an earthenware pot with ½ a glass of extra virgin olive oil. After about 20 minutes add the meat and let it brown stirring frequently. Add salt and pepper. After 10 minutes pour the red wine and simmer until reduced. Now add the tomatoes, peeled, chopped and without seeds. Stir and let it cook on medium fire for about 15 minutes. Add a cup of broth, cover with a lid and let it cook for about 2 hours on a low heat. (Remember that it should result not too liquid and not too thick, it will be the dressing for your bread slices). Now toast your crusty Tuscan bread slices, rub them with a garlic clove. Arrange them in a large pot and pour in the stew.Serve very hot. Add to your tuscan foodie places to do list: [geo_mashup_map]
You might also be interested in