Side dishes
Schiacciata all'olio, Tuscan flat bread
Schiacciata all'olio is one of Tuscany's top bakery treats. It's a type of flat bread made with flour, water, yeast, salt and olive oil, produced daily at your local "forno" or "Panetteria". Schiacciata literally means "squashed" and depending on the area where it's made, it can also be called ciaccia, schiaccia, focaccia or ciaccino.
Although you can find it throughout the region, not all schiacciata is the same. A recent survey promoted by Vetrina Toscana indicates that there are basically five schiacciata types. Which one do you like the most?
Thin or very thin, crispy schiacciata. This looks like a big cracker. Some versions are so thin that they resemble carasau, a Sardinian bread.
High and soft. This type of schiacciata is perfect when stuffed with cold cuts. It's often low in salt to contrast the spicy tastes of the cured meats. You can also find thinner, soft versions, which are delicious even on their own. Kids love this type of schiacciata for a snack!
Traditional. This schiacciata has a medium thickness, with a crispy surface and a semi-soft crust. Sometimes flavoured with rosemary, it's similar to the high, soft schiacciata but usually it's not suitable for filling with cured meats because it's so heavily salted, both in the dough and on the surface.
Made with bread dough. With a rubbery consistency, this is the 'halfway point' between traditional schiacciata and Tuscan bread.
Made with special flours. This type embraces some elements of the other types, but it's made with local flours produced through non-invasive or industrial methods. They are often easier to digest and have an incredible taste.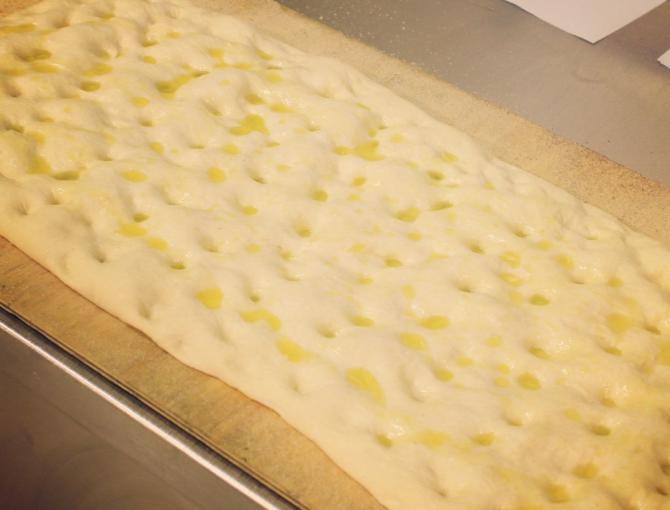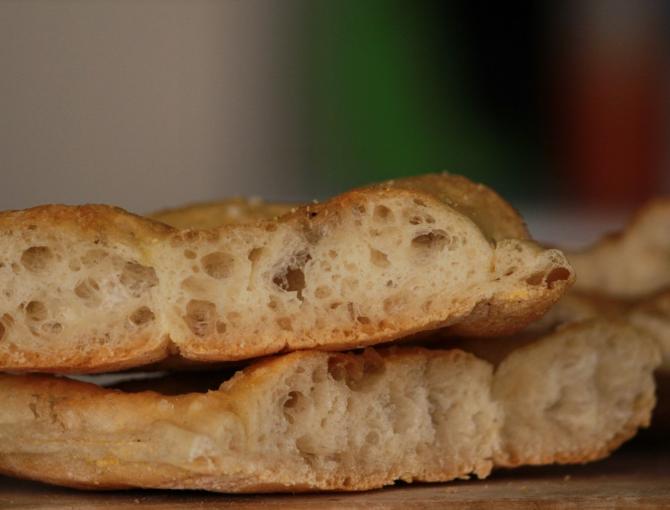 Want to try making it at home?
To make this oily and salty Tuscan delight, all you have to do is use our Tuscan bread recipe and add olive oil and salt! Just remember that the olive oil and salt will need to go in with the dough and then you'll also need to brush it over the top of the flat bread!
25 g (1oz) fresh yeast,
a pinch of sugar,
310 ml (1 1/4 cups) of water,
500 g (1lb 2 0z) bread flour,
2 tablespoons of extra virgin olive oil,
2 tablespoons of salt.
Put the yeast into a bowl with a pinch of sugar. Stir in the water* and leave it to ferment.
Put the flour in a large, wide bowl, or onto a flat surface where you can work with it. Add the yeast, a pinch of salt, and the oil, and mix in to incorporate them well. Knead the dough for about 10 minutes, until you have a smooth, compact elastic ball. Add a little more flour or water if necessary. Put the dough into a lightly floured bowl, cover with a cloth, and leave it to rise in a warm place for about an hour and a half, or until it has doubled in size.
Preheat oven to 200°C (400°F). Put some oil onto a wide baking pan and spread out the dough with your fingers.
Bake for 20 minutes and while the flatbread is still warm, brush over it with as much olive oil as you prefer and a bit of kosher salt.
Tip* The water must be tepid. To make schiacciata successfully, you should never use extreme temperatures.
You might also be interested in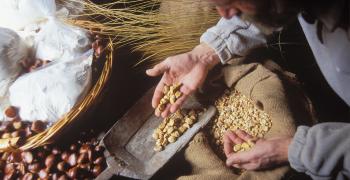 Learn more
Food and Wine
Olive oil, wine, truffle and other culinary delights make up the excellence of Tuscan gastronomy. ...
Continue...