Side dishes
Schiacciata recipe
You can buy Tuscan schiacciata in every bakery in the region, with its almost cult-like following.
Some prefer it soft and slightly oily, while for others there's never enough olive oil. Some want it thin and crunchy. Others like it cooked on a baking stone. And then, there are those who simply can't resist whenever it's around. With one bite of schiacciata, a Tuscany native is transported back to childhood and school snack time.
Baking it home is easier than you might expect, just allow it some time to proof overnight and be generous with your extra virgin olive oil.
First pre-fermented dough
1 g active dry yeast
250 g bread flour
250 g warm water
Second dough
500 g pre-fermented dough
500 g all-purpose flour
250 g water
6 g salt
Extra virgin olive oil
Make the pre-fermented dough the previous day, at around dinner time – it will need at least 12 hours of fermentation. Mix the flour with the active dry yeast and the water in a large bowl, and stir with a whisk to remove any lumps. Cover the bowl with plastic wrap and leave at room temperature until the next day.
After 12 hours, the pre-fermented dough is ready: it will be full of bubbles and alive. Scrape the pre-fermented dough into a large bowl, add the flour, salt and water and knead until sticky and very soft. Drizzle some olive oil around the ball of dough.
Cover the bowl with a wet towel and let it rise at room temperature until doubled, for at least 2 hours. Stretch and fold the dough every 30 minutes.
Grease a large pan with olive oil. Gently stretch the dough into the pan. Leave the dough in the pan, allowing some time between every attempt to roll it out, pressing your fingers and gently stretching it, so that the dough will relax. Let it rise for about two hours.


Preheat oven to 200°C, drizzle more extra virgin olive oil onto the surface, sprinkle the schiacciata with some salt. Bake the schiacciata for at least 20-25 minutes, until golden brown.
You might also be interested in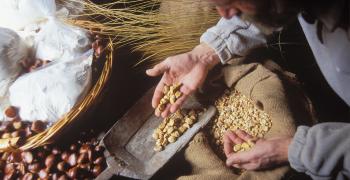 Learn more
Food and Wine
Olive oil, wine, truffle and other culinary delights make up the excellence of Tuscan gastronomy.
continue...