Side dishes
Florentine-style peas
The arrival of spring brings one of the best parts of the season: fresh peas! This time of year, you'll find them at every market stall, along with fresh garlic. If you want to try your hand at this delicious dish, follow this recipe by Giulia Scarpaleggia, inspired by Paolo Petrini's Piselli alla Fiorentina.
400 g of unshelled peas or about 1 kg with the shell
1 clove of garlic
Bacon or ham
Olive oil
Salt and pepper
Unshell the peas if needed and put them in a saucepan. Add the garlic with its skin on, 6 tablespoons of olive oil and a bit of salt.
Add a glass of cold water and cook slowly, uncovered, until the peas are cooked and the water is partially evaporated.
Before removing from the heat, add the bacon or ham cut into thin slices.
Serve Florentine-style peas with its sauce.
You might also be interested in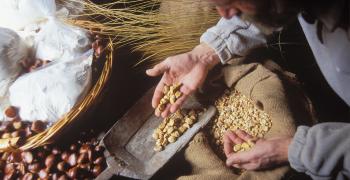 Learn more
Food and Wine
Olive oil, wine, truffle and other culinary delights make up the excellence of Tuscan gastronomy.
continue...