First courses
Sachet of beans with ossobuco ragu
A long time ago, pasta dough was always homemade and the meat used to make ragu sauce was usually cut by hand. Traditionally, "ossobuco" meat (sliced veal shanks) was prepared in Tuscany as a main dish with vegetables and tomato sauce, beans were cooked usually with sage, garlic and tomato ("all'uccelletto") and served as a side dish.
Tradition and creativity come together in this dish suggested by Maria, one of the five chefs at La Tenda Rossa, in Cerbaia Val di Pesa. Fresh pasta, cannellini beans and "ossobuco" make an excellent match in this incredible Sachet of beans with "ossobuco" ragu, a stellar dish for very special occasions.
Ragu
200 g of ossobuco (sliced veal shanks) meat
20 olives
Flour
1 carrot
1 stalk of celery
1/2 onion
1 fennel
1 sprig of marjoram
1 glass of red wine
200 g of meat
Pasta dough
500 g white flour (1.1 lb)
4 eggs
salt
Bean filling
400 g (1 lb 2 oz) dried cannellini, soaked in cold water overnight
2 garlic cloves, peeled
2 sprigs of sage
300 g (14 oz) tin peeled tomatoes with their juice, chopped
5 tablespoons olive oil
Heat a frying pan. Flour and brown the "ossobuco" (add salt to the meat every time you turn it). Once browned, add the vegetables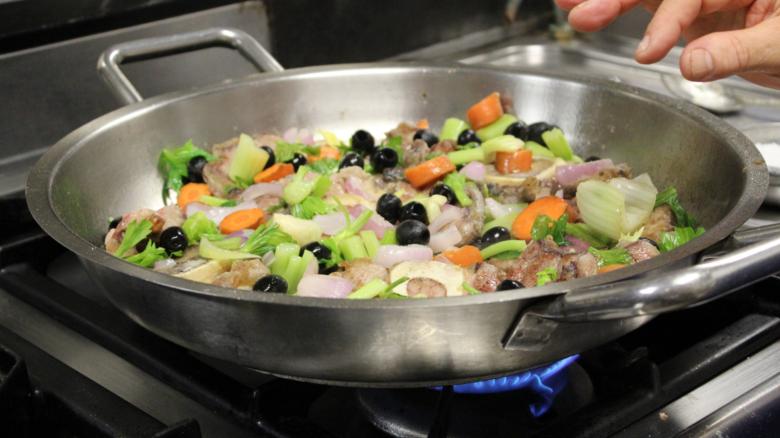 When the onions are golden, add the wine and cook the meat for 1 hour and half, adding broth if necessary
When the meat is tender and comes away easily from the bone, chop everything (vegetables and meat) into small pieces
Put the cooked beans in a pastry bag and fill the pasta. Having made the sachet of beans, cook the pasta in vegetable broth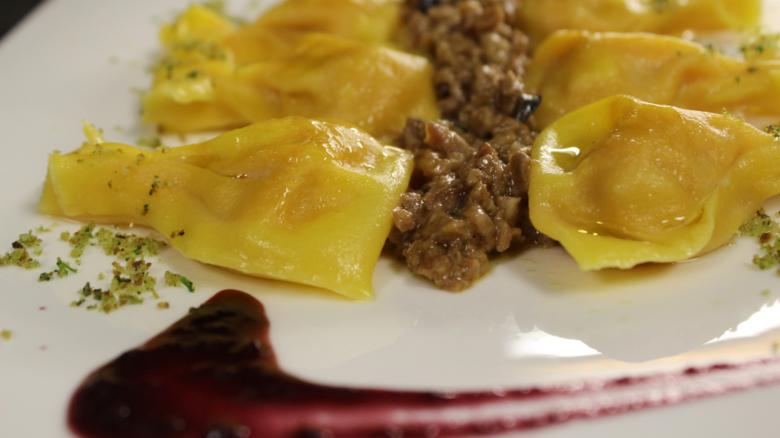 Assemble the dishes, and decorate with wine sauce and a mix of crunchy bread with rosemary and mint
Chef at La Tenda Rossa since 1972. Her specialties include homemade pasta dishes. La Tenda Rossa is a family-run restaurant in Cerbaia, near Florence. Here there's no head chef, but five chefs who work and create together, from Monday to Saturday.
You might also be interested in