First courses
Italian Pasta Dough recipe
We thought that something as simple as the pasta dough recipe, would be absolutely necessary to all those foodies that are approaching italian and tuscan cuisine. So here it is, it's easy, healthy and your family will appreciate the fact you didn't pull it out of a plastic bag.... not to mention how good it is for your arm muscles!
Making pasta is easier than one might think - three ingredients - some strength - and you will certainly need patience while it's resting!
500 g white flour (1.1 lb)
4 eggs
salt
Place the flour on a large wood cutter or more generally on a flat surface - marble would be the ideal (as it's not pourous).
Break the eggs and after you have created a sort of crater shape with the flour, drop the egg (both the yolk and the white in the center). Add a pinch of salt. Begin to knead inwards to outwards. When the dough is soft yet firm and elastic give it a round shape.
Cover and leave it to rest at room temperature for about 30 minutes.
To make thin pasta sheets you can use a rolling pin or a pasta machine.
You might also be interested in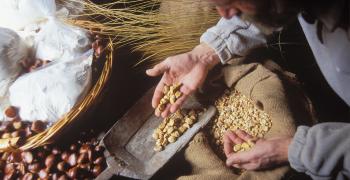 Learn more
Food and Wine
Olive oil, wine, truffle and other culinary delights make up the excellence of Tuscan gastronomy.
continue...