Desserts
Ricciarelli recipe by Juls Kitchen
A cross between a small pastry and an almond cookie, ricciarelli feature a dusting of powdered sugar, with a soft inside that melts in your mouth and a striking aroma of bitter almonds. The origin of ricciarelli di Siena dates back to the fifteenth century: the almond paste – in the form of marzipan or Marzapanetti – was once very popular in the town and Siena was famous even outside its territory for its production. The cookies made with almond paste were reserved for the sumptuous banquet of the Lords because they were made of precious ingredients, mainly almonds and sugar. They were so valuable and refined that marzipan sweets were sold in the apothecaries shops along with drugs and the most exotic spices of the time.
Today, together with panforte, ricciarelli are perhaps one of the most characteristic Sienese desserts. During Christmas time, you can find them in all the pastry shops and bakeries of Siena. Even though this is a traditional recipe, it is also a sweet treat with a modern appeal, as they are naturally gluten free and lactose free, thus making them a Christmas cookie that can meet everyone's needs.
2 egg whites, about 75 g
200 g icing sugar, +1 cup for dusting the ricciarelli
200 g almond flour
1 teaspoon bitter almond extract
1 teaspoon vanilla extract
grated zest of 1 orange
The night before: whisk the egg whites, then fold in the icing sugar and the ground almond flour. Also add the bitter almond extract, the grated zest of an orange and the vanilla extract. Cover with cling-film and set aside in the fridge overnight.
The day after: preheat the oven to 160°C (320°F). Dust a working surface with icing sugar. Roll the dough into a log and cut out small balls of dough. Shape the dough with your hands into an oval, about 1 cm thick. Arrange the ricciarelli on a tray lined with parchment paper.
Coat the shaped ricciarelli with extra icing sugar. Bake the ricciarelli for about 18 minutes. When you remove them from the oven, they will still be soft and moist, but don't worry, they will reach the ideal texture once cooled down.
Store them in an airtight container. The day after they are even better.
You might also be interested in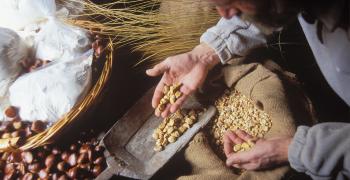 Learn more
Food and Wine
Olive oil, wine, truffle and other culinary delights make up the excellence of Tuscan gastronomy.
continue...