Desserts
Walnut, raisin, black pepper and red wine muffins
This recipe hovers between tradition and innovation: Giulia has created a quick dessert that is not part of the tuscan culinary tradition, muffins, but enriched with walnuts, raisins, red wine and black pepper, wich are the ingredients of the traditional Tuscan Pan co' santi. With these muffins you can appreciate in a very short time an old world taste that often takes too long to be kneaded, raised and baked. Thanks Giulia!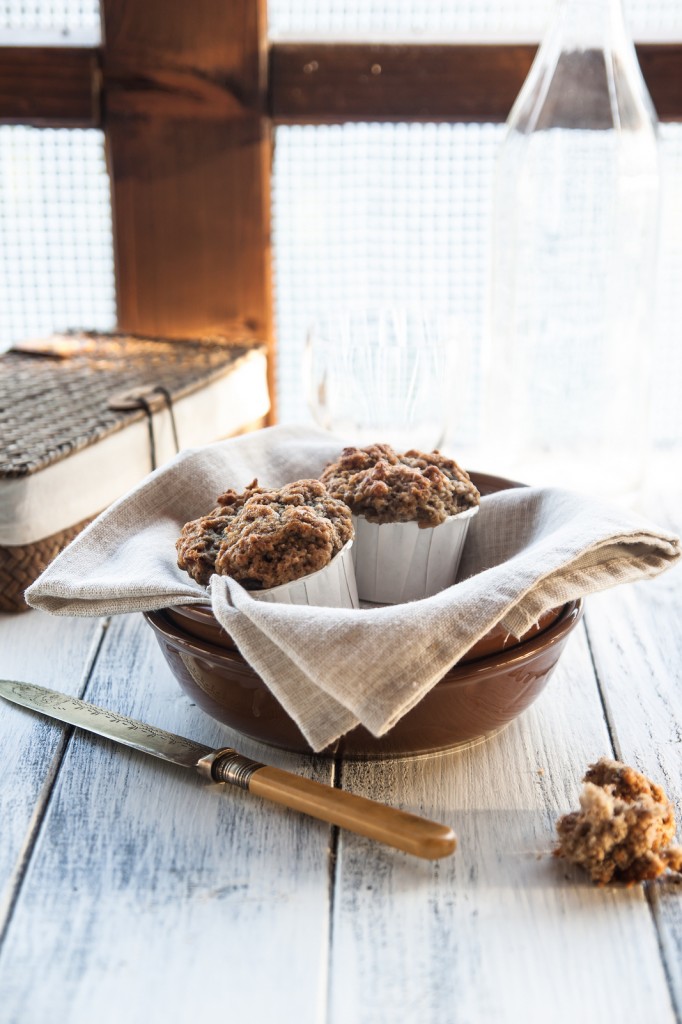 125 g plain flour
125 g of whole wheat flour
2 teaspoons baking powder
teaspoon baking soda
1 teaspoon ground black pepper
A pinch salt
100 g raw cane sugar + a few tablespoons for dusting the muffins
125 ml red wine
125 ml white yogurt
100 ml extra virgin olive oil
1 egg
4 handfuls shelled and chopped walnuts
2 handfuls raisins, soaked in water and squeezed
Preheat oven to 200°C.
Sift the flours, baking powder, baking soda, salt and pepper in a large bowl, then add the brown sugar.
In another bowl, pour all the liquid ingredients: red wine, yogurt, extra virgin olive oil and yogurt. Whisk all the ingredients until homogeneous.
Pour the liquid ingredients into the bowl with the dry ingredients and stir gently, cleaning up the edges without overworking the dough, just to dissolve any lumps of flour.
Add the chopped walnuts and raisins and stir to mix.
Scoop the batter into 12 muffin moulds lined with paper cups. Fill the moulds up to three quarters of their capacity and sprinkle with a pinch of cane sugar to get the muffins crispy and glazed on the surface.
Bake the muffins for about 20 minutes until they are puffed, golden and springy.
Cool on a wire rack of before eating.
You might also be interested in