Starters
Cecina Recipe (chickpea flatbread)
Cecina (torta di ceci or farinata) is a pizza shaped snack made with chickpea flour and water. It's a traditional food from Pisa and Livorno that you can also find in many other cities of the Tyrrhenyan coast: in La Spezia it's called 'farinata', in Savona 'fainà' and in Nice 'soccà'. Here is Serena Angelini (Pici e Castagne) recipe:
Chickpea flour 200 g,
Cold water 500 g,
Salt,
Extra virgin olive oil,
Ground pepper.
Dissolve the flour in the cold water stirring continuously in order to avoid lumps,
Leave the mixture to stand for a couple of hour.
Remove the foam on the surface
Preheat the oven to 220° C
Add a pinch of salt and a drizzle of extra virgin olive oil
Oil a baking pan and add the batter (thickness= 1 cm)
Bake for about 40 minutes
Add the pepper, cut into squares, serve and...enjoy!
You might also be interested in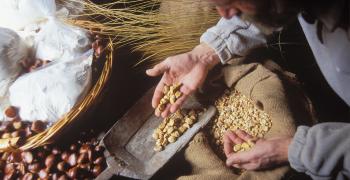 Learn more
Food and Wine
Olive oil, wine, truffle and other culinary delights make up the excellence of Tuscan gastronomy.
continue...