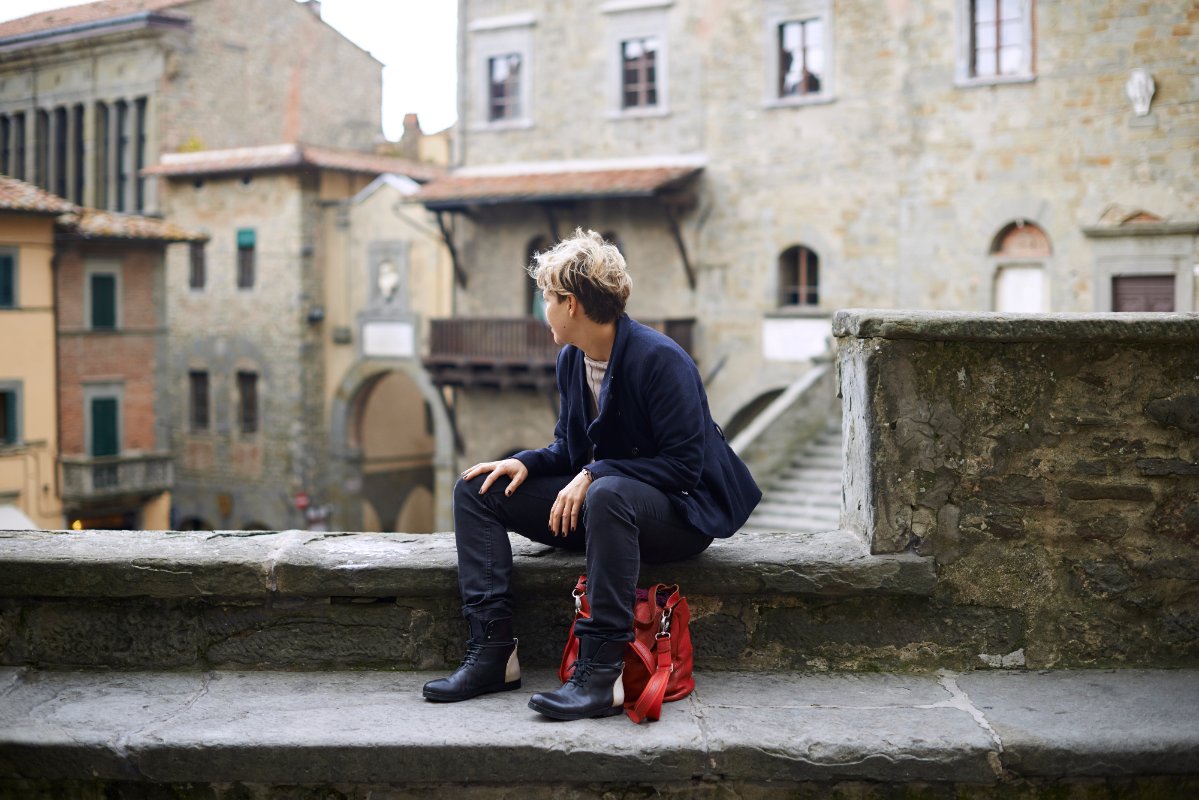 Damien Hirst Diamond skull in Palazzo Vecchio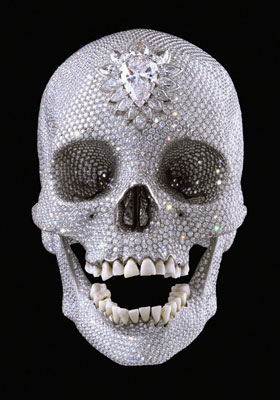 For the Love of God
is a life-size cast of a human skull in platinum, entirely covered by 8,601 VVS to flawless pavé-set diamonds, weighing a total of
1,106.18 carats
. Set into the forehead is a large pear-shaped pink diamond, known as the Skull Star Diamond. The teeth are those of the original skull which was purchased by Hirst at a taxidermy shop in London. The skull is that of a man who lived around 1800. Prior to the exhibition in Florence, the 2007 work
For the Love of God
has only been shown twice. Following its inaugural exhibition at White Cube in London (2007), For the Love of God was exhibited at the Rijksmuseum in Amsterdam (2008), where it attracted over 250,000 visitors. You will be pleased to know that the work is for sale for about 100 million euros. Should we all chip in a few bucks and buy it together?
What does it mean?
Hirst's skull is, as you might imagine, not without controversy. It costs a ton of money for something that is essentially useless; only the artist stands to gain from its sale, and frankly it's kinda ugly. One artist's response to it implies that it is
garbage
- she created a Swarovski crystal replica of it and set it up with trash behind the White Cube gallery for all to photograph and report on! The skull in art usually is a
Memento Mori
, a reminder of our own mortality. Some examples of
memento mori
are the
Trinity
by Masaccio or
The Ambassadors
by Holbein. Dutch art historian Rudi Fuchs interprets this particular skull as a "victory over decay". The diamonds imply glory not found in typical
vanitas
scenes (like Holbein's). Perhaps we lose something by seeing the skull out of context of the other works with which it was initially exhibited at the White Cube gallery's show
Beyond Belief
in which Hirst turned "the whole large gallery into a meditation on life and death, good and evil" (
source
).
Palazzo Vecchio Hirst exhibit
Palazzo Vecchio
is the historic seat of the Florentine government and one of the great masterworks of art and architecture of the Italian Renaissance. Palazzo Vecchio's lavishly decorated rooms, which were designed by Vasari, hosted the court of Duke Cosimo I de' Medici. The building now has a section preserved as a museum and a large area reserved for comunal government offices.
For the Love of God is displayed in the Camera of Duca Cosimo
, a little tiny room that we reach by passing through the
Studiolo of Francesco I de' Medici
(which is usually closed and just viewable from the doorway). After waiting in line, groups of 12 people at a time enter the studiolo for 2 minutes and then the Camera for another 2 minutes. The latter has been covered with black cloth and is totally dark except for dramatic lighting on the skull itself.
Museology here leaves something to be desired.
I was so excited to be in the Studiolo looking at the wall panels that hide cupboards that would have housed valuable objects, and at the paintings by Stradano and others above. Most people were just waiting to move beyond this room. It might have been nice to
put an information panel in the space
or used other methods to direct viewers to the space itself and its ornament. The room in which the skull is displayed is intended as a stark contrast to the studiolo, a kind of sensory deprivation in favour of the diamonds, and while I appreciate this, I might have consulted a
sound designer
to create a sound (not music) that would help focus us on the piece and not on other peoples' comments about it.
Inside Palazzo Vecchio, Hirst's work gains a different meaning
than it had in a London Gallery. In my opinion, the point of the skull
in this context
is that it is a
precious contemporary object housed in a historical space
that served a similar function over five centuries ago. The Medici Dukes' wealth and buying power was comparable to that of an eventual patron or purchaser of Hirst's work. A second message is a more subtle one that is mainly for Florentines engaged in the arts world: this exhibit (which superintendant Giuliano da Empoli emphasises did not cost him a penny) is a message that says "
Florence is open to contemporary art
". In a building whose name, Palazzo Vecchio, includes the word "old", it's hard to imagine newness and innovation. And the same extends to a city whose architecture is dominated by its building boom in the 1290s. Yet an upsurge of contemporary arts initiatives has been taking place in the last two years, and the Hirst exhibit both falls into this category and makes a statement about it. (If you're interested,  you can read more about the
state of contemporary art in Florence
in the second half of my article about that on arttrav.)
Credits & info
Promoted by the
Comune di Firenze
,
Assessorato alla Cultura e alla Contemporaneità and the Musei Civici Fiorentini
, the event was conceived by
Memoria srl
, is curated by
Francesco Bonami
and is being produced and organised by
Arthemisia Group
with the collaboration of
Pitti Immagine.
Tickets
: adults € 10,00 includes admission to the Museo di Palazzo Vecchio (and the beautifully lit
Chapel of Eleonora di Toledo
). Open daily til midnight, closed Thursday afternoon. A beautiful museum bookshop featuring contemporary art books and objects has opened in the ground floor area of Palazzo Vecchio. The exhibit catalogue costs 29 euros. [geo_mashup_map]
You might also be interested in