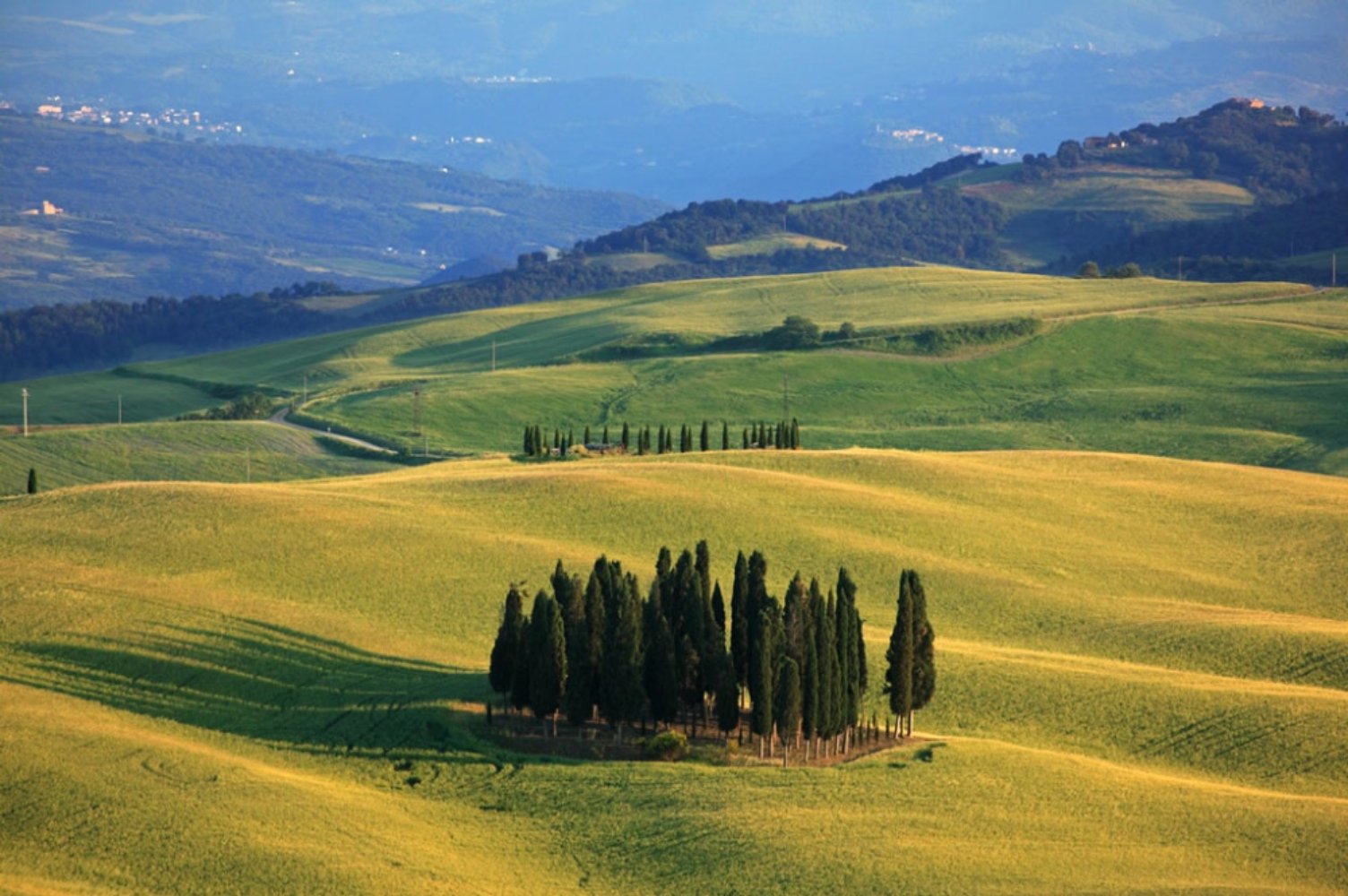 Abbey of Monte Oliveto Maggiore
Take a break from modern life
The history of the Abbey of Monte Oliveto Maggiore began in Siena around 1313, when Giovanni dei Tolomei—a brilliant nobleman in his forties—decided to make a break from 'normal life' and dedicate himself to more spiritual practices. Together with Patrizio Patrizi, Ambrogio Piccolomini and other Sienese friends, he travelled 35 km from Siena and chose the secluded Tolomei estate of Acona, to be the center of their retreat. There, the friends spent years of semi-ascetic life and so that they wouldn't be confused with heretic sects, the group became officially recognized in 1313, as the congregation of the 'bellicose' bishop from Arezzo, Guido Tarlati Pietramala.

The new Congregation chose to become part of the Benedictine Order, following the code of conduct often described by the Latin phrase 'ora et labora'. Visitors to the abbey should expect strict monk-style schedules when it comes to opening and closing hours; both are announced by the unmistakable chimes of the monastery's clock tower. The abbey's structure reflects classic influences and has many of the characteristics of a typical Benedictine complex including a large church, and one or more large and small cloisters. The Abbey of Monte Oliveto Maggiore also hosts a main classroom, a refectory and a large library.

Modern-day visits begin with a tour of the church, built at the beginning of the 1400s. Like many Sienese churches of the time, its abundant collection of paintings make it a quasi-gallery or sacred art museum. In addition to paintings, visitors can admire statutes and grand inlaid works like the chorus lectern with the cat, created by Brother Raffaele da Brascia (1520). The church leads into the Grand Cloister, which is completely frescoed by Luca Signorelli and Antonio Bazzi, known as the Sodomite. From the Grand Cloister, visitors have access to the refectory and can take the stairs up to the main classroom and the abbey library. Many guests save the time to attend Holy Mass during their visit; this sung-mass showcases the beauty of Gregorian chants and is officiated by the Olivetano Monks. Be sure not to leave the Abbey before visiting the wine cellar, where guests can purchase wine made by the monks themselves.
How to get there
You can reach the Abbey by way of the SS2 Cassia Highway. Take the Buonconvento exit and head up the provincial road towards Chiusure Asciano. If coming from Bettolle, take the Rapolano exit (either Terme or Serre). Those driving in from Siena should exit at Asciano (Taverne d'Arbia). In both cases, head towards the 'Chiusure' and follow the signs. The monastery is open every day from 9:15am to 12pm and 15:15pm to 5pm (6pm in summer).
Source: Intoscana.it
You might also be interested in