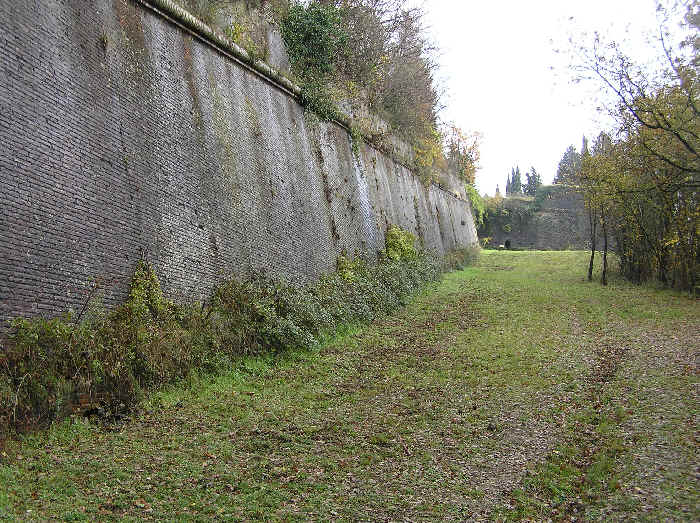 location_cityHistorical Buildings
The San Martino Fortress in San Piero a Sieve
One of the most extensive Italian fortresses in history
This fortress, situated on a hill near the town of San Piero a Sieve, was built to satisfy the wishes of Cosimo I de' Medici. Due to the fortress's huge size, numerous construction operations were carried out. As a matter of fact, construction was only completed during the reign of Ferdinando I at the beginning of the 17th century. The fort was built for defending and safeguarding the family's estates and the property of the Florentine state as well as to satisfy the demands of the local population who were tired of being plundered by raiders and armies from the north.
The structure has an irregular shape but is quite similar to a reinforced rectangle with nine bastions and two gates. With the 'Florentine gate' on the southern side and the 'Bolognese gate' on the north side.
Near the first door, inside the structure's imposing walls, you'll find the keep, a smaller, irregularly shaped structure with five sides, equipped with bastioned walls. This side was considered less vulnerable to attack and as such has a smaller fort. In the rest of the space, you'll see windmills, barracks, warehouses for storing weapons and ammunition, cisterns, a chapel and workshops to repair equipment or build cannons and artillery.
Social & Web
Find out what they say about us, and tell us about your Tuscany!
Scarperia e San Piero
History and craftsmanship in two towns of the Mugello
The municipality of Scarperia e San Piero consists of two medieval villages, deep in the Mugello countryside. Scarperia, one of the most beautiful villages in Italy according to an official list by ANCI (Associazione Nationale Comuni Italiani), boasts a unique medieval history: having been made a vicariate, it wielded administrative power on behalf of the Florentine government. ...
Morekeyboard_backspace