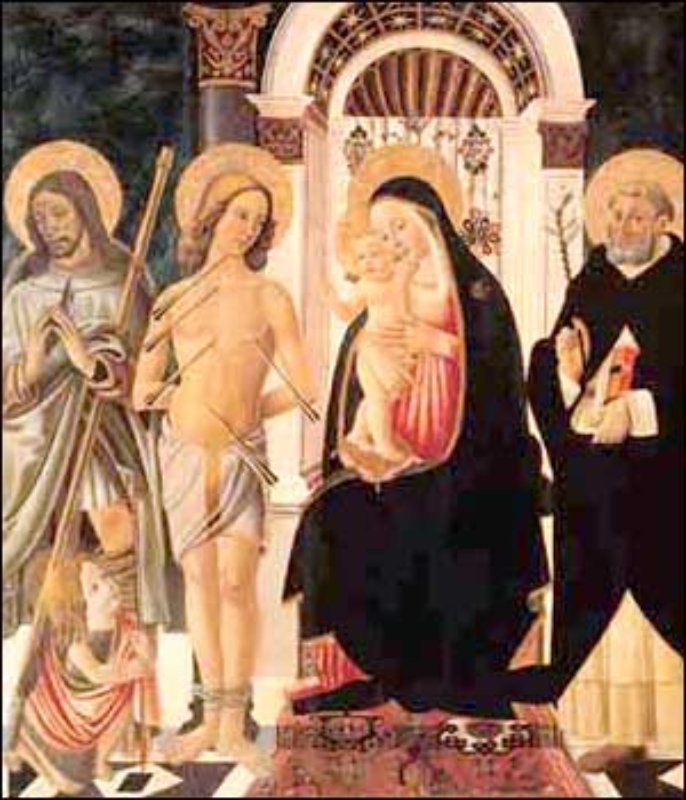 crop_originalArtworks
The Sacred Conversation: the Madonna with child among saints
This is the most important work by this Prato-born artist
Tommaso di Piero, known as Il Trombetto, was one of the most talented and well-known artists in Prato in the 15th century. Born in Prato, in addition to being an artist, Il Trombetto was also a wax-chandler.

He made this tempera on wood, which is now on display in the Civic Museum in Prato, depicting the Madonna, who sits on the throne and holds Baby Jesus on her lap. On the right are the saints Rocco (with closed hands), Sebastian (who has been hit by arrows) and Giovannino (who is kneeling); while on the left there is Saint Domenico and Lorenzo. In this painting, it is easy to decipher the unique style of the artist.

The complexity of the facial features of the saints on the right has made critics believe that perhaps Il Trombetto was aided by another more mature artist, like Domenico di Zanobi, who was a collaborator of Filippo Lippi in Florence and Prato. These strong features are the heightened cheekbones and ruffled and thick hair of the figures, the special layout of the scene and the vibrant colors of the pavement in the scene. The fabric of the material that decorates the throne and the carpet at the feet of the Virgin Mary are elements that recall an altarpiece by Ghirlandaio di Lucca, in circa 1480-1485.
Prato
In the heart of Tuscany, a city of art and prestige
If there is one city that can impress those looking for lesser-known destinations, it's Prato. Considering how the city is presented in the press, visitors will be surprised to discover an elegant and well-preserved historic city centre, as impressive as the most famous Medieval cities dotting Tuscany. ...
Morekeyboard_backspace
You might also be interested in