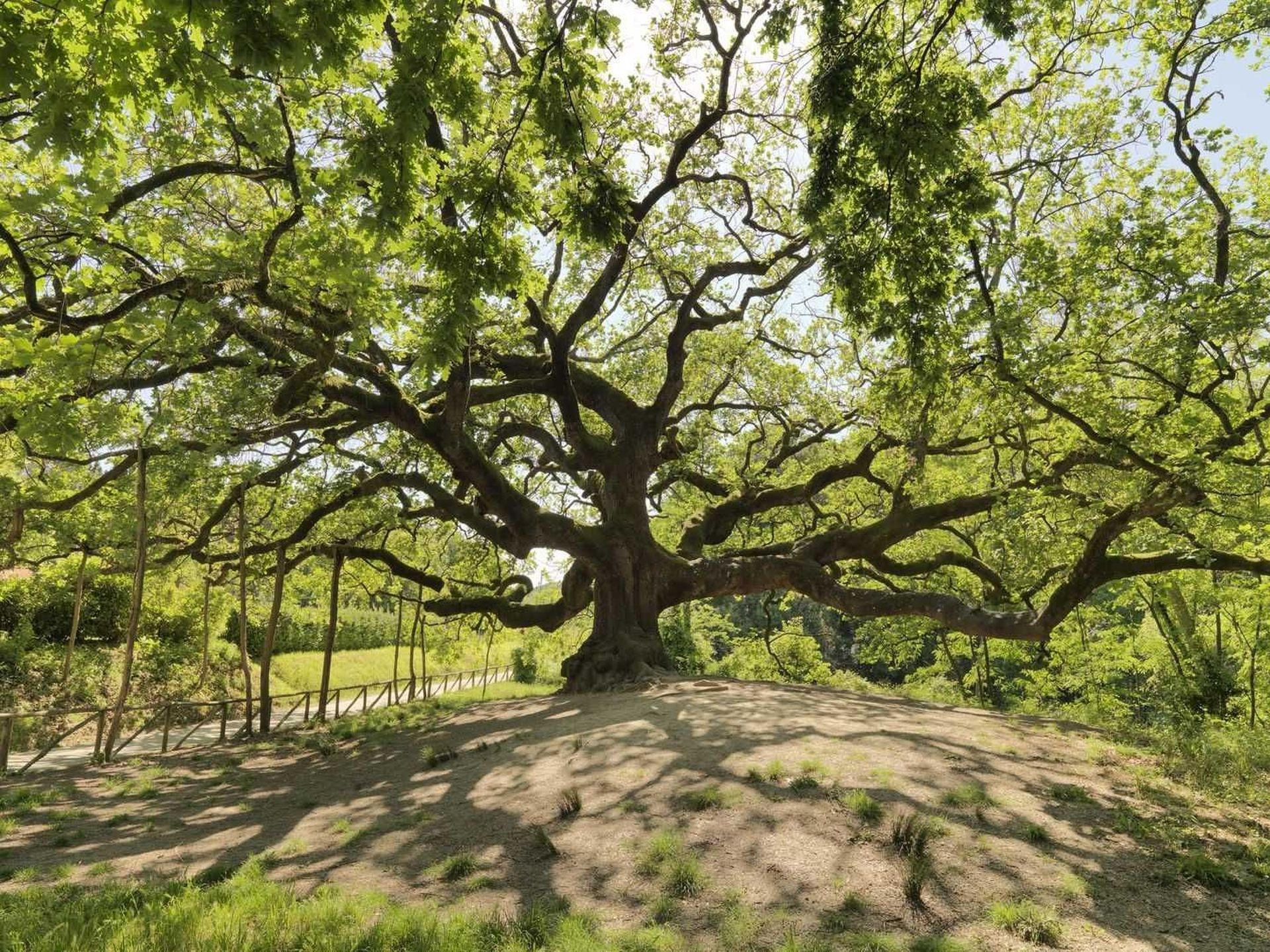 Photo ©Comune di Capannori
natureNaturalistic attractions
The oak of the witches
A legendary tree in the woods of the Lucca plain
It's no ordinary oak that has been growing for about 600 years on the estate of Villa Carrara, in Capannori. It's accessible from the local road that descends from San Martino in Colle.
The "Quercia del Carrara" (Oak of Carrara) is certainly one of the most fascinating trees in the Plain of Lucca. A natural monument, it's representative of a plant species that's among the most widespread in Europe and at one time, also of the Tuscan hills.
A majestic tree that's more than 20 meters high, it takes at least five people to embrace its trunk with its diameter of 4 meters. However, most impressively, the diameter of the crown is 40 meters of twisted branches and foliage that offers a spectacular variety of colours in every season. During the summer, the shade of the oak offers shelter like a huge living room. In autumn, the sumptuous carpet rests around the trunk. In winter, the sky can be glimpsed among the gnarled and contorting branches.
From the beginning, the stance of this wide and low tree inspired legends and tales. Its shape and the large branches that touch the ground lead it to be said to be that witches used to meet here on Sabbath nights and thus originated its second name: "Oak of the Witches"
The "Big Oak" is another name attributed to it in the book "The Adventures of Pinocchio". Carlo Lorenzetti is said to have been inspired by this tree and set the murderers episode there. The village of Collodi, where Lorenzetti lived for a long time, is not far away.
It was recently given the title of Monumental Tree by the Regional Technical Council for Protected Areas and Biodiversity of the Tuscany Region.
The tree is of the Quercus pubescens species, the most widespread oak species in Italy. It is considered widely as the quintessential oak. As a characteristic of the species, it has a short stem that quickly branches into large gnarled branches. The foliage is wide, sparse and irregular. It's not surprising that in heraldry, it symbolizes power and solidity.
Capannori
Forts, castles and medieval towers, alternating with the elegant architecture of Renaissance towns
The vast area of the Capannori municipality ranges from the Pizzorne plateau to the Pisan Mountains and occupies a large part of Lucca's plain. Its hills are scattered with castles and medieval towers alongside architecturally elegant and refined Renaissance villas. ...
Morekeyboard_backspace