Places of worship
Temple of San Biagio in Montepulciano
A masterpiece of Renaissance architecture stands just outside the town
The Temple of San Biagio, a masterpiece of Italian Renaissance architecture standing just outside the town of Montepulciano, was built between 1518 and 1548 on the designs of Antonio da Sangallo the Elder who used the model of the Basilica of Santa Maria delle Carceri in Prato, with its Greek cross plan by Brunelleschi.
The church and its adjoining rectory were built in travertine blocks taken from the nearby caves of Sant'Albino in the place where an ancient Paleo-Christian church dedicated to the Virgin and later St. Blaise once stood.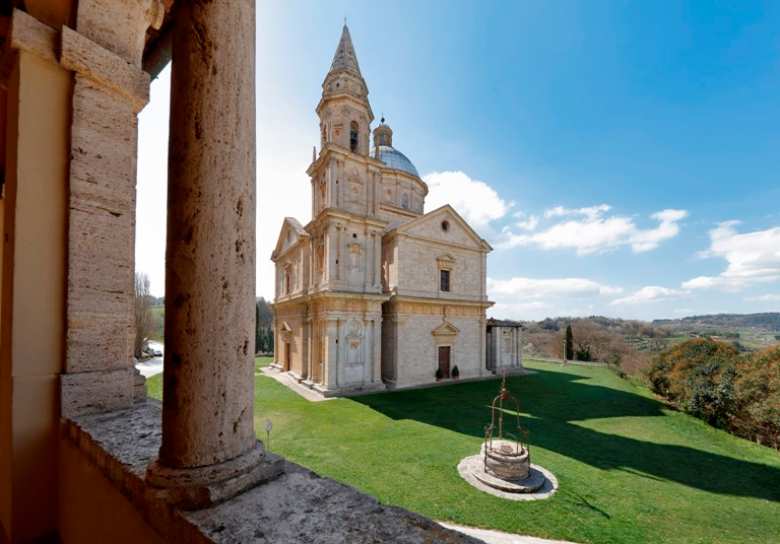 On one wall you can still see a fresco of the Enthroned Madonna and Child, known as the Madonna of San Biagio, dating back to 14th-century Siena, which in 1518 was alleged to have miraculous powers. For this reason, designs for a new temple began, supported by Pope Leo X. The dome was constructed between 1543 and 1545, the first bell tower was completed in 1564 and the second still remains unfinished, while the church was consecrated in 1537.
Info: tempiosanbiagio.it
Montepulciano
The land of the Vino Nobile, in the Val di Chiana, a stone's throw from Val D'Orcia
On the ridge that divides the Val D'Orcia from the Val di Chiana, Montepulciano stands on a chalky hilltop. This beautiful Renaissance hilltown, which still adheres to its medieval plan, is embedded in a picture-postcard landscape: every way you turn, you are confronted with the iconic image of the Tuscan countryside, where waves of hills and golden fields, dotted with cypresses, roll and ...
Morekeyboard_backspace