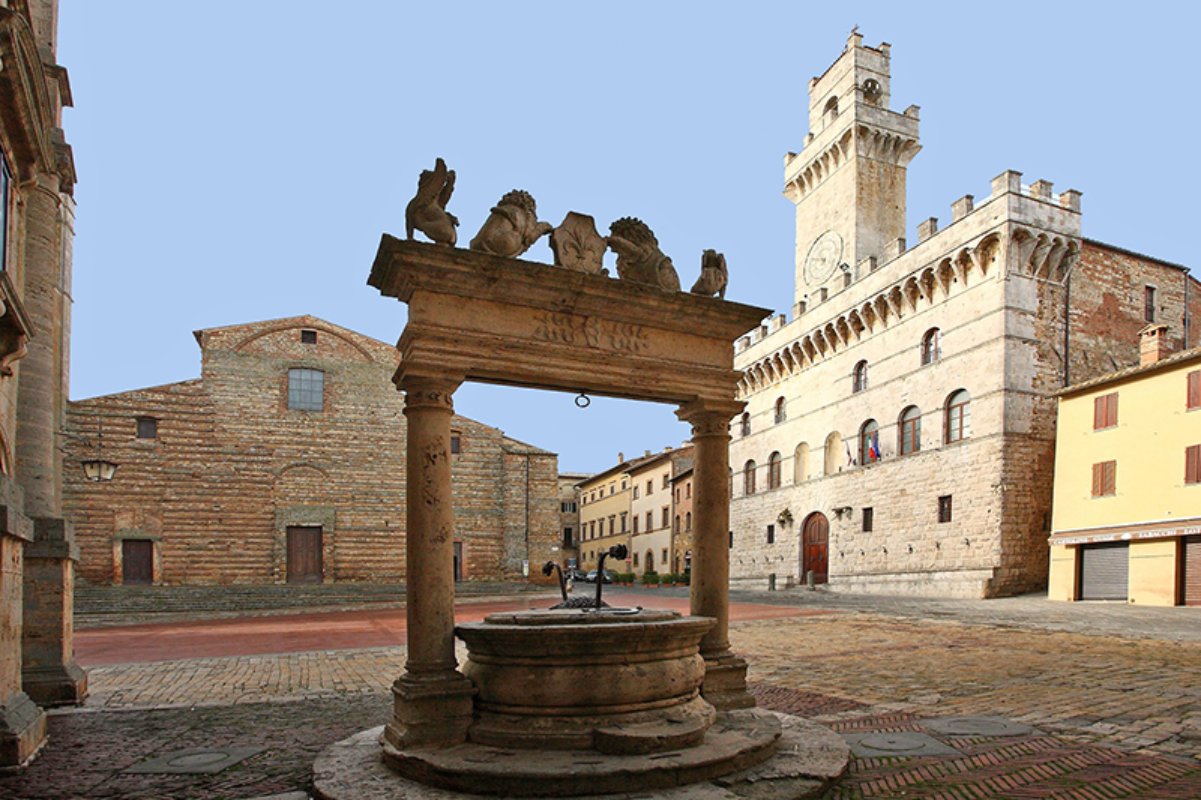 Places of worship
Montepulciano Cathedral
Built in the 1500s on the site of a Romanesque parish church, the Cathedral stands on one of the most beautiful squares in Italy
Dedicated to Saint Mary of the Assumption, the Cathedral stands at the highest part of the town. To arrive, you have to climb up the steep hills of the historic center. Sure, you might break a sweat, but you'll be rewarded when you arrive at the square, which is one of the most beautiful in all of Italy. The church was built between 1586 and 1680 using a plan by Ippolito Scalza. The building replaced the Romanesque parish church of Saint Mary and was consecrated on June 19, 1712. The only surviving structure from the previous building is the massive 15th century belfry. Its upper part was never finished—neither was the sculpturally decorative facade.
Inside, the architectural plan, taking its cues from classic Florentine models, is austere and elegant, with clear plaster surfaces that alternate with bands of stone blocks. The church has a Latin cross plan, with three naves divided by massive pillars, with each row supporting a group of six arches. Aisles are covered by cross vaults; on the walls, chapels open where each bay is formed. On the right side of the church, a pillar holds the pulpit, supported by Ionic columns.
Among the main works in the Cathedral, one of the most important is the monumental Triptych of the Assumption, painted by Taddeo di Bartolo in 1401, placed on the high altar. Also of great importance is the 15th century funerary monument of Bartolomeo Aragazzi, constructed by Michelozzo between 1427 and 1436. Today, the monument is divided in nine fragments—seven of these are found on the walls in different areas of the church. The current display method for its various parts originated in 1815. Also worth noting is the small 15th century painting on wood, by Sano di Pietro and dedicated to Madonna of the Pillar, as are Francesco di Valdambrino's wooden polychrome annunciation statues of the Angel Gabriel and the Virgin Mary. On the Gigli Altar is a terracotta relief by Andrea Della Robbia from 1512. It has two levels: the lower part depicts four saints looking upward toward the Annunciation event in the higher portion.
Montepulciano
In the land of "Vino Nobile," immersed in the Val d'Orcia and Val di Chiana hills
Montepulciano rests atop a narrow chalky hill where the Val d'Orcia and Val di Chiana meet. This beautiful medieval village can be found in what seems like a postcard-perfect landscape, your mind conjuring up the classic idea of the Tuscan countryside no matter which direction you look in, with the green waves of the hills and golden fields dotted with cypress trees. ...
Morekeyboard_backspace
You might also be interested in