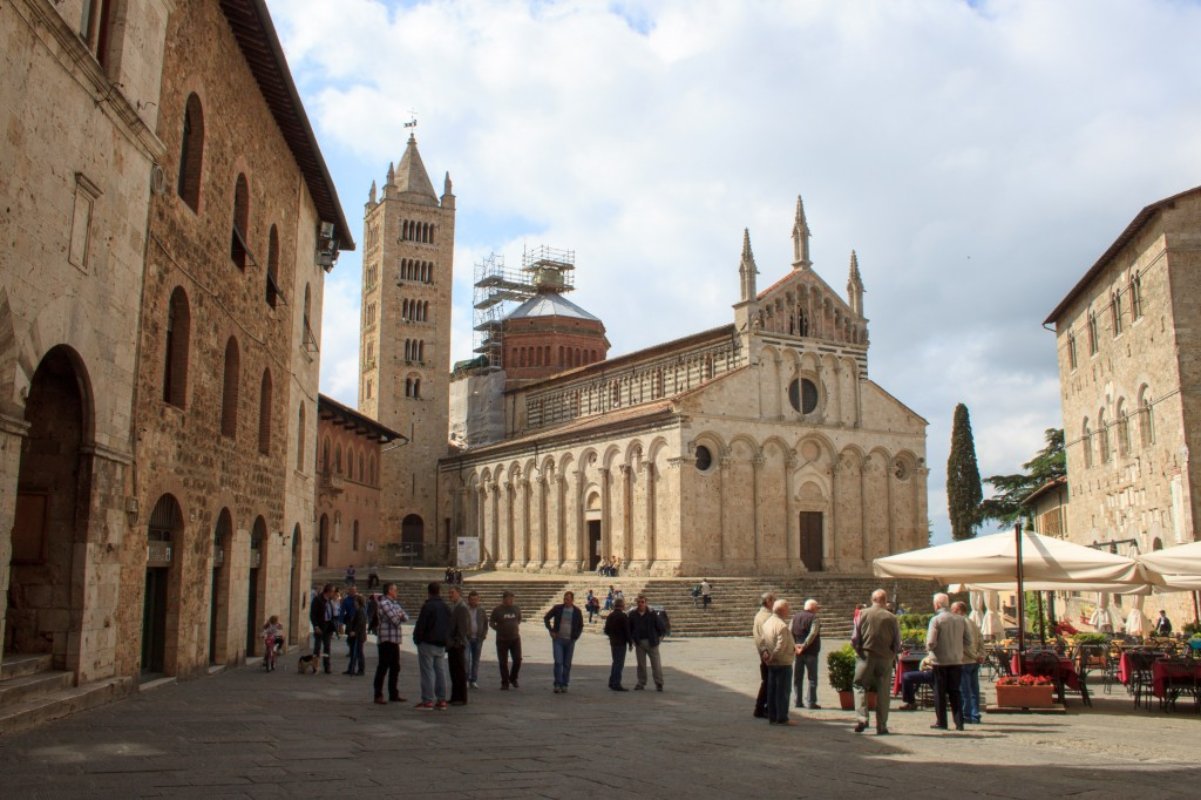 Places of worship
San Cerbone Cathedral
The Cathedral of Massa Marittima breaks traditional architectural perspectives
The Cathedral of Massa Marittima, dedicated to San Cerbone (the bishop of Populonia between 570 and 573), stands at the top of a set of steps that look out diagonally onto the town's main square. As far as urban planning is concerned, the venture was simply ingenious and the cathedral's unusual position breaks traditional architectural perspectives to seem like an image straight out of a painting of Giorgio de Chirico, making it perhaps the only example in the world.
Construction began in the early eleventh century but took a long time to complete. At first glance two distinct styles are clearly visible: Romanesque in the lower part, and Gothic, which in 1287, thanks to Giovanni Pisano, was the style used to expand and enrich the cathedral on the façade with the third order of columns adorned with three spires. The entire building is decorated with blind arches and symbolic animal figures to ward off bad luck. The main door on the façade is made up of five panels portraying the stories of San Cerbone.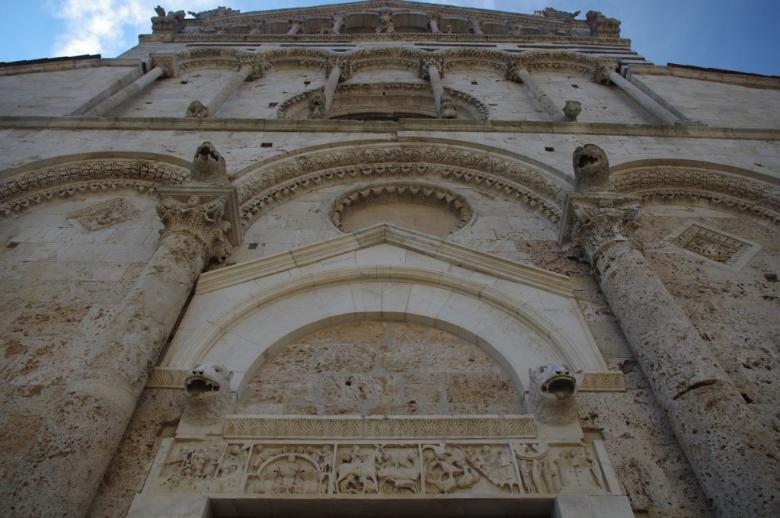 The interior consists of a basilica with three naves, while the apse is the result of the extension attributed to Giovanni Pisano. To the left of the entrance, under a fourteenth-century triptych with the enthroned Madonna with Child and Saints, visitors can see a Roman sarcophagus dating to the third century. To the left is the large baptismal font, divided in two sections: the square basin with the Deesis (the Christ adored by the Virgin Mary and St John the Baptist) and the stories of San Cerbone and San Regolo.
At the centre of the counter façade, the rose window is embellished with rare fourteenth-century glass. In the last chapel on the right the Crucifix painted by Segna di Bonaventura stands out (dated to the beginning of the fourteenth century). On the altar by Flaminio Del Turco (1626) is the wooden multi-coloured crucifix, which replaced the one by Giovanni Pisano, now in the Museum of Sacred Art.
Behind the altar, at the centre of the choir, is the coffer of San Cerbone by Goro di Gregorio (1324). It is shaped as an urn, displaying eight stories of the saint's life in the lower section.
The Maestà, attributed to Duccio di Buoninsegna (1316), is situated in the last chapel on the left. Just below the presbyteral area is the crypt, within which are arranged eleven small statues of prophets and saints.
Massa Marittima
Medieval village on the Metalliferous hills in the Grosseto hinterland
Nestled on a high and isolated hill at 380 meters above sea level, the historic center of Massa Marittima stands enclosed within a well-preserved city wall. The town has received the Orange Flag from the Touring Club and features many remnants of its medieval past, even if its origins are probably Etruscan. ...
Morekeyboard_backspace