Monuments
Porcellino Fountain in Florence
According to legend, touching the nose of the statue is lucky
The Porcellino Fountain in Florence is found beside the arches of the Mercato Nuovo, very near the Ponte Vecchio. It's a spot loved by tourists and citizens because, according to popular legend, touching the nose of the Porcellino is lucky. The complete process of ensuring good luck consists of putting a coin in the pig's mouth after rubbing the nose – if the coin falls into the grates where the water hits it will bring you luck, if not it won't.
The bronze statue's popular name 'Porcellino' (piglet) is technically incorrect as the statue actually depicts a boar. The fountain today is a copy of Pietro Tacca's (1633) work, which is itself a copy of a Hellenistic marble statue kept in the Uffizi Galleries. In 1640, the sculpture was placed in front of the namesake apothecary on via Por Santa Maria on the order of Cosimo II. Then in the 19th century, to make it easier to walk down the street, the fountain was moved to its current position on the south side in front of today's former goods exchange.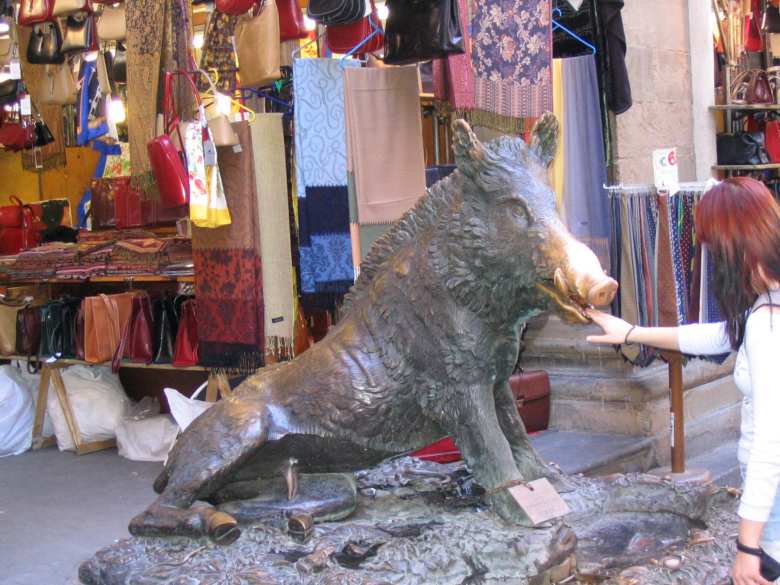 The fountain mostly served a practical function, as well as a decorative one, as it supplied water to the merchants who traded in the market, who at the time specialised in buying and selling fine fabrics such as silk, brocades and woollen cloths.
The base is an octagonal shape, decorated with a bronze representation of the marshy environment where the wild boar lives, with remarkably realistic plants, amphibians, reptiles and molluscs.
Florence
A stunning city where you will lose yourself in the art, history, fashion and traditions of Tuscany
No one plans a visit to Tuscany without planning a visit to Florence: the city of the lily is a treasure trove of artistic treasures and the centre of a fervent vitality. Aside from its exceptional heritage of art, bearing witness to its centuries of civilisation, Florence can be enjoyed in so many ways: promenading along the enchanting riverbanks at sunset, entering the bohemian alleys of ...
Morekeyboard_backspace