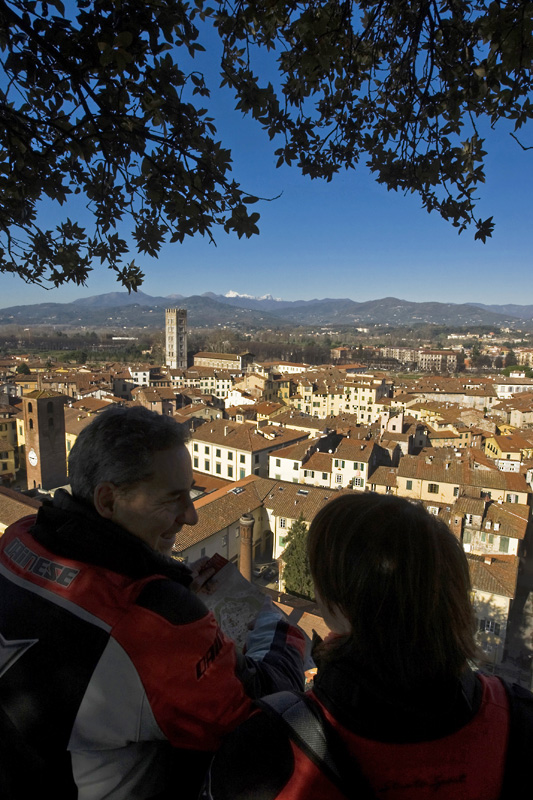 Neighbourhoods, streets and squares
Piazza San Michele in Lucca
Discovering one of the town's unique squares
The people of Lucca used to call it the 'Piazza delle Catene' due to its numerous marble columns connected with heavy metal chains, but the square's real name comes from its imposing church dedicated to Saint Michele. It is thought to have been built in the VIII century and its original structure had an annexed hospital and monastery. According to historical documents, the church was restructured in the XVI century by will of Pope Alexander II.

During the medieval period, pilgrims would reach the church by means of a wooden bridge since a channel called Fossa Natali, crossed the entire square. The current-day building boasts both Romanic and Gothic influences. Above its façade, you'll find the Archangel Michael as he battles against the dragon with a lance. Legend has it that in conditions with special lighting, one can see the shine of an emerald that was set inside the statue's surface during ancient times.

On the right side of the façade, you can view the bell tower, originally built in the mid XII century. It was later amputated by Giovanni dell'Agnello, Pisa's doge from 1364 to 1368, either because it was higher than the Augusta tower or because the sound of its bell reached Pisa. Inside the three-nave interior you'll find a Virgin and Child terracotta by Andrea della Robbia and a panel by Filippino Lippi representing four saints.

On the corner of Via Vittorio Veneto, you'll find the Palazzo Pretorio, a prime example of Renaissance architecture in Lucca. Its façade boasts a characteristic clock, which was recently restored. Inside the palace, there's a noteworthy monument to Matteo Civitali, who was famous for having sculpted busts of the explorer Piaggia and the Garibaldian Strocchi. The palace's loggias often host contemporary art exhibitions or food festivals. A statue of Francesco Burlamacchi by Ulisse Cambi has dominated the center of the square since 1863.
Torre del Lago Puccini
Sunny beaches, fresh pine groves, ever-calm sea: paradise itself
In addition to the original epithet Torre del Lago, named after an age-old guard tower built between the 15th and 16th centuries on the western shore of the lake, Puccini was added recently, in tribute to the great composer, who loved the landscape that sparked his creative genius so much that he never had any desire to leave the place. ...
Morekeyboard_backspace
You might also be interested in