Hamlets, districts and squares
Piazza Napoleone, Lucca
One of the city's loveliest piazzas and the centre of political power
Piazza Napoleone in Lucca has always been the centre of the city's political power. It was here, in 1322, that Castruccio Castracani, the Ghibelline condottiero of the degli Antelminelli family, decided to build the Augusta Fortress and a palace, which were demolished by the people of Lucca when Castracani was cast out of the city in 1370.
Known by locals as Piazza Grande, the piazza was dedicated to Napoleon by his sister Elisa Bonaparte Baciocchi, who led the Principality of Lucca between 1805 and 1815 and had the entire appearance of the square redone. The plans devised by two architects that were chosen for the piazza placed greater importance on the Palazzo Ducale, demolishing the surrounding houses, some warehouses, a tower, the archive, workshops and the Church of San Pietro Maggiore. A decision was also made to plant an elegant screen of sycamore trees that still frame the square.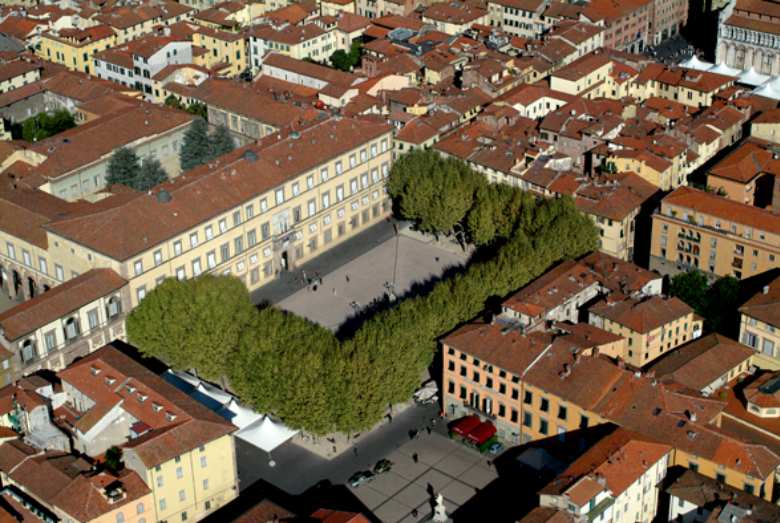 Following the Congress of Vienna, the Principality was changed to a Duchy led by Maria Luisa, Duchess of Lucca, who commissioned Lorenzo Nottolini to renovate the Palazzo Ducale and Lorenzo Bartolini to carve a self-celebratory statue for the middle of the piazza. The building now occupies the entire west side of piazza Napoleone and is the headquarters of the provincial offices.
During an archaeological dig in 1998, the ancient foundations of the buildings demolished in the Napoleonic era were unearthed and can now be seen to some extent through glass blocks on the edge of the piazza.
Every summer, the large square comes to life during top cultural events and concerts such as the Lucca Summer Festival.
Lucca
A monumental city bursting with unique treasures, ringed by vast bastions and gigantic walls
Lucca is one of Tuscany's most beloved artistic cities, an unskippable part of any tour of the region. Nicknamed the town of a hundred churches on account of its incredible number of places of worship, it is unique among city-states for having maintained its independence up until 1847. ...
Morekeyboard_backspace