Places of worship
Church of San Michele in Foro
This basilica in Lucca dates to the year 1000 and conserves priceless works of art
San Michele in Foro is in the historic centre of Lucca and is an ancient church that goes back to the Roman era. Its existence has been documented since 795 but the current building was commissioned by Pope Alexander II in 1070. Until 1370, it was the seat of the Major Council and the Podestà, the most important officer in the Government.
The influence of the Pisan Romanesque style can be seen in the façade, which is characterized by its immense height and a wealth of sculptures. At the top, a large marble statue depicts the Archangel Michael defeating the dragon.
Legend says that on bright days you can see a green sparkle gleaming on the statue, which some believe may be an emerald nestled somewhere in the statue, but the stone has never been found.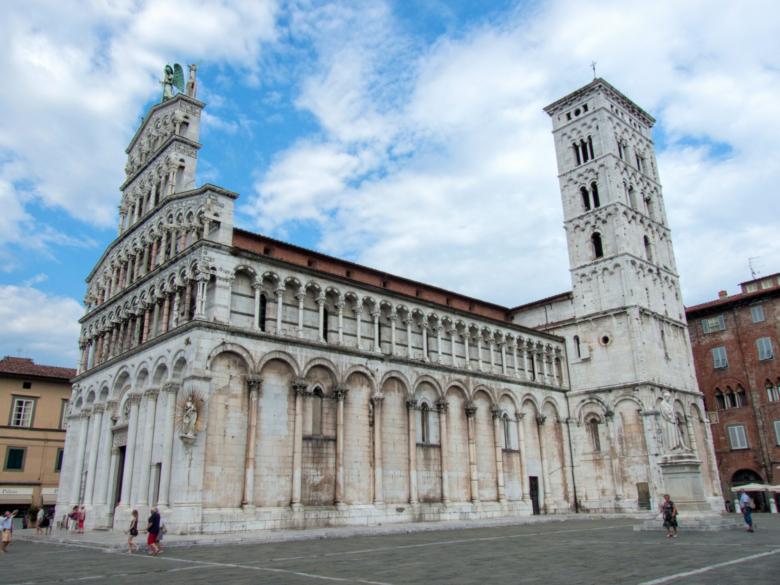 The interior of the basilica has three naves with a transept and a semi-circular apse. The main nave is supported by arches on monolithic columns, and the whole building is covered with lunette barrel-vaulted ceilings.
The church houses three important works of art: Madonna and Child, an enamelled terracotta by Andrea della Robbia, the 1483 Pala Magrini by Filippino Lippi depicting the saints Roch, Sebastian, Jerome and Helena, and a high-relief of the Virgin sculpted by Raffaello di Montelupo.
Lucca
A bastion-protected medieval city and a blast of comics, culture and colors
Many people born and bred in Tuscany consider Lucca an outlier—it's not uncommon to hear Florentines mutter "that's not Tuscan", probably when referring to the bread, which is salted in Lucca and strictly plain elsewhere in Tuscany; or to the Lucchese people's mode of speaking (unique, to say the least); or to the fact that Lucca is the region's only city-state to have preserved its ...
Morekeyboard_backspace
You might also be interested in