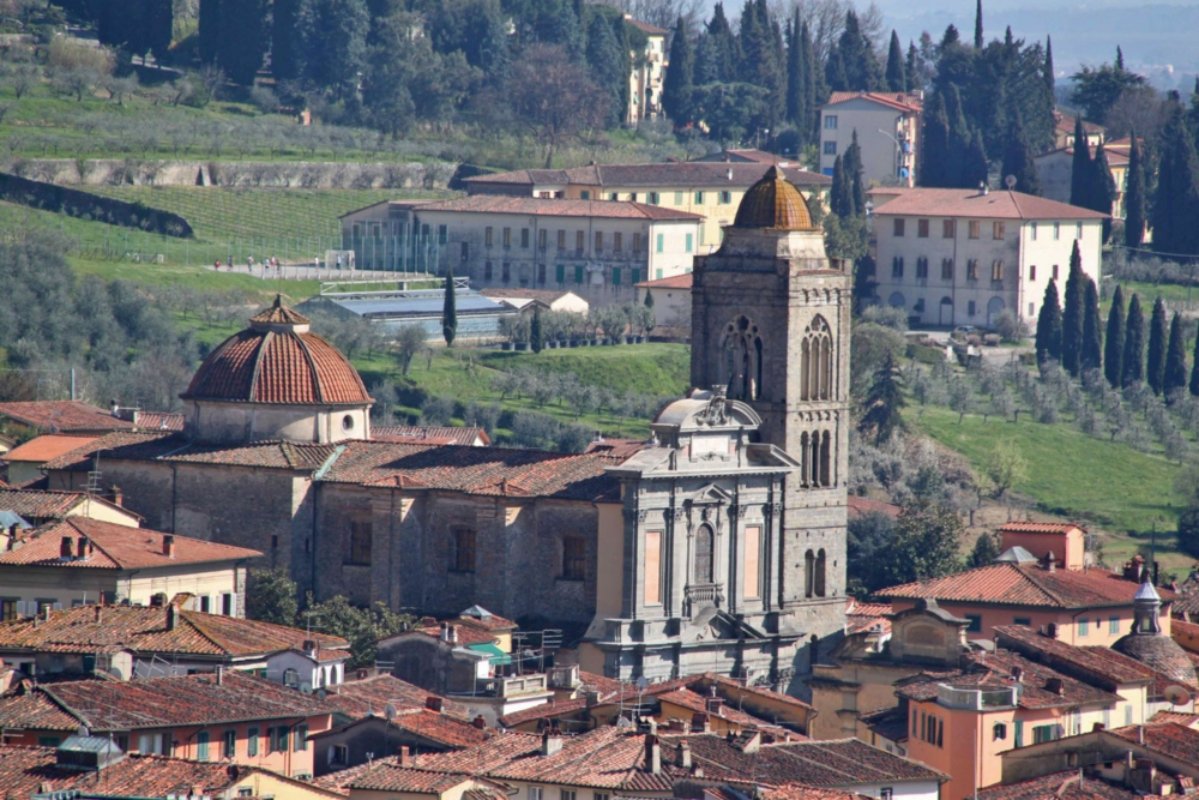 Places of worship
Pescia Cathedral
The cathedral, dedicated to the Assumption of the Virgin Mary, has ancient foundations
According to sources, the Cathedral of Santa Maria Assunta, the cathedral in Pescia, dates back to the 5th-6th century. The first mention of its existence is in fact in a document from the year 857 but a few centuries later the church was completely rebuilt following a firethat destroyed the city in 1281. Many traces have survived in the body of the stonework, including the bell tower, which is believed to be the oldest tower within the walls, and was partially modified in the 14th century.
The current structure of the cathedral dates back to 1684, when, based on the designs of Antionio Maria Ferri, it was entirely rebuilt after thecollapse of a domewhich destroyed a large part of the medieval building. The original Latin cross structure was replaced with a single-nave structurewith side chapels, topped with a dome. The façade, unfinished until the 19th century, was built in a Neoclassical style. It was completed in 1933 with the insertion of a marble portal.
Among the most noteworthy artworks, there is fine 18th-century painting in the Forti chapel: The Nativity of the Virginby Giuseppe Bottaniand, on the altar of the Blessed Sacrament, the Madonna del Baldacchinoby Pier Dandini, a copy of Raphael's original that was kept there until 1697.
To the side, there is the mausoleum of Monsignor Baldassare Turiniby Raffaello da Montelupo. The sculpted effigy of Turini is by Pierino da Vinci, nephew of Leonardo. The upper 16th-century altar is the work of Giuseppe Vaccà and was paid for by the famous lyrical singer Giovanni Francesco Grossi, known as Siface. On the left side of the church, the Cecchi Chapel, dedicated to St. Lawrence, is decorated with a canvas by Anton Domenico Gabbiani.
In the final chapel, where the baptistery once stood, there is a canvas on the altarby Romani Stefanelli (1985), an apprentice of Pietro Annigoni.
Pescia
A VILLAGE IN THE SVIZZERA PESCIATINA, DOTTED WITH MONUMENTS AND ARTISTIC HERITAGE
The town of Pescia, heart of the green and remote Svizzera Pesciatina, is a city whose monuments bear witness to its history. The Pescia Cathedral, the old parish church (once controlled by the Bishop of Lucca), is an emblem of medieval history, while its secular municipal structures tell a different story. Originally a castle-city, Florence divided Pescia from Lucca in 1339. ...
Morekeyboard_backspace
You might also be interested in