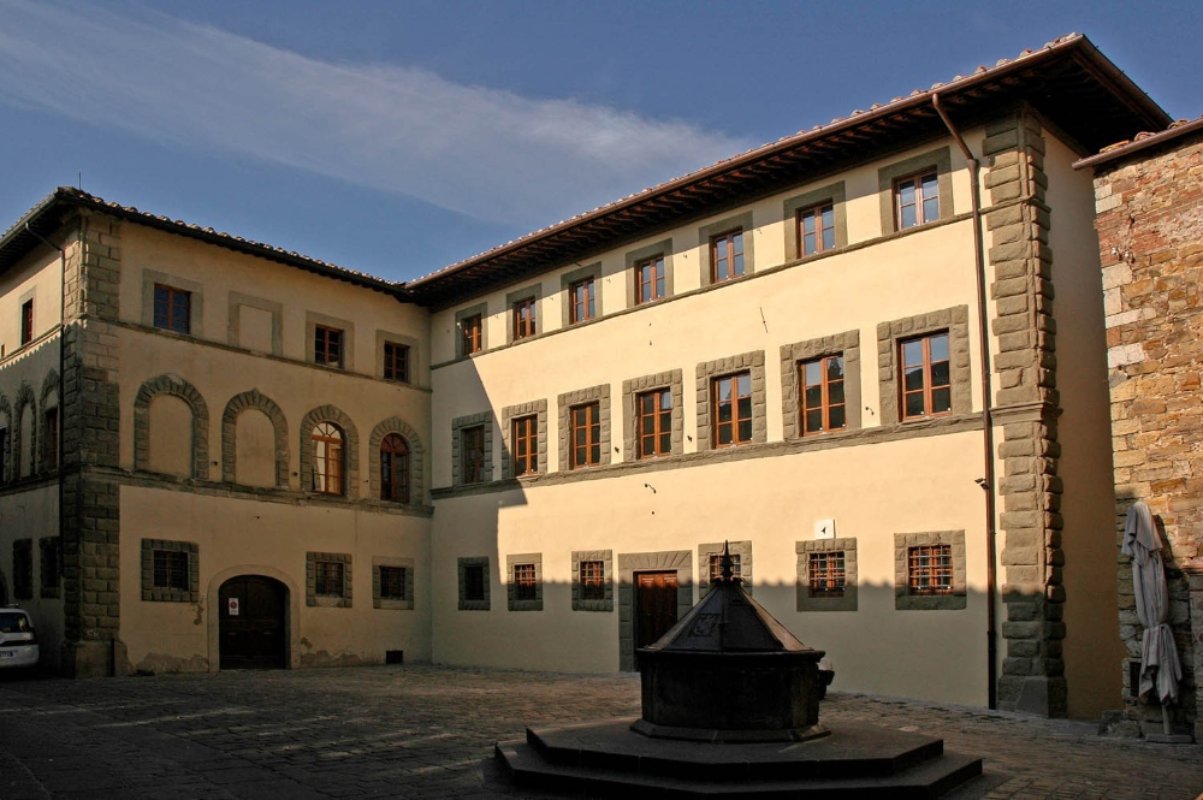 location_cityHistorical Buildings
Palazzo Malaspina, San Donato in Poggio
An important 16th-century palazzo
Palazzo Malaspina
is one of the most important architectural buildings of the sixteenth century. It is located in a town full of charm, the center of the medieval village of San Donato in Poggio (a fraction of Tavarnelle Val di Pesa), which has existed since
989 AD, the year in which it appeared in a document from Badia a Passignano.


The building frames a square that bears the same name, and along an ancient well that is hexagonal in shape, it is dominated by the two large doors of medieval origin. It links to many small roads that branch off from the walls toward the
the town.
The construction of the building is linked to a family from San Donato: the Ticci family, which lived there from the late Middle Ages and continued for many generations. Family members were artisans of pottery and they made stoves.
Around the middle of the sixteenth century some members of the family, including the notary Ser Matteo, decided to move to Florence.
Because the Ticci become so important in Florence, they were given permission to build
a mansion in San Donato.
The Ticci kept the ownership of the building until the extinction of the family in 1739.


The following year, Malaspina Family of Mulazzo inherited the Ticci legacy, gaining possession of the building for seventy years.
The Palazzo fell into the possession fo many during the nineteenth century, but this did not ever erase the memory of the Malaspina, whose name has continued to be used to identify the palazzo. Even current day owners, the Pellizzari, have kept the Malaspina name.


Palazzo Malaspina extends over 500 square feet and 3 floors. Today is has been compeltely restored and hosts cultural events.


For more information:
www.comune.tavarnelle-valley-of-pesa.fi.it
Tavarnelle Val di Pesa
Famous for the Vallombrosan monastery of Badia di Passignano
Tavarnelle was once a Roman station, called Tebernulae in a document dated 790 AD. It later became part of the Florentine Republic, but was never involved in the territorial wars between the Florentines and the Sienese. Until 1892, it was part of the municipality of Barberino Val d'Elsa, and on January 1, 1893, it gained autonomy, becoming its own municipality. ...
Morekeyboard_backspace
You might also be interested in