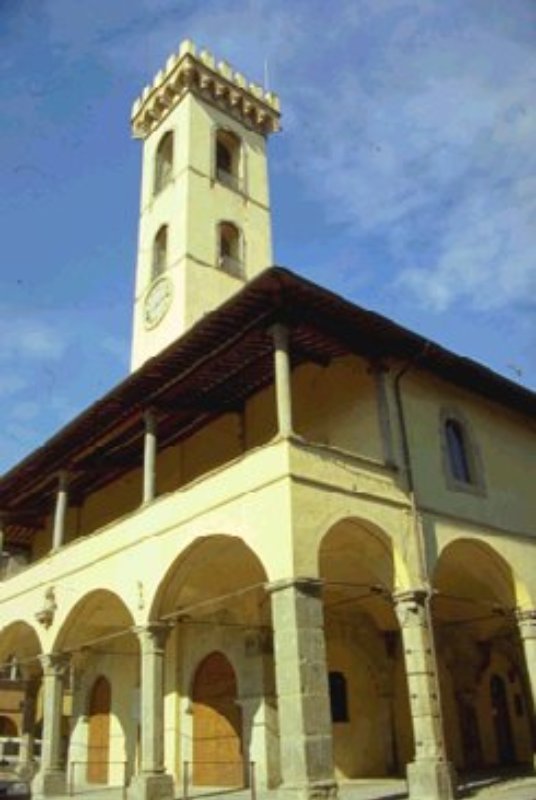 location_cityHistorical Buildings
Palazzo d'Arnolfo
Wonderful frescoes and paintings
The real name of Palazzo d'Arnolfo is Palazzo Pretorio – the Town Hall. The name 'Palazzo d'Arnolfo' comes from the architect who designed and constructed the thirteenth century castle and (according to Vasari) also this building, Arnolfo di Cambio. Palazzo d'Arnolfo is situated exactly in the middle of the two main squares, piazza Cavour and piazza Masaccio. It faces on to the town's main street, corso Italia. The original Medieval construction was renovated and altered in the fifteenth century and during the 1980s the whole palazzo underwent extensive restoration work. Today, is houses several council offices and an art exhibition. A wide portico surrounds the ground floor with four arches on the façade and six along each side. The octagonal pillars supporting each arch are decorated with the Florentine lily ensign and Guelph eagles, both symbols of Florence, the region's most powerful city. In the atrium there is an original Marzocco statue. This sculpture of a lion on a pedestal holding a shield decorated with a lily with one paw was another symbol of Florentine power and superiority. The sculpture used to be in piazza Cavour, but was replaced by a copy and moved to the safety of Palazzo Pretorio.
The walls of the atrium are decorated with painted fifteenth century coats of arms. There are two Renaissance style loggias on the first floor and a tower with double rows of windows and ramparts rises up from the middle of the back wall. Palazzo d'Arnolfo has an eccentric kind of beauty compared to the typical Tuscan style of the period and its look is similar buildings in northern Italy. What makes the building even more eye catching today are the many coats of arms that decorate the façade. There are 250 in total, dating from 1410 to 1772. Some are carved in stone, others are ceramic, while more still more are painted. In piazza Masaccio, the building faces the Basilica of Santa Maria delle Grazie, the church of San Lorenzo and Palazzaccio. Palazzaccio, also known as Palazzo Salviati, dates back to the fourteenth century. It has since undergone several renovations and its façade is Tuscan Late Renaissance style. The triple loggias feature low arches on the first two levels and an architrave balcony on the third.

San Giovanni Valdarno
San Giovanni Valdarno is located in the province of Arezzo and counts 17,000 inhabitants
The council, founded in the XIII century by Florence, is rich in artistic testimonies. You can visit the Basilica and its museum, the Palazzo d'Arnolfo and Casa Masaccio. Furthermore, the historical, medieval style town centre is very striking. ...
Morekeyboard_backspace
You might also be interested in