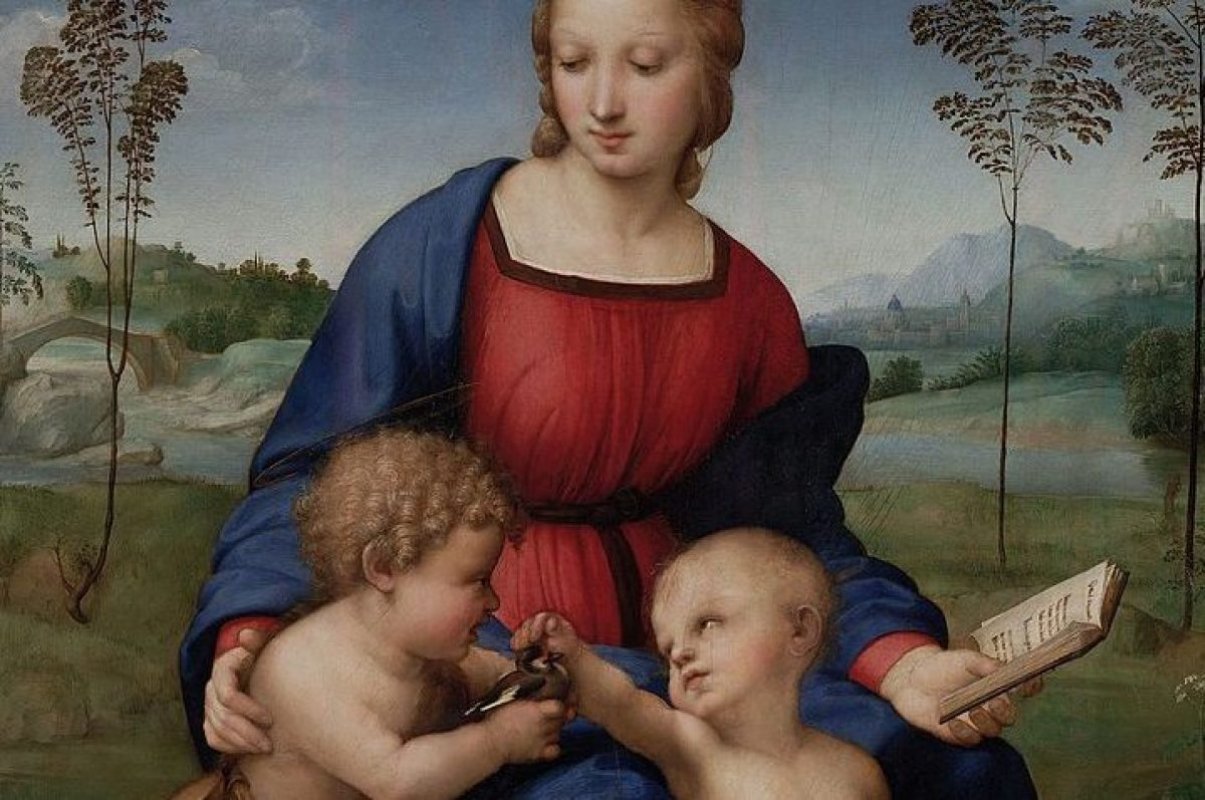 crop_originalArtworks
Madonna del Cardellino by Raphael
A fundamental painting of the Italian Renaissance
Madonna del Cardellino, or Madonna of the Goldfinch, was one of the earliest paintings by the young Raphael, who painted it in 1506 on the occasion of the marriage of Lorenzo Nasi, a wool merchant, to a Florentine noblewoman, Sandra Canigiari.
The subject is the Virgin Mary who, seated on a rock with a book in her hand, turns a tender and loving gaze at the children in front of her, her son Jesus and a young John the Baptist, who holds a goldfinch, a symbol of passion.
The influence of Leonardo Da Vinci can be seen in this painting, given by the pyramidal setup of the characters' positions, the use of chiaroscuro (in this instance, the brown earth and the sky) and the facial expressions of the two children, very similar to Michelangelo's drawings.
In 1547, the painting, located in the Uffizi Gallery, suffered serious damage when the ceiling collapsed in the building where it was housed. It split into 17 pieces, but the fragments were put together immediately and the painting was later restored by the Opificio delle Pietre Dure.
See the paiting in high definition on Google Arts & Culture.
More info: uffizi.it
Florence
A stunning city where you will lose yourself in the art, history, fashion and traditions of Tuscany
No one plans a visit to Tuscany without planning a visit to Florence: the city of the lily is a treasure trove of artistic treasures and the centre of a fervent vitality. Aside from its exceptional heritage of art, bearing witness to its centuries of civilisation, Florence can be enjoyed in so many ways: promenading along the enchanting riverbanks at sunset, entering the bohemian alleys of ...
Morekeyboard_backspace