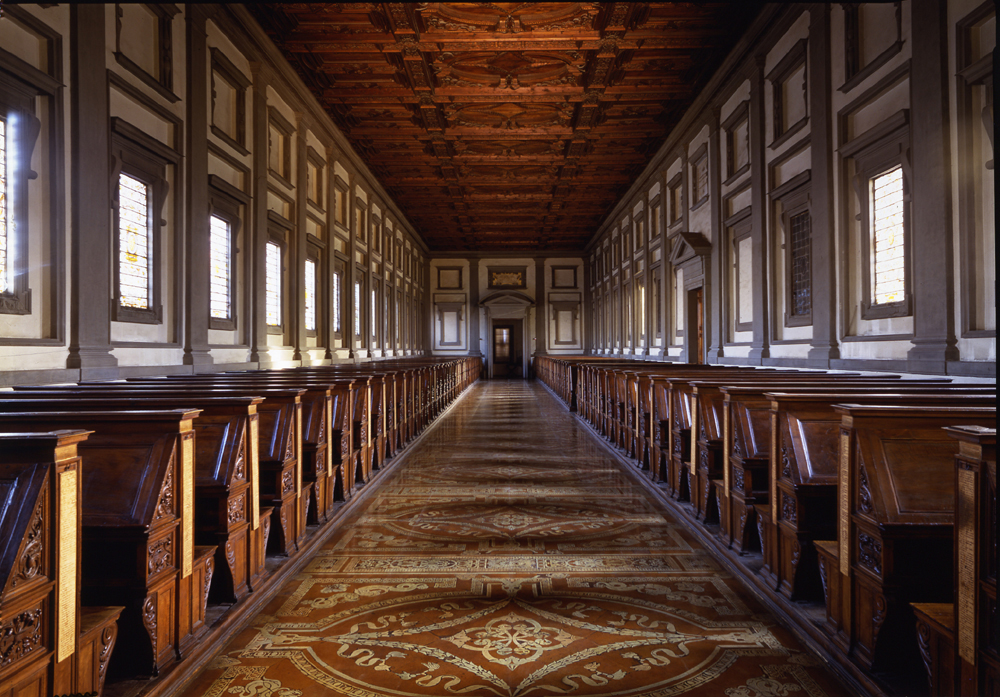 location_cityHistorical Buildings
Laurentian Library in Florence
Spectacular rooms designed by Michelangelo and a one-of-a-kind collection of manuscripts in Florence
The Laurentian Library in Florence is the most important collection of manuscripts in the world, for philological and artistic value, and one of the greatest examples of Michelangelo Buonarotti's architecture, which he designed between 1519 and 1534.
You can enter the library from the cloister of the Basilica of San Lorenzo, this is why it is called Laurentian (Laurenziana). The manuscripts collected in the library belonged to the Medici family under Cosimo the Elder, from his sons and grandsons. It is most made up of prestigious copies of private and ecclesiastic collections.
The library was built at the behest of cardinal Giulio de' Medici, who later became pope Clemente VII, who put Michelangelo in charge of designing the building; construction was completed in 1571.
The monumental Michelangelo-styled rooms and the reading room are no longer used as a library but are open to visitors as a museum instead.
Florence
A stunning city where you will lose yourself in the art, history, fashion and traditions of Tuscany
No one plans a visit to Tuscany without planning a visit to Florence: the city of the lily is a treasure trove of artistic treasures and the centre of a fervent vitality. Aside from its exceptional heritage of art, bearing witness to its centuries of civilisation, Florence can be enjoyed in so many ways: promenading along the enchanting riverbanks at sunset, entering the bohemian alleys of ...
Morekeyboard_backspace