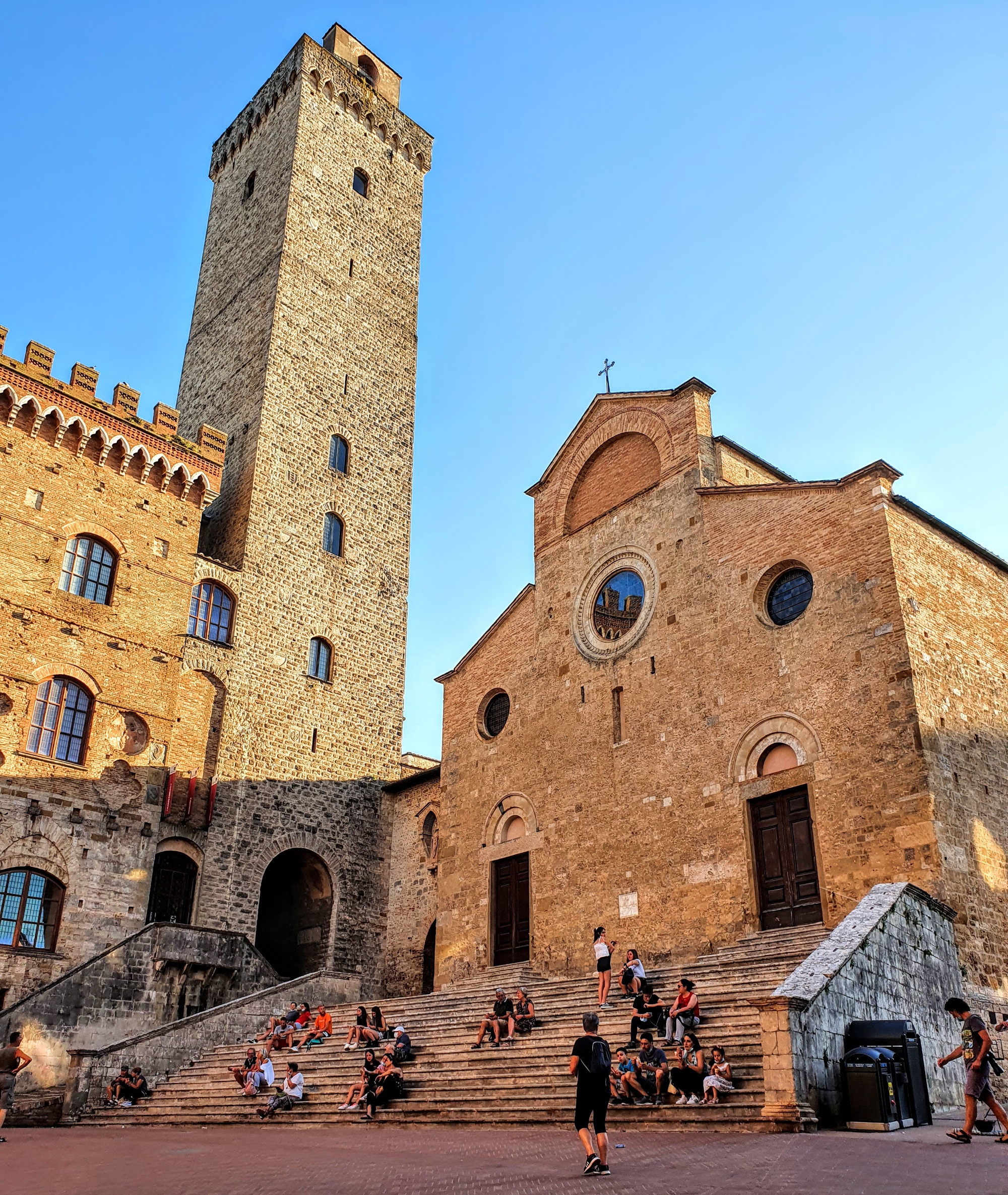 Places of worship
Cathedral of San Gimignano - Basilica di Santa Maria Assunta
From the top of a great flight of steps, the cathedral dominates the Piazza Duomo while housing some magnificent fourteenth-century frescos inside
The collegiate church of Santa Maria Assunta, or the cathedral of San Gimignano, is the main religious building in the city. Standing in piazza del Duomo at the top of a broad flight of steps, it was probably built around 1056 and was certainly consecrated in 1148. Restructuring work followed in 1239, and the cathedral was expanded in 1460 by architect Giuliano da Maiano. It then remained largely unmodified until the damage it sustained in the Second World War was repaired.
The façade is done in travertine and is Romanesque in style. A central rose window looms over two portals, each of which is surmounted by a lunette, constructed in concentric semi-circles. The inside the church, which is built to the traditional plan of a basilica, is marked out by fourteen classical stone columns on the Tuscan order, of which ten are round and four octagonal. The walls of the church are completely covered by a cycle of magnificent frescos, which depict stories from the Old and New Testaments, painted by such illustrious artists of the fourteenth-century Sienese school as Lippo and Federico Memmi and Bartolo di Fredi. The interior also has many other colourful decorations typical of the medieval period, like the incredible blue cross vault and the intrados that divide the naves, which are decorated with a striped motif characteristic of Tuscan taste.
You can also find a jewel of the Renaissance in the cathedral. The chapel of Santa Fina was worked on by three major Florentine artists: the architect Giuliano da Maiano, the sculptor Benedetto da Maiano and the painter Domenico Ghirlandaio. The chapel is dedicated to San Gimignano's most beloved saint who, struck down by a serious illness when she was young, asked that for the rest of her days she be allowed to lie on a wooden table; at the moment of her death, this table bloomed with yellow violets. Every year, in March, the violets of Santa Fina burst forth from the hard stone of the towers that give San Gimignano its famous profile.
Social & Web
Find out what they say about us, and tell us about your Tuscany!
San Gimignano
THE MANHATTAN OF THE MIDDLE AGES, FROM ART TO GOOD WINES
With its forest of towers spiking the horizon, San Gimignano is one of the most recognisable and iconic destinations in all of Tuscany. In every part of the world there is someone dreaming about this ancient hilltown in the Val d'Elsa, for to be there is to dive into an image of medieval times. ...
Morekeyboard_backspace