account_balanceMuseums
Archaeological Park in Poggibonsi
A real time travel through the buildings and the daily routine belonging to the Carlo Magno's times.
The Poggio Imperiale hill provides the perfect example of the history of human settlement in Tuscany, here you can discover everything about through an Archeodromo, a museum and a Medician Fortress. At the foot of the hill you will find an exact scale model of a village dating from the frankish period in which every sunday (other days by reservation only) farmers, artisans, smiths, carpenters and leather workers carry out their work in accordance with the dominus'orders. This project is called Archeodromo and it is a real time travel through the buildings and the daily routine belonging to the Carlo Magno's times.It's interesting to snoop inside a long house (big house of the master family), then to take a look at a peasant hut with the hens wandering around the roost.
The museum inside the archaeological park follows the same line of the Archeodromo, its aim is to carry the visitors inside the history to let them live the experience in the most direct way. It is made of three rooms in which the descriptive panels talk to the visitors through pictures and don't include too many archaeological technicalities. Here is possible to get a clear and immediate view of the urbanistic and housing transformations, and even how the power organization changed through the time in the Podium Bonitii village.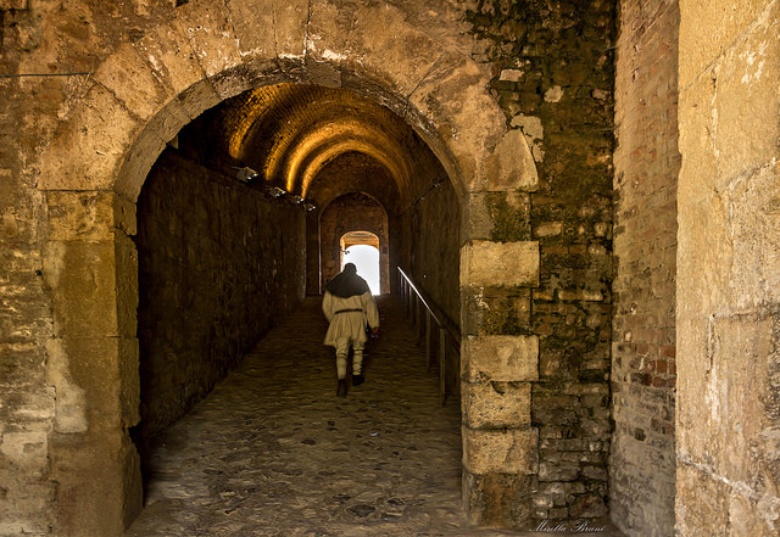 The fortress is the focus point for all scientific and archeological research. Since 1993 the site has been the object of investigations carried out by the 'Area of Mediaeval Archaeology' of the University of Siena which have documented a presence on this site that goes from the V to XV centuries. It was commissioned by Lorenzo il Magnifico in order to strenghthen the defence of the florentine dominion. Today we just see the perimeter walls which surround the Poggio Imperiale hill and the Cassero. The Cassero (1505-1510), unique in Tuscany, is a in important fortification with pentagonal shape and four bastions at the summits. There is only a front door, from which one can go through a long corridor and arrive to an open-air large area where numerous cultural events take place. It is even possible to visit the several rooms inside the northeast bastion and reading on the descriptive panels about the military-rinascimental architecture with particular reference to the Poggio Imperiale fortress.
Info: parco-poggibonsi.it
Poggibonsi
The council of Poggibonsi is in the province of Siena and has a population of about 27,000 inhabitants
That which is today's town centre was the ancient "Borgo Marturi", a holding of the abbey and of the Marturi castle, already established in the XII century. Its position is in fact enviable, being an unavoidable point of passage for the pilgrims on the Via Francigena, on their way to Rome, as well as a zone of boundary between the states of Florence, Siena and Volterra. ...
Morekeyboard_backspace
You might also be interested in