The recipe for pappardelle alla lepre (with hare)
dinner_dining
First courses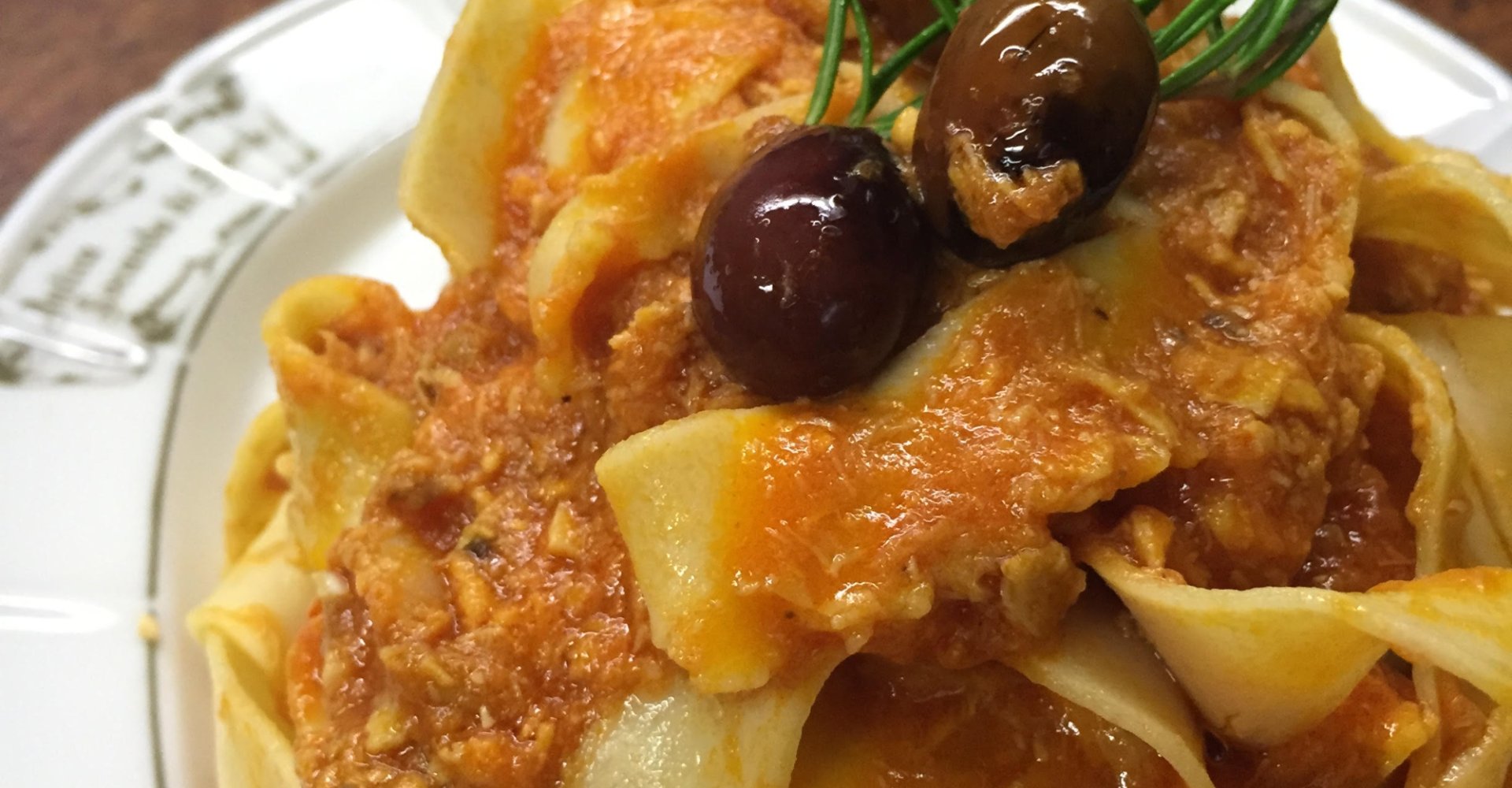 Photo © Aurelio Barattini, Antica Locanda di Sesto
Pappardelle are 2-centimeter-wide strips of pasta, popular throughout Tuscany, which go perfectly with meat sauces, from game to duck to rabbit. Because of this, they are a popular first course throughout the region.
Here we introduce one of the most typical dishes, pappardelle seasoned with hare sauce, or, as they say in Florence, "on the hare".
Ingredients
For the pasta:
150 grams of semolina flour

150 grams of 00 flour

3 egg yolks

1 whole egg

a pinch of salt
For the sauce:
1 hare

1 onion

1 celery stalk

two carrots

olive oil

100 grams of peeled tomatoes

half glass of red wine

meat broth

salt and pepper
Sauté the chopped onion, celery and carrots in oil in a saucepan.
Add the chopped hare and sauté for a few minutes, then add the wine, tomato, a few bay leaves, salt and pepper and simmer for about three hours, adding some meat broth when necessary.
When cooked, remove the hare pieces from the pan, debone them, and return only the meat to the sauce.
While the hare is cooking you can prepare the pasta: mix the two flours together with the eggs, kneading until smooth.
Let it rest for about half an hour then with a rolling pin or with the help of a pasta machine, roll out a thin sheet of pasta and cut it into pappardelle, 10 centimers long and 1,5 centimeter wide.
In a pot of boiling salted water, boil the pappardelle for 2 to 3 minutes and mix the pasta with the hare sauce.
Curiosities and variations
You can make a very tasty variation by marinating the hare overnight in water, vinegar, onion, celery, garlic and rosemary. In the morning the pieces of meat are drained, browned over high heat for a few minutes, then drained again. Afterwards, continue as indicated above. According to some people, the original version of this dish was made without tomato, replaced by the animal's blood. It may be that this is in fact the ancient recipe but nowadays, both in restaurants and at home, hare sauce is prepared with tomato and without any blood.