This sweet spelt "torta" originates from the Garfagnana region of Tuscany. This lush and mountainous area in the northern part of the province of Lucca is known for porcini, farro (spelt) and chestnuts. It has many wonderful towns to discover, including its capital city Castelnuovo di Garfagnana and with many trails it is a great place to enjoy hiking and other outdoor activities.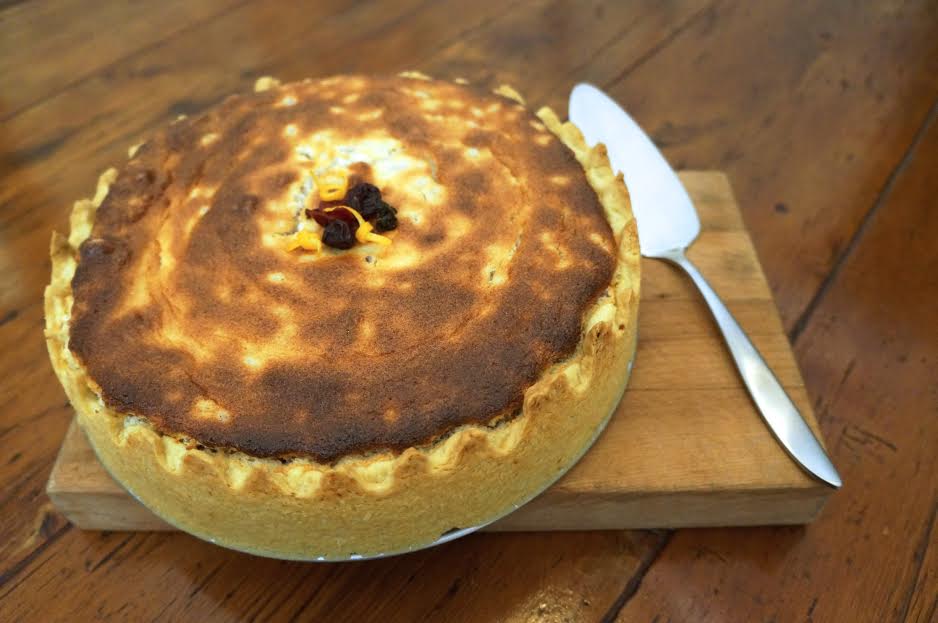 Sweet "farro" cake is delicious made the traditional way (without dried fruit) but you can also try it with the fruit of your choice.
Crust
1 ½ cups all-purpose flour
9 Tbsp unsalted butter, at room temperature
2 egg yolks, at room temperature
2 Tbs. sugar
1 tsp. grated orange zest,
Filling
2 cups farro, cooked and cooled,
1 cup milk,
1 cup ricotta,
⅔ cup sugar,
2 Tbs. all-purpose flour,
Pinch salt,
2 large eggs, separated,
Grated zest 1 orange,
¼ tsp cinnamon,
½ cup dried fruit, chopped if necessary (I used a mix of blueberry, cranberry and cherry).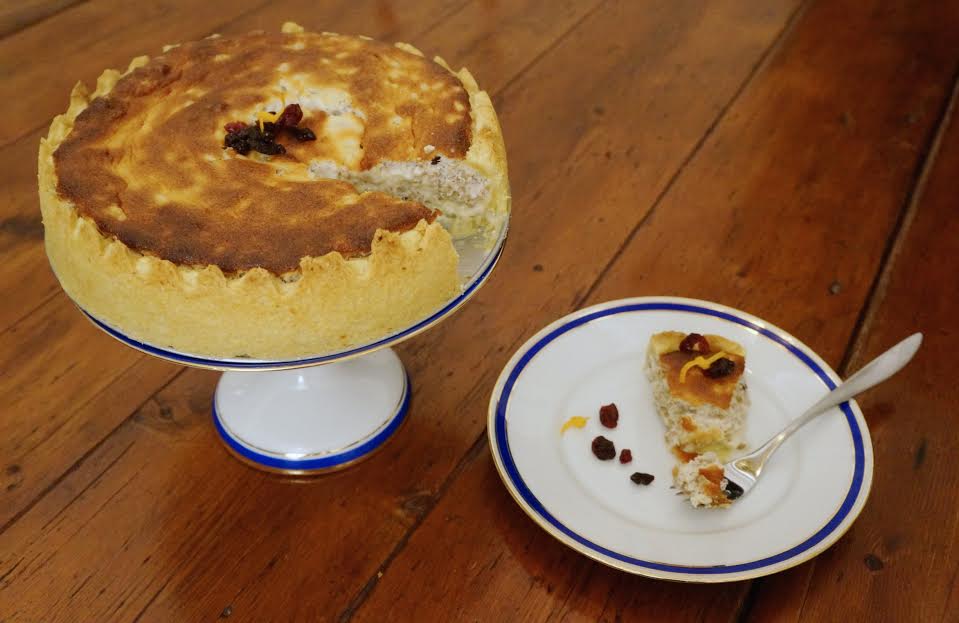 Making the crust:
Preheat oven to 350F
Separate eggs, set whites aside for filling,
In bowl of food processor combine flour and butter until crumbly,
Add sugar, egg yolks and orange zest and pulse until mixture combines well and forms a ball,
With your fingers press half of the pastry onto the bottom of a 9-inch springform pan, and press remaining dough up the sides. You can make a scalloped edge by pushing down the dough with your index finger every 1/2 inch,
Making the filling and assembling the torta:
In a large bowl, combine spelt, milk, ricotta, sugar, flour, egg yolks, salt, orange zest, cinnamon and dried fruit,
Beat 4 egg whites until stiff and fold into cheese mixture. Spoon into crust,
Bake 50 to 55 minutes or until almost set. It will set up more as it cools.
You might also be interested in