Starters
Crostini neri, chicken liver spread
Tuscan crostini neri, literally black crostini, is the most classic appetizer and one that you will always find at family gatherings or on the menu of a local trattoria. Its name comes from its brownish color, given that the main ingredient in crostini neri is chicken liver.
This spread is traditionally made with chicken livers, onions, celery, carrots, capers, fresh herbs, and some butter.
The mild and buttery chicken liver paté is usually slathered on toasted bread, previously spread with butter. Sometimes, especially when the family meal includes a broth, the bread slices are quickly dipped in the stock, then spread with the chicken liver paté.
1 carrot
1 celery stalk
1 small red onion
Extra virgin olive oil
1 bay leaf
300 g chicken livers
2 tablespoons capers, rinsed and squeezed
30 g anchovy paste
60 g unsalted butter
Finely mince celery, onion, and carrot. Cover the bottom of a medium-sized saucepan with olive oil and add the minced vegetables.
Add a pinch of salt that will help you cook down the vegetables, extracting their moisture and preventing them from burning.
Sauté the vegetables over medium heat for about 10 minutes. Rinse the chicken livers and add them to the saucepan along with a bay leaf. Stir with a wooden spoon and brown the liver nicely.
Cook on medium-low heat for about 15 minutes, stirring from time to time.
Add the rinsed capers, anchovy paste, and butter. Remove the bay leaf and blend into a paste using an immersion blender. Serve with bread.
You might also be interested in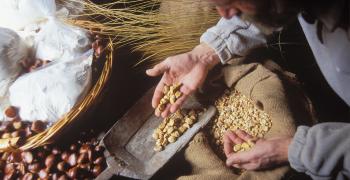 Learn more
Food and Wine
Olive oil, wine, truffle and other culinary delights make up the excellence of Tuscan gastronomy.
continue...